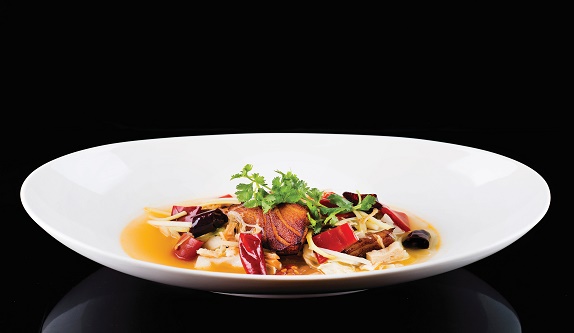 Enjoy a choice with a great view of Marina Bay. There's three cuisines to choose from – Japanese, French and Chinese – with the chefs fully aware that each dish from any menu could most likely be paired with each other.
The braised cod fish ($45) with vermicelli salad, dried scallops and a marinated red chili starts light, but once the chili enters the taste spectrum the cheeks will tingle.
Tender in its jus, the pistachio crusted lamb rack ($60), is covered in a smooth tomato coulis and crispy parmesan polenta – a soft crunch to the bite.
The soft-skinned raspberry coconut lamington has a sour calamansi lime sorbet and plain tasting lychee jelly to work on as a sponge.
The wines suggested for pairing ranged from an Austrian Chardonnay to a blackcurrant-ish, almost peaty Anjou wine from Les Mérances. There's a set lunch for $48++, with a menu that changes every two weeks – you're able to pick and choose between the three cuisines as you wish.
Me@OUE 50 Collyer Quay Tel 6634 4555
me-oue.com