Raelene Tan finds a good chicken chop in a bike-themed cafe.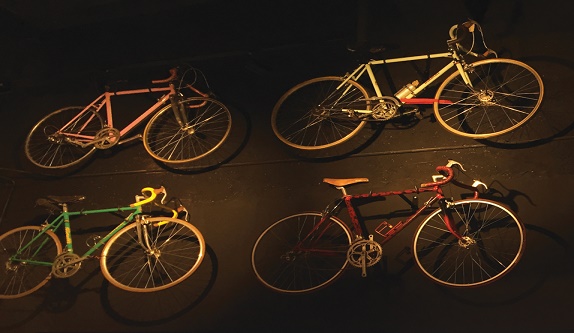 Photo Courtesy Lauren Tan
Far-flung and therefore good for a cycling outing, the unique café is located along the perimeter of Seletar Airport, by the control tower – a great place to gaze at parked private jets.
With al fresco and air conditioned areas for about 80 diners, Soek (speed) Seng (success) began in 1954 as a high end car restorer by current owner Poon Kng Joo's father. Bicycles entered due to his personal interest and subsequently the Bicycle Café opened in November 2015. Affable 'Uncle Joo' is well-known in the art world and his creativity can be seen in the artwork on tabletops, walls and in the many bicycle parts that decorate the café, including a hanging light fitting derived from a wheel. As he said when we chatted one balmy evening, 'The bicycle frame is my canvas.'
The compact menu features sirloin steak, tasty chicken chop ($8.50), popular fish and chips ($10.80), beef rendang ($8.20), filling Japanese katsu don ($6) and gyu don among other items, as well as cakes and ice-cream.
Soek Seng 1954 Bicycle Cafe
80 Seletar Aerospace View,

#01-01



MAJ Aviation Building
Tel 6659 6124
facebook.com/soekseng1954bicyclecafe