The inventive Southeast Asian restaurant gets a new location and some bright décor.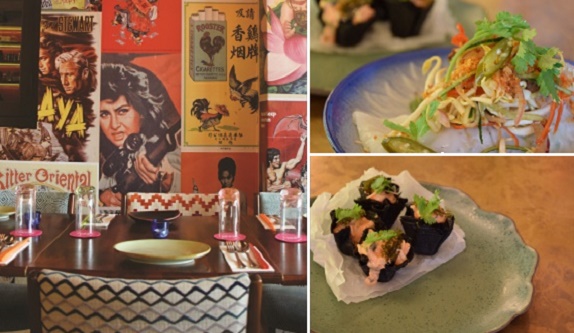 Shuffling not only its location, but its décor too, the oriental-themed restaurant that is inspired by modern takes on Southeast Asian dishes opens its doors in the busy Amoy Street.
The colours are what grab your attention once you enter the restaurant; adorning the walls are brightly coloured posters of classic films, product advertisements and more – varying from Bing Crosby's Road to Singapore to old-school travel posters about Thailand.
The menu offers a bit of cold and a bit of hot, with the choice to ask the chef to 'feed you' – head chef Jet Lo will pick out a selection of dishes to share with friends.
The first to come was a Hokkaido scallop tartare ($19), filled with coconut, pickled ginger and sea grape – and shaped like a kueh pie tee cup from your local hawker – is made with the same crunchy biscuit roll as the love letters you find during Chinese New Year.
Grab a plate of the ayam masak merah ($22), a chicken breast with cucumber salad, homemade onion chips and an onion puree that I'd never had before, but wanted more of.
The overnight-cured chargrill New Zealand ocean trout ($24) is meaty, fresh, and zesty. The spiced quinoa brightened the usually bland starch, along with a slightly sweet green mango salad.
The Umami ($20), a Bloody Mary with a bloody good kick of Sichuan pepper, chilli and tamarind, spruced up a recipe that most tipplers associate with hangovers.
Slushing things up, the Ding Dong Daiquiri ($18) is a white rum-based slushy, with cherry eau de vie, raspberry, lychee and lime – all served in a plastic takeaway cup and bright pink straw.
A hard hitter, a cup of Monkeys Run ($20) goes into a banana, pimento and egg white drink with dark rum and angostura bitters to warm the chest.
Pouring dried ice-like sago on top of the Ding Dong mango foam sorbet ($15) and pomelo pieces is a visual treat, showing us that there's a new twist to the ol' mango dessert that we know of.
Ding Dong
115 Amoy Street, 069935
6557 0189
dingdong.com.sg