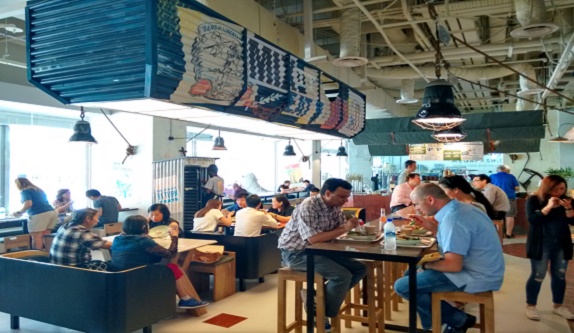 The mixture of backyard shed and rural farm with the expectancy of modern CBD appeal has the latest of Grain Traders chain sitting in 100AM Mall in Tanjong Pagar.
The staple of the lunch bar is the Hero Bowls, with all sorts of prearranged vegetables and proteins to pick and choose from if you're not happy with the handful of recipes they have listed – the monikers like El Hibaro, The Tantrum and Mr Pirom.
With other ingredients like apple kimchi and charred furikake corn, diners are able to mix different offerings to make their own bowl. Don't count on having the flexibility of 'umm'ing and 'ahh'ing during lunch though – you'll be standing in proximity to others as if posing for a school ball photo.
The ingredients of The Roosters Crow ($16) – slices of roasted chicken, a medley of crunchy greens with mixed bean pico de gallo, nuts and basil vinaigrette on quinoa – all sit in their respective groups, waiting for the diners to chop, flip and mix on their own. Given the mound of food in front of me, it was more an intricate dance than a hasty shuffle. The bed of lemon chicken slices and pickled yellow and orange capsicums softened the crunch of walnuts and shaved nuts – the broccoli and green beans are cooked, and lightly oiled.
In its own container to the side, the basil vinaigrette is a thicker dressing – more of an oil than a vinegar – adding some moisture to parts that were a little bland on their own – I'm looking at you, quinoa. The basil in the container sinks to bottom, so be sure to give it a shake before pouring.
I came in hungry, so I ordered the broccoli, cauliflower and kale soup ($2 more) with crunchy onion sprinkled on top. The smooth purée blended the three greens so well that there's no distinctive flavour between the three vegetables – perhaps a good tactic for kids to eat their greens?
The coffee bar serves the usual fare, as well as filter coffee made in an impressive glass contraption. The cold brews are served in large takeaway hip flasks – so let your boss know that's it's not a bottle of Baileys liqueur and you're fine. This batch is a bit sweeter than the usual cold brew.
The bowl, soup and a bottle of water comes to $18, though the avocado I ordered in fear I'd be hungry was $1.50 extra. It turns out the quinoa did its job shutting my hunger right up.
Grain Traders
100AM Mall #01-03/04 100 Tras St
grain-traders.com