Looking for something unique to get the muscles moving? Try one of these classes for a new perspective on fitness.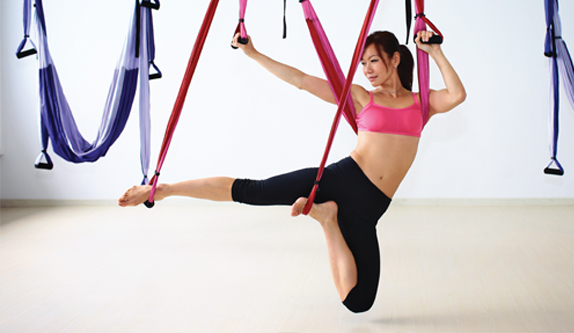 Aerial Pilates

Wanting to up the ante on the swing? Studio Motionwerkz (motionwerkz.com.sg) takes the power of gravity and increases the workout of a modified harness – imagine suspending your body in the air with soft fabric TRX-like suspension straps. Adding pilates and plyometric exercises to the mix, the smooth movements build core strength, tone and flexibility. Classes are open to kids as well, and considering the little monkeys that they are, they might just be willing to hang out with you.
Barre Workout
That horizontal handrail all ballerinas use to keep their balance can be utilised in many other ways, as this workout will prove. Conceptualised by a ballerina suffering from a back injury, the combination of low-impact movements, upbeat music and minimal equipment – just the barre – has skyrocketed in popularity in recent years. Studios like WeBarre (webarre.com) and Wings to Wings (wingstowings.com) have made the ballet barre the core for your core – and more. The whole body from top to bottom will be working out, increasing flexibility, cardiovascular and abdominal strength with pilates and yoga-like movements. No dance skills are needed; just an enthusiasm for trying out something new.
Aerial Yoga

Not your everyday hammock, these silk hammocks hang a few feet from the ground and encourage better flexibility, breathing and muscle toning through low-impact exercises – though be prepared for your core muscles to wake up. Combining yoga, aerial acrobatics and a bit of dance shakes up the traditional yoga positions. Studio Upside Motion (upsidemotion.com/programmes/aerial) and Platinum Yoga (platinumyoga.com) offer classes. Prenatal classes will be gentler, and those wanting to up the ante can go for the more focused.
Underwater Spin

Who would've thought throwing your stationary bike into the pool was a good thing to do – with claims of burning up to three times more calories than land-based exercises, there's no better incentive to saddle up and pedal through the pain in the pool. Places like Aquaspin (aquaspin.sg) have open-air classes set up for skill levels of all kinds – from beginners looking for a full-body workout and athletes recovering from injuries to prenatal and post-pregnancy classes. It's not just the bike you'll be using; unlike a spin class, you'll be using the resistance of water to build your upper body strength too.
Gymnastics

So you're not going to make it to the Olympics. So what? It's still fun to flip around without a coach barking negative feedback at you. From gymnastics to parkour, these acrobatic exercises will improve balance, agility, strength and coordination in everyone. Gymkraft (gymkraft.com) and The Yard (theyard.com.sg) caters to kids as young as three who want to get into gymnastics, but the adult classes are a chance to learn how to tumble, roll and increase awareness of one's body. It's not a matter of just jumping on a beam and flipping around. There's a lot of strength-building to handle the moves you'll eventually be able to pull off.
Piloxing

Mashing the two words together best summarises what to expect. Piloxing is a mishmash of pilates and boxing, with the focus on agility and strength from boxing and the flexibility and toning of pilates – it's a heart-racing class fit for fat-burning and muscle-toning exercises. Studios like Bolly Dancing (bollydancing.com.sg) and participating dance studios through the ActiveSG (myactivesg.com) portal run these high-impact, energetic classes.
Surfing

The unique longboard machines, called Ripsurfers, simulate waves via the inflatable balls underneath, building up on all those strength and core muscles that you'd use balancing for hours on a surfboard. Surfset Fitness (surfset.sg) will have you doing everything from crunches to yoga poses, all while trying to keep balance on the wobbly contraption. It's a fun way to mix up the aerobics class – and don't worry, it's harder to fall off than you think.
Bounce Fitness

At first glance the small trampolines you would normally spot in the corner of a gym seem like room decoration. Stick a handlebar on it, and all of a sudden you're in a non-stop cardio workout that can be downright intimidating at advanced levels. These hexagonal trampolines will have you burning fat with all sorts of high and low jumps, with a 50-minute workout spouting a possible 800-calorie burn. Kulture Studios (kulture.com.sg) and soon-to-be BoogieBounce (boogiebounce.com) offer varying levels of intensity.
Pound

Have drumsticks with no kit to play with? Dig out the rocker within and grab a pair of sticks. Created by drummers Kirsten Potenza and Cristina Peerenboom, the fast-tempo cardio session incorporates a bit of pilates and yoga into the whole-body workout to build strength in banging those drumsticks in various ways. This kind of class is very new to Singapore, and at the moment, only Grace Sagaya (gracesagaya.com) is offering classes – having gone to Australia to learn the craft.