Singapore's history through the eyes of a comic book artist is an incredible sight to see – even if he isn't real – Gerard Ward learns.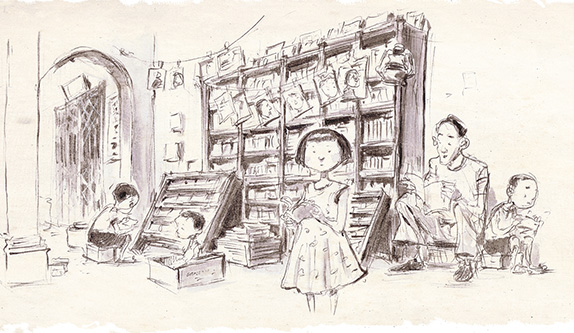 The book The Art of Charlie Chan Hock Chye is a biography of a Singaporean comic book artist whose work went largely unnoticed throughout his career. The only twist? Chan Hock Chye is not a real person. That's the premise of the graphic novel by Singaporean comic book artist and illustrator Sonny Liew.
While Chan Hock Chye may not be a real person, the Singapore around him surely is. The book is a combination between chronicling the comics of Chan Hock Chye, and interview snippets with Liew. 'It's kind of a different thing that I was doing from my mainstream stuff,' Liew says about the graphic novel. 'I wanted to do something that was different. I took a risk, I suppose, to actually work on this book for two years.'
The real artist, Sonny Liew, has had an interest in art his whole life – his first break in the industry was when he had a comic strip in the local newspaper. 'I was back on holiday from school and I just started to draw comics and sent them to newspapers,' Liew says. 'I drew like a dozen strips and then I sent it to The Straits Times and The New Paper, and it just happened that The New Paper at the time was looking for new creators.'
There were a few local and regional creators at the time doing comic strips, and through pure luck of timing, The New Paper published a daily strip by Liew for about a year – the first time he was paid to draw.
That process of creating comics from ideas and seeing them published was such an engaging feeling that it solidified his desire to do something art-related as a career. 'It took me a couple more years to go to art school and figure out how to become a comic artist,' he says.
Returning to Singapore after graduating from Clare College in Cambridge, Liew was unsure of what he wanted to do. He went on to work for a year producing illustrations for educational math and science CD-ROMs – but still wanted to try out comics. Liew's sister had returned from studying in the US – bringing with her a handful of brochures to art schools. 'So I applied for art schools,' Liew says.
Studying at the Rhode Island School of Design for three years was an eye-opener for Liew, who was a self-taught artist in the beginning. 'For me to go to art school and do a painting, or do an illustration, it's the kind of things you do after you finish your homework or essays at school,' Liew reflects. 'All I knew how to use was paper and ink for drawings, so learning about colour and different mediums was something I wanted to do at art school – and by and large, the teachers there could guide you to try these new things.'
While the projects Liew worked on at school were a lot of fun – one of which, Malinky Robot, was later published – he had an eye-opening experience regarding race. 'It can be paradoxically hard to notice structural racism around you because it's so pervasive and woven into everything around you,' Liew says. 'When you're in the majority you don't really see it, but once you're overseas, it actually makes a big difference, being a minority. I've been exposed to British and American culture through TV, so probably the biggest shock was probably people just shouting racial slurs at you.'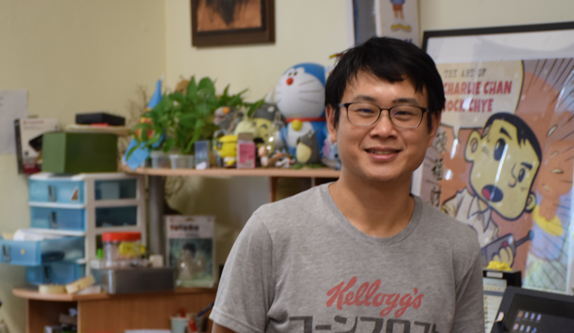 Sonny Liew in his studio.
Being Malaysian-born but living in Singapore since kindergarten, it wasn't until the 2011 general election in Singapore that Liew wanted to become a Singaporean citizen. 'It was the first elections in Singapore where social media played a big role,' he says. 'You could connect with people who shared similar ideas, and there was a sense of engagement with the process that made me want to be more involved as an actual citizen of the country.'
Liew's career has seen him work on big projects with big-name comic brands Marvel Comics, Disney and DC Vertigo. His style of drawing has transcended between different genres, from illustrating Jane Austen's Sense and Sensibility to just finishing up on DC Comics' Doctor Fate series. What has grabbed the most attention – and rightfully so – is a two-year project he both wrote and illustrated called The Art of Charlie Chan Hock Chye.
The graphic novel is a tale of the fictional comic book artist living in Singapore. Born in 1938, Chan Hock Chye talks to a caricaturised version of Sonny Liew about his life as an artist. The son of a shopkeeper is heavily influenced by the works of Japanese comic artist Osamu Tezuka – famous for Astro Boy – and talks about his progression into comics.
Throughout the book, the character talks about how events happening alongside – events that actually occurred during that time – influenced the comics he was creating. From the formation of Malaysia in 1963 to winning independence from Britain in 1965, these events in turn influence the kind of comics that Chan Hock Chye creates – from sci-fi tales like the British children's comics found in the Eagle periodical to the political satire of a Walt Kelly Pogo comic, where well-known figures are anthropomorphised, to creating portraits with oil on canvas. 'I had to make a timeline to match the events and what comics were available at the time,' Liew says. Every single drawing, sketch and painting is created by Sonny Liew. It's an amazing display of artistic talent to pull this off.
There are clippings, sketches, old photos stuck on to the page with sticky tape – even ticket stubs from an old cinema – that just feel real. That's the magic of this book. 'Things like that provoke a sense of nostalgia for me, even if I'd only seen the tail end of a lot of it in the 80s,' Liew says. 'And I thought they'd create a resonance for readers as well, provide a tangible visual connection to the past.'
While technology and Photoshop has made things a little easier to add effects – like aged paper – Liew still had an affinity for 'going into bookstores and buying old books for the one blank page that they have on the front, and scanning it'. 'You can find templates online, but it's not the same because it's predesigned, and it doesn't look quite right,' Liew says of computer-generated effects. Liew found a lot of old books and antiques at his grandma and grandpa's place in old cupboards. 'I was a bit of a collector, so I brought them all back to Singapore to scan and look at,' he says. 'I'm a bit of a hoarder, for sure, but maybe this book gives me a bit of an excuse for that habit.'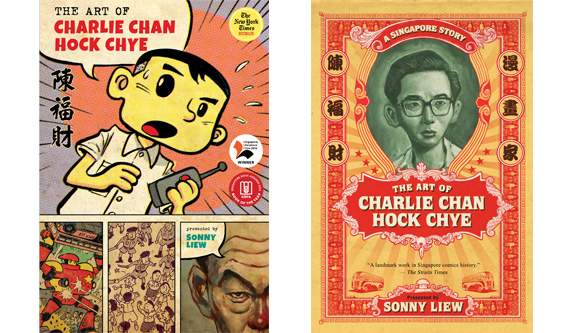 The softback and hardback covers for The Art of Charlie Chan Hock Chye.
To comment on such pivotal moments in Singapore's history, as well as feature prominent political figures in Singapore's history, Liew made sure he did his research. The footnotes at the bottom of pages refer to the back of the book, where readers can familiarise themselves about the May 13 incident in 1969 and the Bukit Ho Swee Fire of 1961.
For an artist to re-create the feel of a Singapore before he was even born however, Liew went to the source. 'Most of the research that I've done on history was not what I would call primary research,' Liew mentions. 'I did interview people about how things felt like living in the 50's and 60's. I talked to the old folks about what it was like, asking how they felt about the changes happening in Singapore at the time.'
Singapore's National Arts Council (NAC) offered Liew an SGD $8,000 grant, but moments before the book's release, revoked it – with the reasoning relating to 'sensitive content' in the book. While Liew was cautious that the kind of topics discussed in The Art of Charlie Chan Hock Chye would make it unlikely to win the grant, once it was approved Liew assumed everything was fine. 'The text was all there, and that was why it was surprising that they withdrew it later,' Liew says.
The book went on to become a New York Times bestseller, and the first graphic novel to win the Singapore Literature Prize for fiction in 2016. The controversy surrounding the pulling of the grant could've been a reason why it become so popular. 'The NAC has a somewhat schizophrenic approach to the book', Liew reflects. 'Officially they can't support the book itself, but they can support me as an artist. I hope that in the longer term all this would have at least helped start a conversation about the relationship between the government and the arts, and contributed to the discussion about ways of looking at Singapore's history.'
Since The Art of Charlie Chan Hock Chye was released, critics worldwide have been praising the book's ability to engage the reader, with an almost impossible to put down tale of a man and his comics, and a country with incredible growth. The amount of history implemented into Chan Hock Chye's narrative is incredible, and visually stunning.
The Art of Charlie Chan Hock Chye is available to purchase at bookstores or online from epigrambooks.sg. Images courtesy Epigram Books and Sonny Liew. Hardcover design by Wong Wen Yeu.