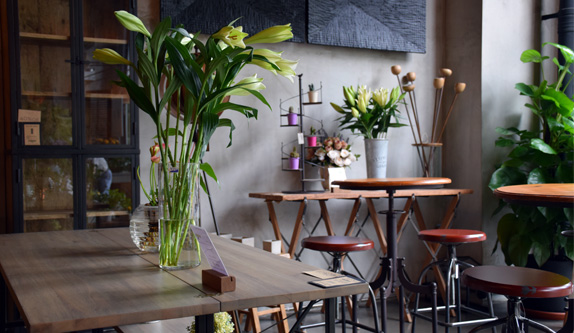 Outside of the usual neighbourhood hotspots for kitschy cafes you'll find an answer to the age-old question on how to bring people to your furniture showroom.
Knots Living has created a small-scale cafe in its two-storey space out in Paya Lebar. There aren't many other places nearby to fulfil the lunch crowd.
What draws the eye's attention in this place is the design – being a furniture store, that should be a given. How did I find this place? Instagram, of course.
Plenty of wood furniture, potted greens and art adorning the walls, the place has harnessed the thirst of social media-heavy users. What makes this different are all the dangling price tags. Like an IKEA you can eat in, prices hang from pots, bars, tables and chairs – even the very chairs diners sit on.
The menu of the café isn't extensive, with meals hovering around light dishes, a few sandwiches and salads, and pasta dishes as mains. Going for the Hawaiian pizza ($10), the base was a tad doughy, though for the price you pay would please a child's taste buds. The coffees made here are espresso-based – not like a lot of new cafes using those button-push machines you'd find at a hotel buffet breakfast.
The garden salad ($4.60) comes with sliced cherry tomatoes, cucumber, iceberg and strawberries – with a light drizzle of oil for dressing. There are plenty of cakes on display to gawk at, and the general atmosphere is calming. A message on tables tells diners about their Social Outreach program with Persons with Disability (PWDs), which is a great initiative to be a part of. The space is taking a risk in allowing customers to use the very furniture they could possibly purchase, but it does give another layer to consider when you've actually had your morning flat white. The second floor is laid out like a normal showroom to browse around with no salesperson to hover nearby – you're more likely to have someone asking you for your order than your furniture preferences.
Knots Cafe and Living
160 Paya Lebar Road, Orion @ Paya Lebar #01-07, 409022
6817 0383
knotsliving.com