Two bars have given a breath of fresh air to the cocktail game, Gerard Ward says.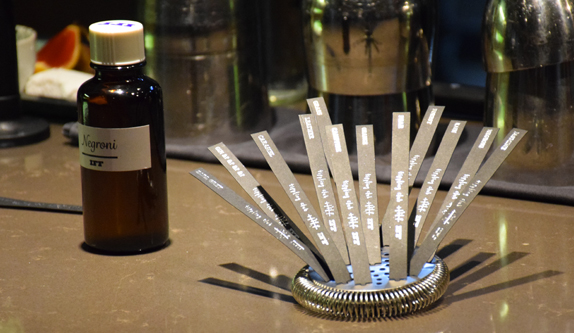 Tippling Club
38 Tanjong Pagar Road, 088461
6475 2217
tipplingclub.com
A particular smell or scent can bring back long-forgotten memories in such a powerful way. Ever gotten a whiff of a perfume and thought your old school teacher might be nearby?
Perfumes and colognes tend to harness particular ingredients to portray a particular characteristic. But what about the smell of freshly-cut grass? The Tippling Club bar along Tanjong Pagar Road, owned by revered chef Ryan Clift, unravelled their latest creation: The Sensorium Menu.
With a collaboration with International Flavors and Fragrances (IFF), Head Bartender Joe Schofield and his team came up with 12 distinct scents – and with it, intentions to evoke 12 different memories. Most are single words, like 'Orange', 'Leather', 'Pear', 'Caramel' or 'Jasmine'.
The 12 scents, sprayed onto perfume tester cards, sit on the table at Tippling Club. Guests choose a cocktail by the scent on each card. The back of each card has a list of ingredients as well to let you know what you're getting yourself into – the Campfire, for example, lists 'marshmallow milk, campfire, burnt syrup, ash, gin'.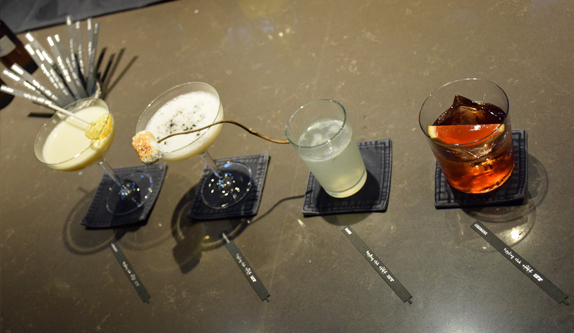 Caramel, Campfire, Rain and Negroni.
Once you've figured out your choice, you can hand over the perfume card and wait for the drink to arrive. The Campfire, stirring up memories of trips out country sitting by the fire, is served with a homemade marshmallow sitting on a twig, singed on top with a bit of flame to give that golden colour. The scent isn't essentially burnt wood, but through the magic of sensory science, just enough to gather imagery of a campfire. 'We want the garnishes and the drinks to work together,' Schofield says. 'All the way from the smell to the taste.'
Order up a glass of Grass, and sitting on a small square of artificial grass is a tequila-based drink with citrus notes, a hint of anise and a sprig of dill sitting on top. Try the Leather for a leather-covered glass jar with what seems like an Old Fashioned whisky cocktail with vanilla and orange – and that familiar smell of cattle hide.
Schofield, who says he's not used such high-tech machines before – like the Sonicprep, a machine that emits ultrasonic sound waves to infuse liquids with aromas from spices or herbs – has embraced this newer way to create new drinks and up the game for mixologists. 'It's really a lot of fun to get to try something new like this,' Schofield says. 'We've been working on this for the past year or so, and I'm really looking forward to hearing what people think.'
Drinks are all the same price ($22 each) to remove the worry of cost when chossing – your mind won't need to wonder whether it's worth splurging on Rain.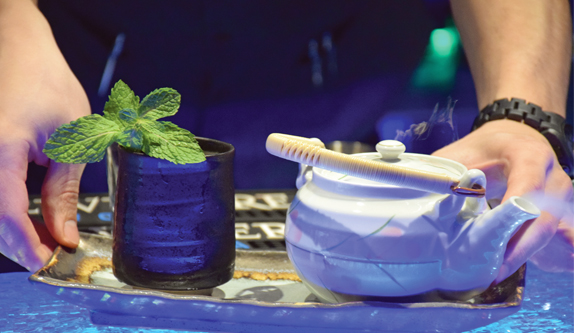 Mitzo
Grand Park Orchard level 4, 270 Orchard Road, 238857
6603 8855
mitzo.sg
On the fourth floor of Grand Park Orchard is the Chinese restaurant Mitzo. Standing at the back of the room with its blue hues, high tables and large aquarium wall of real jellyfish is Mitzo's Bar Manager Marco Pignotta and his team. The bar's revamped cocktail experience is the team's newest mix of Asian-inspired drinks making use of Asian herbs, spices and iconic flavours.
The bar's take on the Negroni – the drink Marco says is the most popular in Italy – lies in the details. Genever – the juniper-flavoured Dutch spirit that later evolved to gin – is infused with 500 grams of red dates, then aged for a month in a small oak barrel and filtered. With the addition of Vermouth del prodessore, and a bitter Campari, the 'Uncle' Negroni is a smoother drink, with a slightly oaky finish – thrown into a crystal glass and a hand-chiselled ice block.
Chinese Collins is a play on the Joe Collins gin cocktail with lemon juice, sugar and soda water. To bring in some Asian elements to the recipe, the bar mixes Haymans Old Tom gin and the very herbal Chartreuse green with some goji berry syrup. The pièce de résistance comes from Jia Jia herbal tea – those white cans of tea you might recognise in hawker shop fridges – becoming an integral part of the mix. The cocktail is then thrown into a carbonation canister – like a portable Sodastream – to turn it into a sparkling drink. With the intensity of the Chartreuse being blanketed gently by the tea, it's a refreshing take on a drink usually seen as a somewhat bland lunch drink. To top it off, the drink is served with a teapot steaming with dry ice for mystic effect.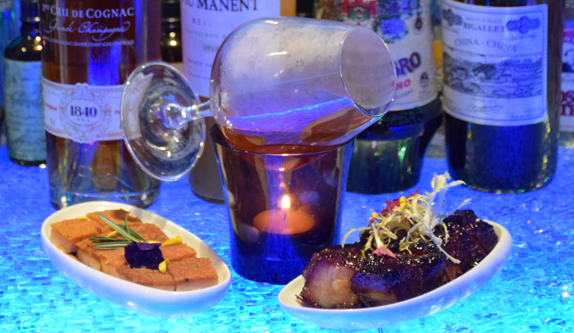 Mulled wine cocktail Le Sommelier, with crispy pork belly and sticky barbeque pork.
Le Sommelier is the mulled-wine style cocktail that brings a lot more to the table than your average spiced wine. Imagine how to bring five relatively strong drinks into the one glass without knocking the drinker out. You'll recognise the technique Marco pulls off as he replicates what a kopitiam's pulled teh tarik drink needs – the transferring between two cups. The only difference to this is that the drink is also lit on fire to help remove some of the alcohol. It's alluring to watch the drink go from one cup to the next in a string of fire.
Once complete, the drink is poured into a cognac glass, and lent on its side above a tealight candle to warm up the cocktail. The fumes from the drink are so strong that if the mind had any memories from the spices of mulled wine, this is like a heavy wallop to the nostrils.
With a couple of side dishes to eat, this is surely a drink best enjoyed slowly – and to make use of that sense of smell.