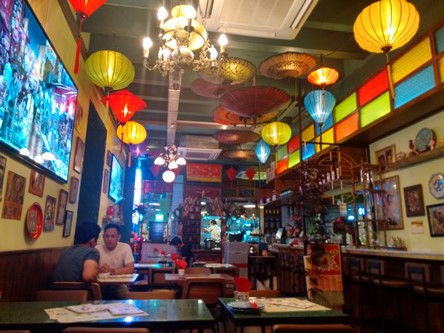 Xiao Ya Tou
6 Duxton Hill, 089592
6226 1965
xyt.sg
Duxton Hill has a habit of rejuvenating itself every six months with fresh ideas. With vivid colours, bright paper lanterns and a lot vintage posters and toys, the new restaurant quoted as 'naughty modern Asian cuisine' is a delicious love letter to local flavours and tip-of-the-hat to Western tastes. There's a lot on offer, from short ribs and pork belly to Chinese bun-inspired sliders.
The crispy Otak-Otak Rolls ($12) were thin spring rolls with the familiar fish-paste filling one would find being sold wrapped in banana leaf, with a peanut sauce underneath to dip.
The three meatballs 'Takoyaki Style' ($9) with a tare glaze, brown butter mayo and cabbage shaving was delicately soft – not the kind of dry meatball that relies on its sauce to moisten.
The wok-fried rice of duck leg ($13) with pickled mustard leaf, Shaoxing wine and dried onions isn't your stock-standard rice. Pieces of duck meat, shrimp and fried onion add that bit of oomph.
The cocktail menu has an interesting play on local drinks, like the Milo – a mixture of vodka, chocolate liqueur, evaporated milk and an ice ball made of Milo, heaped with the powder on top. -GW