A new bunch of farms have sprouted in land-scarce Singapore, but not in the way you think, Gerard Ward finds.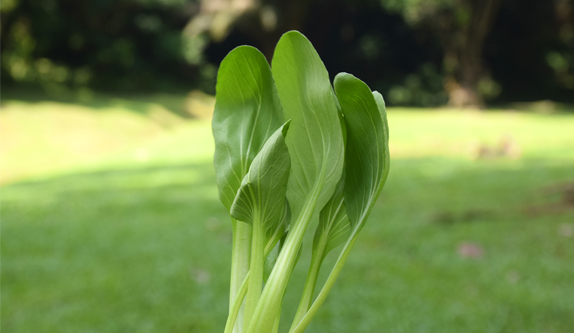 The progress made on growing vegetables with Singapore's limited space – whether it be through starting a garden on office rooftops or trying soil-free hydroponics at home – has been very promising, especially for cities where the reliance on produce outside of a country is high. Singapore imports over 90 percent of its produce from outside the country – farmers only produce 8 percent of the country's needs for vegetables and fish, and 26 percent for eggs. This means a heavy reliance on the global supply being plentiful – companies here have to adhere to the prices, so if any shortages were to happen, Singapore would feel the pinch just as much.
To try and bring the country's reliance on outside entities down, there has been interest in growing our own produce – albeit in different ways, considering land is hard to acquire. For the farms that are left in Singapore, their future has been numbered. A recent Channel NewsAsia Insider video followed Jurong Frog Farm's Chelsea Wan as she explained the future of her family's frog farming business. According to the report, the government has not renewed the farm's lease past June 2017, and all of the 62 farmers of Lim Chu Kang will have to tender for new, smaller plots in the Lim Chu Kang and Sungei Tengah areas.
While traditional farming has been on the decline, there have been advancements in growing local produce in other ways. Edible Garden City, a 'grow your own food' movement – see last month's feature on this by ANZA Tour coordinator Sue Elliott – is encouraging people to make use of rooftops and sidewalks. These initiatives are making great progress in getting people interested in growing their own greens, but what about feeding a nation?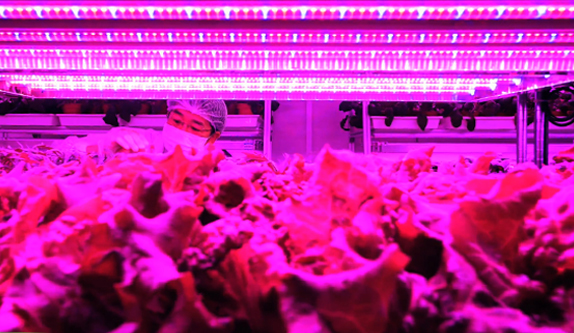 These coloured LED lights feed the greens. Photo courtesy Panasonic.
Thinking less about flat ground, and more upwards, there's a newer way to grow greens with less land. Out in Lim Chu Kang Lane 3 is a series of tall glasshouses a few floors high, with what appears to be nothing but six to nine-metre tall aluminium towers. Each one of these towers holds anywhere between 32 to 38 racks, all with planted vegetables in either soil or hydroponics, and has the potential to grow 100 kilograms of vegetables in 28 days.
These shelves are rotated during the day to ensure each shelf gets enough sunlight, and only 40kh of electricity is needed for each tower – the energy used to rotate these racks comes from gravity and a water pulley module, powered by a tank of rainwater and recycled water. The water is then pumped back into a generator, pumping back up to the water tank to start again. One of these low-energy, low-water use towers costs about $15,000 each to set up.
Sky Greens has been in Singapore for a few years now, growing kai lan, lettuce and Chinese cabbage in the for purchase at FairPrice Finest since 2012 – you'll be able to recognise the brand's cloud logo. Sky Greens founder Jack Ng has said the 3.65 hectare farm aims to increase its 1,000 towers to nearly 2,000 by year's end, with 5-10 tonnes of vegetables per day. According to the company, 20 employees can harvest around one ton of vegetables each day.
The technology has been gaining interest worldwide – China's Hainan province, an island on the southernmost point, has bought 192 towers from them. Jack Ng has also pitched an initiative to build what's called the Sky Urban SG100 Agripolis, using 20 hectares of land to build an integrated hub of high-tech research and vertical farming facilities – with the goal to produce 30,000 tonnes of vegetables a year.
Growing Chinese cabbage is one thing, but what about leafy salads you'd find in your usual lunch? You'll be surprised by the company that's tackling the homegrown salads in Singapore – Panasonic.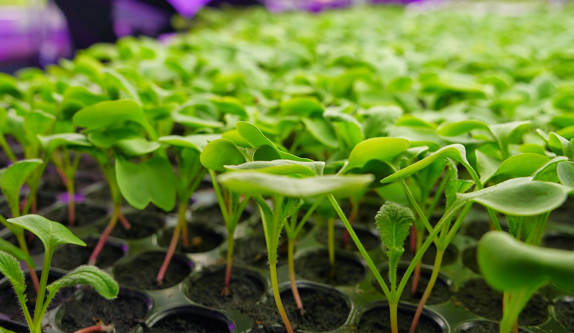 Sprouts beginning their journey from seed to shelf. Photo courtesy Panasonic.
Veggie Life is the result of 1,154 square metres of farming in Panasonic's west coast factory. The company more known for its electronics has been taking the initiative to grow their own lettuce, radish, baby spinach, watercress, mizuna, broccoli and so on.
This garden is a little different, however. These plants aren't getting any sunlight. Instead these greens are getting their daily dose of photosynthesis from LED lights, all without a single ray of sunlight. These special LED lights are able to provide the plants with what they would usually need from the sun – meaning these farms could effectively work just as well in a basement, if not better.
Grown in strict soil-based conditions – along with the controlled lighting, there's constant temperature, humidity and CO2 levels – and no pesticides, these vegetables are farmed and packed into three different take-home salad bowls. These vegetables are also provided to restaurants and groups around the country, including Resorts World Sentosa.
Starting with an annual capacity of 3.6 tonnes, Panasonic is now growing 38 types of vegetables at a whopping 81 tonnes – and is aiming to provide 5 percent of Singapore's local veggies by March of next year, which will lessen the need for importing.
After hearing about technology like Sky Greens and Veggie Life, we wanted to try it out for oursleves. So that's exactly what we did. Running down to the FairPrice Finest, we grabbed Veggie Life's Nourish Mix and Vibrant Mix ready-to-eat salads, as well as a bag of Chinese cabbage from Sky Greens.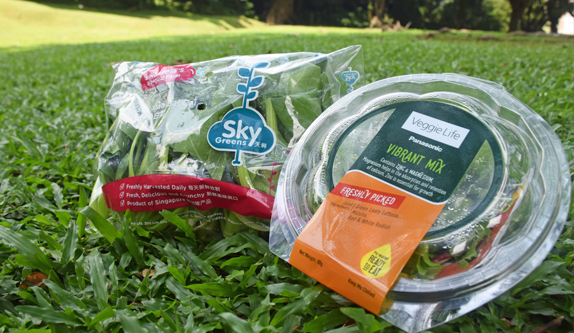 Sky Greens' Sky Xiao Bai Cai and Panasonic's Veggie Life salad.
Of course it's not usual to eat Chinese cabbage raw, but considering none of these leafy bunches of cabbage have seen any sunlight, they were surprisingly strong and crunchy.
We took each part of the ready-to-eat salad ingredients, and tried them one by one – do note that we're not in the business, nor habit, of analysing lettuce leaf by leaf. There was crunch with the green lettuce, crispness with the slices of white and red radish, and a peppery flavour in the mizuna leaves. The roasted sesame dressing that comes with the salad was nice, albeit a little sweet, but most salad dressings are.
While having an indoor vegetable farm takes the pressures away of needing consistent weather, it also takes more energy to run such a controlled environment – it's hard to beat Sky Green's 40kh of electricity.
Both technologies are tackling an issue that Singapore is facing in terms of making use with the space that the island has left. It's unsure what the future will hold for local produce, but not all hope is lost.