The Australian Co-Captain of Super Rugby's Sunwolves and former player of Queensland Reds talks about the upcoming season.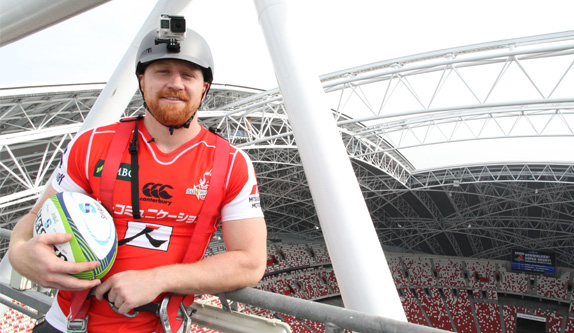 Last time you were here in Singapore you got to climb up to the top of the National Stadium.
Yeah, I was the first person to climb up there that wasn't part of the construction staff or staff legally allowed to go up there, which was a bit of a buzz. It was great being in Singapore.
Everything from waveriding to tasting Singapore food and looking around…it was a pretty hectic schedule, but I think it was a good crash course on what Singapore's all about. Hopefully next time I might get to kick my feet up a little bit.
The sunwolves are based in Japan. Have you travelled a lot before joining the team?
Yeah, I played professional rugby in Brisbane where I grew up, and we obviously travelled a lot. I've seen a lot of the world through rugby, and been very privileged and lucky to see so much – from the likes of Dubai, Las Vegas, Argentina to name a few. Obviously we travel a lot to South Africa, New Zealand, Australia and we're ducking up to Argentina, and we call Singapore home as well for our Super Rugby journey for this year.
After a year with the Sunwolves you're now co-captain. What's it like to take on that role?
It's pretty surreal. I was a bit nervous because I get a yellow card every now and then. [Laughs] That's not due to me, that's just other blokes that lead me on to that kind of stuff.
All jokes aside, I was really privileged to say 'yes'. I feel that they gave me a couple of days to think about it, because it's a big task, and you never want to be taken away from your rugby. I'm still young, and there's a lot more experienced and eligible guys to become candidates for captain.
I want the players on my side, but I'm not going to change the person that I am – and not how I play my game and go about my business on and off the field. I think I always use this terminology, but it's really good to grow as a bloke on and off the field, as well as a player.
I think captaincy matures you a bit, and I've always looked up to captains themselves to lead, but we've got a good 50 guys and staff that are all going to be working in one squad to get the results.
Do you have any favourite foods or places in Japan that you've fallen in love with?
The Italian food [Laughs]. Just everything. The way of life here…coming from Australia, it's a different kettle of fish over there. I've grown up there my whole life, but to come here and just to see how respectful everyone is, and how the general public are willing to help at the drop of a hat.
I don't really know, there's just so much I haven't seen as people who were born and grew up here, but I'm hoping to spend a lot more time here and learn a lot more about Japan.
I've been told not to look at eye-level, but to look up. You always look on ground level for restaurants and shops, but it's what's above you on the tenth level where all the good stuff is.
The Sunwolves will be playing at the Singapore National Stadium against the Kings on 4 March, the Stormers on 25 March, and the Sharks on 20 May.