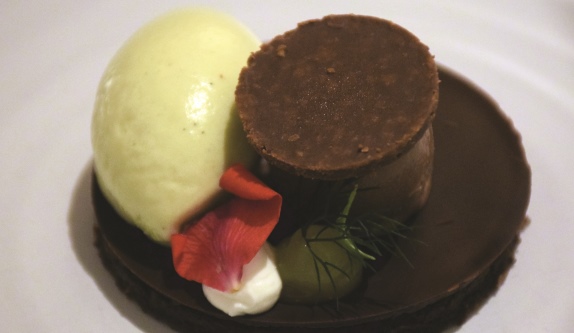 Australian-born Luke Armstrong, the new head chef of the Michelin star-winning restaurant, had been in town for just six weeks – literally starting a day after arriving in Singapore – when the press were invited to try the new menu. The new menu comprised of all new dishes – I hadn't tried the food when previous head chef Ivan Brehm was at the helm, so I have no measure for comparison.
Previously at London, the 29-year-old chef aims to make the restaurant feel more like one would expect of a metropolitan city, with an experience that would have you ready for drinks afterward instead of a food coma back home.
The kitchen is right at the entrance, making your natural instincts churn and giving you the reaction to hightail it out – like you're walking through the back of the restaurant.
Soldier on and you'll be shown to the seats further back. With brick walls painted white and patterned fabric framed and hung on the walls, there's more of a focus on the kitchens at the front and dessert space in the back room than there is décor to catch your attention. Chef Armstrong's a fan of bold flavours, as well as sourcing as many fresh ingredients – and as local, depending on availability. There's a 5- or 8-course menu, most with new dishes – with some of the remaining dishes from the old menu to be phased out over time. An 8-course menu will set you back $188++, with a wine pairing adding $125++ on top.
Tasting five dishes from the 8-course menu, the first is a plate of incredibly soft hand-dived scallops, sourced from the Netherlands. Sitting in half a clam shell with a slight sour soy dressing, there are five slices of scallops with strips of black truffle sitting idly on top with its subtle flavour.
The zest of lime in prominent with the Hamachi tartare, with the jalapeño crème a soft, sweet pinch.
Originally listed as monkfish, the change to mackerel was a result of the chef wanting the better fish. Sitting with a Brittany mussel, the slice of mackerel with seared skin was slightly salty, with the mizuna emulsion poured on top giving a little balance.
The diced bone marrow and thyme jus on top of the seared grass-fed tenderloin is a bit thicker, along with a portion of Moroccan-spiced aubergine – a dense side bursting with flavour.
With chocolate mousse, chocolate wafer, chocolate sponge cake and homemade mint ice-cream, the dessert was a surprisingly light end to the meal.
The price for the full experience is out of my reach, but having not tried all eight dishes at once, HongKong Street's Michelin home could soon shine even brighter.
The Kitchen at Bacchanalia
39 HongKong St, 059678
9179 4552
bacchanalia.asia