The Seletar area in the north-east is beginning to take flight, Gerard Ward says.
Never have I been out this far north-east of Singapore. This is definitely not a short walk destination. Known as The Oval, this clump of black-and-white bungalows nearby the Seletar Aerospace Park are in the process of being restored as part of a neighbourhood revamp. Once housing Royal Air Force officers before World War II, these houses are now being developed into restaurants and residential units.
Some of these bungalows have already been cleaned up, with brand new paint and electricity installed – most of them didn't come with electricity. There's a fair amount of effort being put in to turn Seletar into an attractive neighbourhood. There's a playground being built with shapes of planes and control towers, and even a nearby park is being built for people to gawk at the private jets and planes on the Seletar Airport strip. By the entrance to your left as you approach The Oval is Wildseed Café. The café is a mixture of a modern coffee shop – with wood tables and shelves selling some take-home goodies – and a florist. At the time of visiting the café and adjacent restaurant The Summerhouse – also owned by the same group who owns Stellar at 1-Altitude – had been open only three weeks, yet a wedding and private event was held mere days before.
Florian Ridder, the Hamburg-born Head Chef of Wildseed and The Summerhouse, explains the arduous process of installing modern amenities to these bungalows. 'We're still waiting for the internet to be installed,' Florian says, highlighting the fact orders need to be taken and delivered by hand. Wildseed is where you can get your sandwiches, cold-pressed juices and smoothies – as well as the café's homemade jams and chutneys you can buy to take home. The 'Berry-Gizers' ($6) is a smoothie made with frozen berries, granola, yoghurt and orange zest – a bit thick to use a straw at first. The latte ($5), made with locally roasted beans from Nomad the Gallant, is velvety, and comes with a tiny, lemony Madeline cake.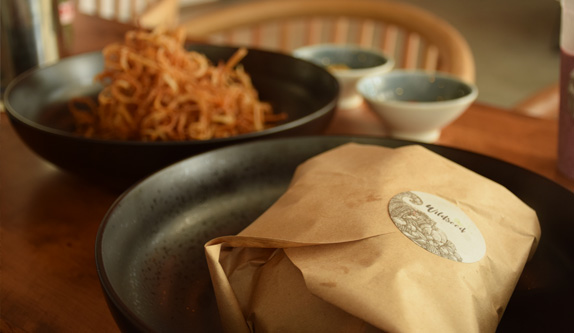 The Morocano and curly fries from Wildseed.
Among the list of sandwiches available is the pulled pork series, as well as the braised beef brisket series – the latter catches my eye, and I order The Morocano ($18), a burger on rye bread with eggplant stew, feta cheese, sautéed pak choi, hummus and sesame. The beef is succulent, a bit chewy, and the sandwich becomes a mess – though I do not mind considering I am starving. The super thin curly fries ($5) with ketchup and soy sauce seaweed mayo is less potato chip and more fried potato shavings – something I've never had before, though I assume kids would love it more than their calorie-counting parents. Afterwards, I walk across to have a look at The Greenhouse space next door. Not a massive space compared to most wedding venues, the mirrored roof, bespoke lights and revamped bungalow interior gives quite an impressionable feeling in the room. There's even a table with samples of the outside edible garden – trying to highlight the farm-to-table concept that restaurants in town are beginning to embrace more wherever possible.
Walking outside and towards the next large bungalow, Wheeler's Estate – the newest venture from the people who brought you Wheeler's Yard – has its quintessential silver-coloured Airstream mobile caravan sitting on the front yard. Outside is a picnic area, where people can go grab a basket with sandwiches and drinks made by the café and throw a blanket down anywhere on the green grass – or the picnic tables scattered nearby its BBQ shack. An upcoming feature expected around May of this year will be the ability to rent bikes and ride around – either taking a peek at the nearby airstrip to watch planes, or riding all the way over to sister venue Wheeler's Yard 33 kilometres away via the PCN route.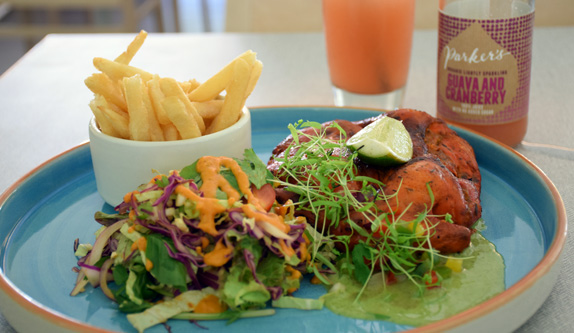 Peruvian BBQ chicken from Wheeler's Estate.
Before arriving I heard that the restaurant's menu included chicken parmigiana ($29), a favourite pub meal among Aussies with its breaded chicken, ham, tomato sauce and mozzarella cheese smothered on top. Unfortunately there's none ready for lunch, so I opt for the Peruvian BBQ chicken ($32) – a spicy red, tender chicken with bones left in, and some crunchy fries.
Chef Jayd Kitt pops out for a chat about the foods he's hoping to bring to the restaurant, including making sure it's 'unpretentious and a bit rustic. 'We don't want to alienate a demographic just because of where we are,' he says. 'Coming this far out from the CBD, people are looking for a place where they can relax. We think there's something really special about this place where you can throw down a blanket, have a couple of sandwiches and relax.'
There's one cafe that has been around longer than any of these newer places. Soek Seng 1954 Bicycle Café has been around for just over a year, but has already become a favourite for cyclists as a fuelling station. The café itself is decked out in all sorts of memorabilia and paintings adorning the walls. While it's not the easiest place to access – you have to walk into private grounds of MAJ Aviation to get to it – this is the closest you will ever get to drinking a coffee metres away from an airstrip in Singapore.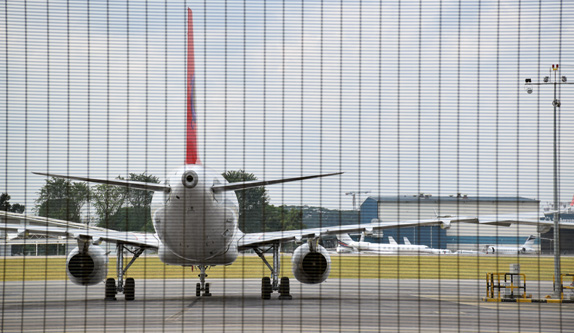 The view of Seletar Airport from Soek Seng 1954 Bicycle Café.
There is literally a barbed wire fence keeping you from Seletar Airport, and for fans of planes big and small, there's something special about being so close to them. The menu is a bit of Western and Japanese, with mostly fried foods, so it's not so much the food as it is enjoying the location. While sipping on a latte ($5) I count the number of windows on the closest planes – from a 40-window plane to a tiny 6-window jet. Seletar isn't the first space most would associate as 'trendy', though surely it will be very soon.