Taking things slow by train makes the journey more rewarding, Tatyana Kildisheva finds.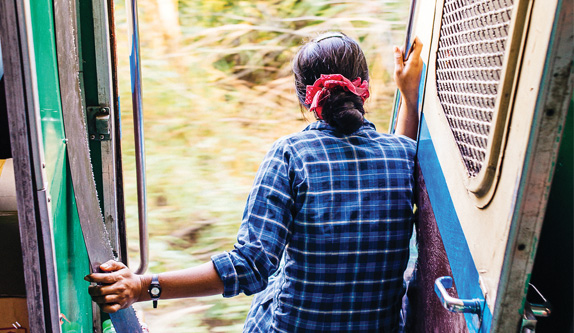 Traveling to Myanmar felt like going 50 years back in time. Most people fly within the country but my partner John and I chose to move around using the British built railway system and local buses.
Myanmar is an incredible country with amazing, hospitable people who are happy to pose for photos and are always smiley. Most wear traditional clothes and apply thanaka – a yellow paste – on their faces, mostly the cheeks. It looks quite comical initially, but we get used to it. We are frequently approached by giggling youngsters to take photos together – most of them have smartphones.
Myanmar feels like a time machine; everything they use is from the distant past, from handwritten signs, to asphalt roads built by hand. In Mandalay, we witness cargo loading on ships by women carrying boxes stocked up on their heads – up to three meters high.
Train tickets are sold strictly at the station with no computer system and issued by hand. Foreigners pay a higher ticket price – still as cheap at $3 USD for a long journey – and are mostly traveling in 'upper class' cars with more comfortable seats.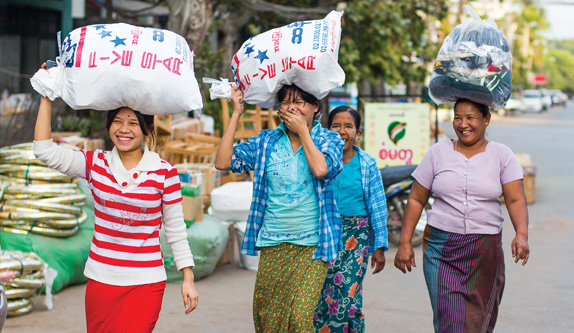 There's an immense strength and skill to carrying such weight around.
Yangon's traffic is as busy as most of Southeast Asia. There's a ton of betel nuts sold – a local concoction of areca nuts, tobacco and spices on leaves of betel plants that you chew – and the surrounding old buildings are layered with antennas and Buddhist paraphernalia. Enormous Buddhist temples are everywhere with many vendors selling all kinds of statues and such – it's a little overwhelming.
The people appear to be deeply religious. The majority of the Bamar – Myanmar's ethnic majority – are Theravada Buddhists. No shoes are allowed in Buddhist temples, not even socks – hence the signs in broken English.
There's lots of food cooked and sold right on the street, and it's very cheap and delicious. Visiting tourist sites is expensive for foreigners, though free for locals. Huge markets can be found everywhere, selling plenty of fruit, vegetables and textiles. The contrast between modern advertising and the slow archaic pace of life is striking. Beautiful batiks are sold everywhere, all with gorgeous colours.
We take old colonial trains all over the country – the most epic of the lot is through the mountains where the train zigzags 1,400 meters up and down the mountain. It takes 11 hours for a journey of 140km. Why so long just for a short distance? We do it just for the sake of taking the train – and it's worth it. We witness huge pigs being loaded on the train, making lots of noise.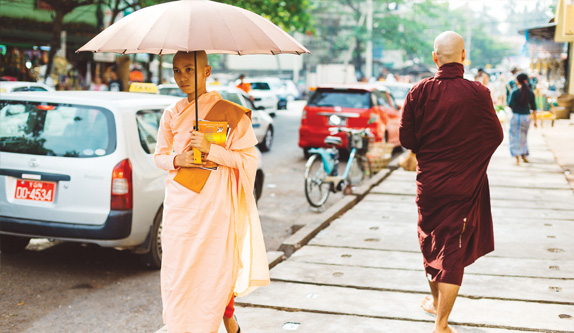 Myanmar is an incredible country with amazing, hospitable people.
With good roads absent, locals transport everything on these trains – from grain and vegetables to all kinds of goods, goats, pigs, you name it. While in transit many different vendors come in with various cooked foods. They are clearly not used to seeing westerners on this train. We enjoy their respective manners as they don't try to solicit our business. Intrigued, we buy all the local tasty fare.
It's challenging to move around as we take local buses and trains, and sometimes it's not clear how to find our way but this is the best part of any adventure. Overland travel is a bit tricky but very doable and in the following few days we take different modes of transportation, including a 50-year-old British train: very slow, violently shaking, bouncing and swaying. It feels like an unleashed galloping horse.
We take a boat up the river to the next destination – a big kayak with plastic outdoor chairs in rows of two for 12 people, and the captain. The ride up the muddy river, seeing all the fishermen and villages, takes about three hours.
After reaching a town, we try to catch a bus to the next town, but it's full. We get the tickets for the evening bus and take a tuk-tuk to see a cave temple. The cave is gentrified, with tiles and not that impressive, but the road leading to the temple is mesmerising, muddy and bumpy with thousands of statues of monks standing along it.
Back to town we go, waiting for the bus – it takes about two and a half hours to reach the next town, where we sleep. We get dropped off at the bus station and in a pitch black night, not a single light pole along the road, are taken by two motorbike taxis – we don't fit on one with our two backpacks – to the nearest guesthouse. It's pretty clean, and even has a hot shower, which is a rarity.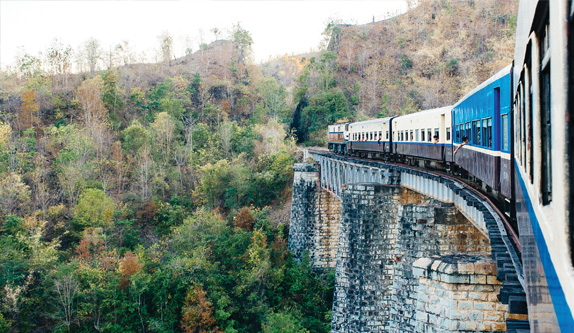 The view from our train journey.
We wake up needing to figure out how to get to the next town, where we could pick up the other transport to the famous Golden Rock Buddhist Temple – where a huge golden boulder is balancing on the side of the mountain supported only by a single hair from Buddha himself. After a bit of incomprehensible explanations from the locals, we take a motorbike 'taxi' again to the official station, where the pilgrimage to the Golden Rock starts.
There are hundreds of pilgrims around – the pilgrimage of locals to Buddhist sites is unparalleled. People are loaded into the big open trucks, about 50-60 people into each truck. The ride is only $2.50 USD, and it takes about an hour to get up to 1,100 meters where a path to the Golden Rock starts. It's not for faint-hearted. The drivers speed up and down the narrow hairpin road at a dangerous speed, driving pretty recklessly. Hundreds of local pilgrims at the top slowly walk to the rock, some of them carried by special rickshaws when they cannot walk.
The Golden Rock is pretty impressive, and there is a huge sign that women aren't allowed to come close – while men are free to go up to it and apply a golden leaf. After seeing the rock there is a stampede to get onto the truck ride down, as scary, with even more people in the truck packed like sardines.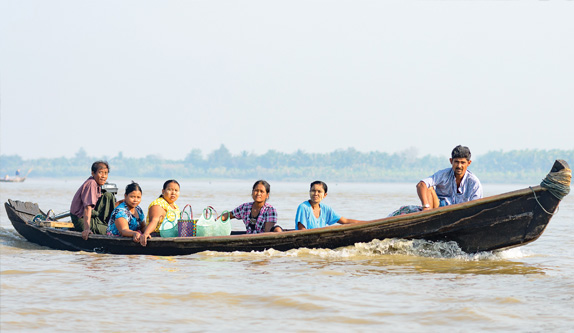 Bago fishermen.
I am sandwiched between my partner John and a grandma who makes a special pack of a green leaf, lime paste and betel nut, and chews it, showing me her red mouth and gums.
The excitement is now over, and we are down the mountain transferring to another local bus, retired from Japan 25 years ago with original Japanese glass chandeliers – very dusty ones – swaying on the ceiling, with working air conditioning and a huge flat-screen TV in the front to gawk at. Before the ride the driver distributes small black plastic bags to the people who are chewing betel nut – so they don't spit on the floor. Everyone is chewing and spitting – excluding kids and the two tourists.
Trekking from Kalaw Village to Inle Lake in three days is one of the most memorable moments – we enjoy walking through mountains and villages, sleeping in villagers houses, all the while seeing beautiful scenery of farmland and mountains. Women are harvesting chillies with babies on their backs – babies also hold chillies like it's a toy.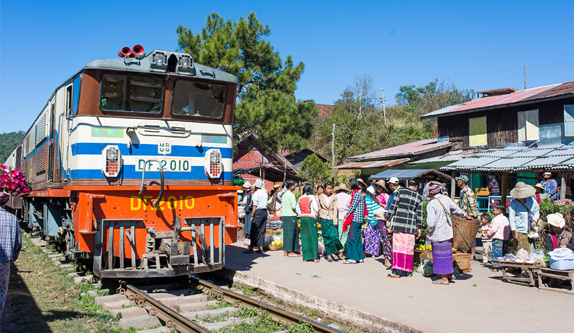 While travelling by train takes longer, the journey is much more rewarding.
The Inle Lake boat ride has a special place in my heart. So much is happening around the lake: starting from floating vegetable farms where most of Myanmar's tomatoes are grown, fishermen throwing their nets at sunrise, silversmiths workshops with jewellery, longneck tribe women hand weaving and selling their garments, and ending up with magnificent Thousands Stupas Buddhist Temple – a must see.
We planned to travel around Myanmar on a budget. With an exchange rate of 10,000 Myanmar Kyat equalling USD $10, in 28 days we manage to see most of the country including airfares, for around SGD $100 a day. Lots of travel is done by the old British trains that are swaying and bouncing. It takes a very long time to get places – but where else can you experience a train travel from your parents' childhood?