A visit back home reveals a younger, rejuvenated city, Gerard Ward finds.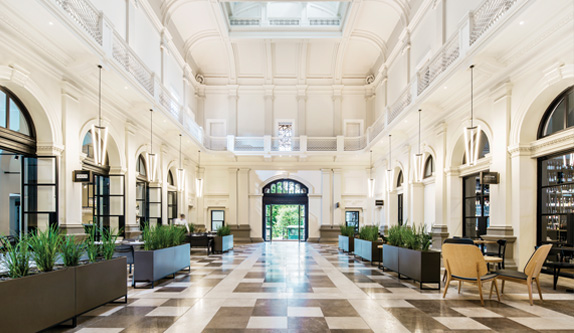 What a surprise to return to your hometown – jokingly referred to its moniker as one of the most isolated cities in the world – to find how Benjamin Button-esque the city has become.
In a recent feature by Condé Nast Traveler, Perth's COMO The Treasury hotel was listed as second best on The World's 50 Best Hotels in the World for its Readers' Choice Awards 2016. My first reaction of shock seemed warranted given I'd lived there for two-thirds of my life and succumbed to the 'easy target' mentality that not much happens in Perth. Seeing the city on a list like that was exciting.
Being back for the holidays, I arranged to get a tour of the hotel to better understand how a hotel that's been around for a year could shake up the hospitality sector that much that people would be inclined to vote it all the way to number two.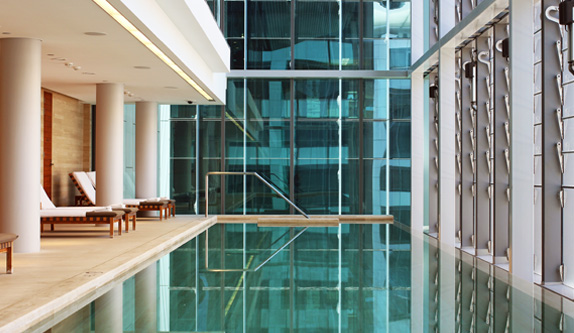 COMO The Treasury's pool.
Vacant for 20 years before being taken over by Singapore-based COMO Hotels and Resorts group, the 141-year-old heritage building originally stood as Perth's State Buildings. The Victorian-era stone and brick exterior and modern interior design of Perth architect Kerry Hill are contrasts of old and new. Paintings by Australian artists like Philippa Nikulinsky adorn the halls, dining rooms and library, sharing the beauty of Western Australia's wildlife.
In the basement of the Treasury Building are thick, steel vault doors where the maps were kept, and still stand for aesthetic value – and through the hallways of the COMO Shambhala Urban Escape spa space. Long Chim, the Thai restaurant favourite at Singapore's Marina Bay Sands, has its own iteration in the basement of the building, with tongue-in-cheek murals and golden hue lights.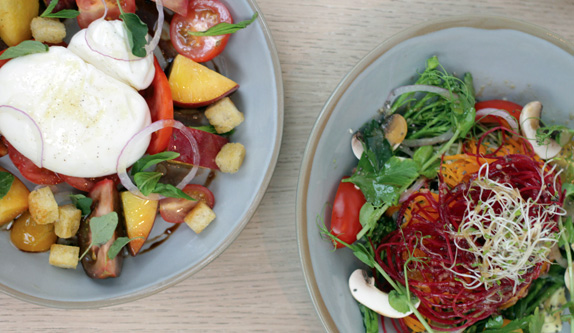 The burrata di buffalo and salad.
We finish at Post, the modern Australian bistro on the ground floor, with bright white walls and light wood seating – I notice that natural light has been used very effectively throughout the hotel, and with Perth being sunny most of the time, a smart move.
Sitting among chopped oxheart tomatoes, croutons and sweet pieces of peach is burrata di buffalo ($22) – something I'm told is very hard to find in Perth. Soft, creamy and at times runny, the cheese is quickly devoured.
The fish of the day ($39) sits on a bed of pancetta and baby leeks, surrounded by a moat of smoked mussel velouté – with a crispy skin covering the thick-cut butterfish steak. Dessert is a disassembled lemon cheesecake ($18), coming out as a mousse with rhubarb ice-cream.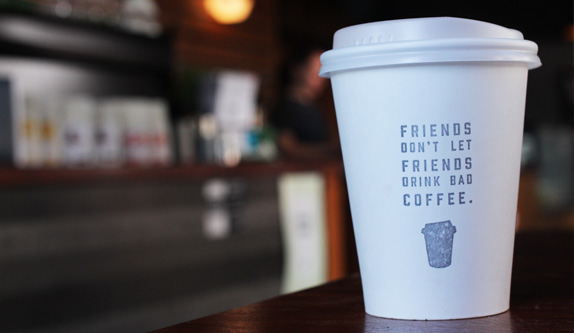 La Veen Coffee with one of its friendly messages.
There's a moment of calm before the stomach allows for anything more, so we begin walking through the streets of the CBD in search of a café. We were told of a nearby place to try out called La Veen Coffee, just across from the Perth Arena. Sitting on the corner with its wood counters, hipster-cut baristas and messages of inspiration like 'Beauty is on the inside' and 'Friends don't let friends drink bad coffee' is a pleasant sight in an area of the city you'd expect a mishmash of miscellaneous stores to sit. Things have changed.
The newest of the changes is Elizabeth Quay, sitting by the Swan River. This project was announced back in 2011 with a reception of chortles from locals. Any dramatic extension to Perth takes a considerable amount of time – I remember how long the Perth Convention and Exhibition Centre took to build. To my surprise, there this quay stood, with food stalls, a couple of restaurants and even an outdoor bar using shipping containers. There's still a lot of building to finish – including the incoming Ritz-Carlton Perth, which will serve as both luxury apartments and a hotel – but for someone who has built an image of his hometown in a certain way, it's slowly dismantling.

Embargo Container Bar has that relaxed, Melbourne-sque feel to it.
Beaufort Street was always the go-to haven for students when I was at university, with a reliable slog of bars and cafes to satiate the thirst that education generates. Since graduation, I've rarely taken the time to revisit the strip. Memories begin to flood back as I pass The Flying Scotsman pub I frequented – though attached to the hip is Caboose, with dark oak furniture and a wall of taps serving craft beer. This step up from the generic suds the neighbouring bar sold to us rosy-cheeked students of yesteryear would've been embraced back then.
Continuing down the street feels like coming back to see your young nephew all grown up. The staple cafes like Caffissimo and Lawley's Bakery Café now share space with modern spaces like Health Freak Café and gluten-free frozen yogurt place Ugolicious. Modern Japanese restaurant Ramen Lab sits near modern Mexican kitchen and tequila bar el Público. Pop-up shops and eateries have flourished further down the road.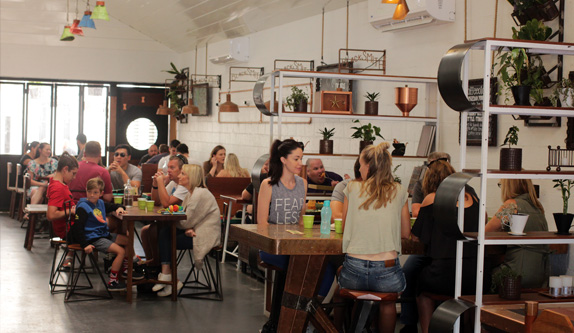 Blacksmith Perth is a mix of copper, iron, leather and wood – and plenty of coffee.
After asking a close friend where we should go for lunch, we stand in front of Blacksmith Perth. Having opened half a year ago, this unassuming shack would be easily missed if it weren't for the Toby's Estate coffee signs and seating – you'd assume this place to be a blacksmith.
Tabletops are made with copper, and seating an amalgamation of leather and iron – with a moveable grill to place your bags. Tea is served in a copper pot with a wooden handle. The embrace of the handcrafted motif with the modern trend of Chemex-brewed single origin coffee ($6) and smashed avocado on toast ($17) shows a fusion of old and new that Perth has been missing out on – or at least, what I've missed out on since being away from here.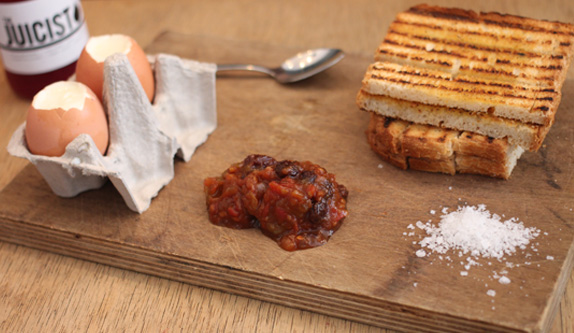 The neatest plate of eggs and toast you'll ever find at Mary Street Bakery.
Somehow ending up back on Beaufort Street the next day, we jump in the queue for Mary Street Bakery on the corner of Beaufort and Mary Street. Part walk-in coffee-to-go bakery and part dine-in brunch eatery, the place is packed. The attendant says that this is nothing compared to the weekend.
I've never had a craving for any sort of fried chicken for breakfast before now. Seemingly the most popular dish on the menu, the fried chicken buttermilk pancake with pea nuts and maple chilli ($24) smells incredible. Serving sizes are enough, given the cost of it all. The pancake is soft, thick and almost covers the plate – surrounded by a moat of slightly spicy maple syrup. The chicken is deboned and fried with a coating that rekindles my love-hate relationship with the fried food. I devour the fried egg as well because at this point, you kind of have to go all in if you order fried chicken for breakfast. The sprigs of parsley on top just mock me. My girlfriend orders the free range boiled eggs with buttered soldiers and tomato relish ($13), which sits on a cutting board – the two eggs canoodled in the cut-out egg carton, and slices of toast are cut and built into a mini-Jenga tower.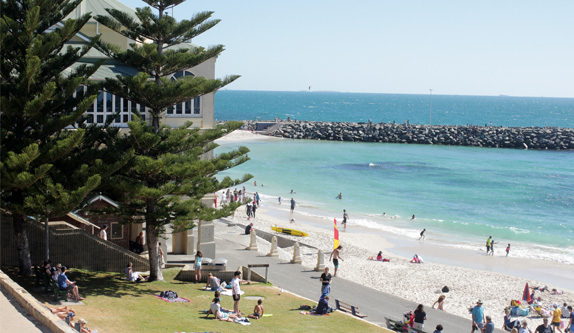 Cottesloe Beach is always a great way to wind down after a long day.
By now we realise that most of the work we've been doing since arriving is chewing. Hopping into a car – the type of transportation that still reigns supreme in Perth – we head towards Cottesloe Beach, a favourite among tourists and those who live close enough to it. Rocking up at Indiana Cottesloe Beach – another favourite for its views of the sea and reasonable dining – we ask for a table to bask in the sunny view of the Indian Ocean.
We're told that seats aren't available until later, and are sent to the outside seating facing the street – paying $7 each for Coke Zero from a soda gun. Ah, there you are Perth. I thought you'd completely changed.
Top image courtesy COMO The Treasury.