A first-time visit to Hong Kong takes Gerard Ward to all sorts of heights.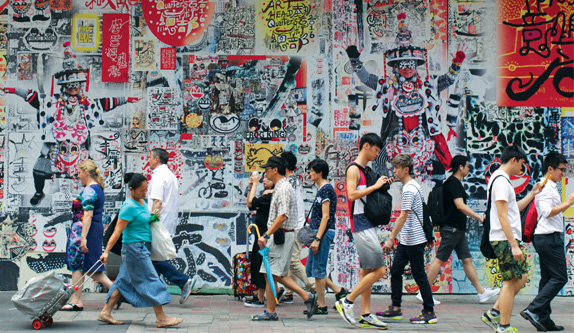 Standing on glass, I stare down at the road 29 floors down. My vision is blurry. I can't believe what I'm seeing – car and taxis skim between my toes.
I'm in the rooftop pool at Hotel Indigo (246 Queen's Road East) in Wan Chai, experiencing what The Telegraph recently titled one of the world's best hotel pools. The view of Mount Cameron and Opus Hong Kong – the twisted highrise residential building known as Asia's most expensive duplex apartment – is incredible, but it's the glass-bottomed pool showing the streets below that really takes the breath away.
Being my first time in Hong Kong, I wasn't sure what would be the best neighbourhood to stay in. Wan Chai, sitting on the northern part of Hong Kong Island, was a fishing village-turned-nightlife district made famous for The World of Suzie Wong novel and consequent 1960's film. Past Tai Yuen Street's stalls selling all sorts of trinkets, toys, backpacks and snacks is our home base to begin exploring. The hotel offers a smartphone with 3G free of charge to use when you walk around the city – though I had bought a SIM card at Changi Airport as a backup.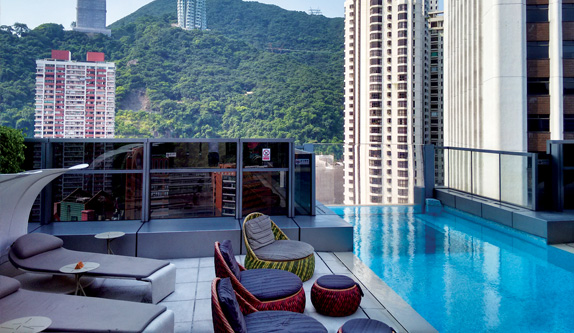 Hotel Indigo with its rooftop pool – complete with glass floor at the edge.
A short walk away, the 'Ding Ding's or Hong Kong's trams is a great way to see the streets of Hong Kong Island – the MTR train line is clean, easy and efficient, but underground. My girlfriend and I are to meet up with friends at a modern dim sum spot called Social Place (139 Queen's Road Central, 2/F). An open space interior of bright wood and blue colours, this restaurant serves healthier versions of dim sum – using rice bran oil.
There's a bit of quirk everywhere, from the small insects painted on to the bowls to the pig-shaped taro root bun (HKD $29). The favourite dishes for lunch turn out to be the dandan noodles (HKD $49) and the spicy rice cake with shrimp and mushroom (HKD $89) – the latter being incredibly thin rice cake rolled up that unravels in your mouth. Our friend tells us that most restaurants and shops in Hong Kong have moved up from the ground floor due to high rent costs.
Taking the 'Ding Ding' further down the road, we reach Hong Kong Park near Supreme Court Road to explore the greenery before heading towards Victoria Peak. The police officer that we ask directions from looks at his watch when we tell of our intent to climb the over 500 metre-high mountain. By my rough calculations the incredibly large line to get on the famous Peak Tram that scales the mountain to the viewpoint at the top would've been at least an hour's wait, and we are feeling confident of our fitness ability after a decent feed.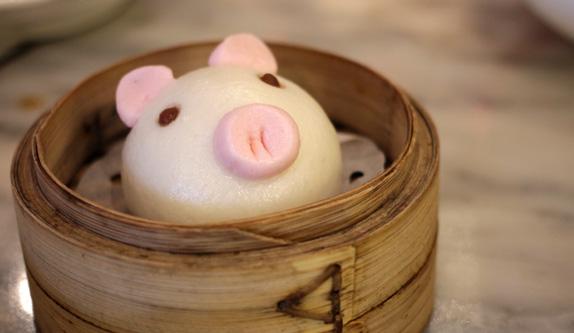 The pig-shaped taro root bun almost too cute to eat.
Like a comedic 'cut-to' moment in a TV show, an hour later we are halfway up Victoria Peak, and very lost. My girlfriend notices the lookout point of The Peak is off in the distance to the left. We have been climbing directly up the mountain, not knowing that the tram actually takes a sharp right turn mid-way through its journey and heads in another direction. We begin walking towards the top, passing by houses with an incredible view of the city below, all the while regretting that our running shoes weren't on.
Whether by tram or by foot, the top of Victoria Peak is an incredible sight. With a small shopping mall and restaurants, there's something for couples and families young and old. With some ice-creams and bottles of water for sugar and hydration respectively, we stare out towards the scenery of cityscape, neighbouring islands and mountains.
We happen to be in Hong Kong during its biggest typhoon in a long while – in the day leading up to it, people warn us of its eventual shutting down of most of the island. In an anticlimactic twist, the typhoon hits at 5.30am and we sleep through the entire thing. Aside from leaves and branches on some roads and parks where they shouldn't be, the city essentially escapes the worst of the typhoon, and goes back to normal by noon.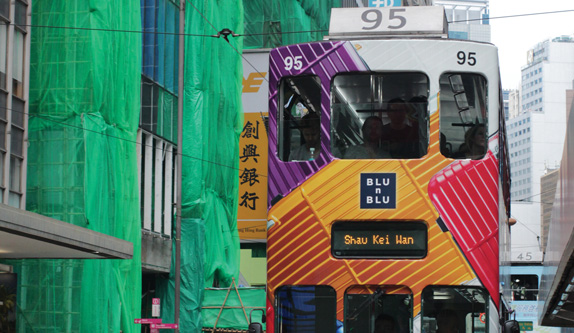 One of the many ding-ding trams that can act as a quick mode of transportation above ground.
Opting for a late breakfast in the flagship The Coffee Academics over in Causeway Bay – a cool, award-winning café chain that came over to Singapore back in April of this year – the slow poached eggs and mashed avocado on farmer's bread (HKD $98) tasted fresh, light and had just the right texture that you want in an avocado. The café's latte (HKD $38) is an incredibly smooth, velvety wake-up call. We walk back to the hotel along Queen's Road East to spot the cats of Hong Kong's shops that people-watch.
The main attraction for dinner is 28 floors up. Wooloomooloo Prime in Causeway Bay (1 Tang Lung Street) sits among the busy Times Square neighbourhood, offering an expansive view of Hong Kong Island and the mainland in the distance along its outdoor balcony. Sitting outside with a drink while we wait for our table, the lights of the city begin to flicker on, one at a time, as the sun begins to set.
The creamy lobster bisque (HKD $135) has a dash of cognac and a generous size of lobster meat sitting atop. The smoked Tasmanian Salmon (HKD $180) served with rocket, capers, horseradish, shallots, lemon and toast points.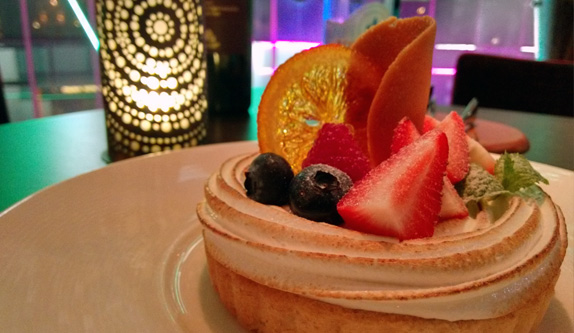 Lemon and lime pie from Wooloomooloo Prime.
From Grainge Farms in Victoria, the 150-day grain fed 12oz Australian black angus sirloin (HKD $400) is incredibly tender. All steaks are served with four sauces served on a separate side dish, though I end up engulfing the sirloin as is.
We go for dessert, despite the cries to cease from our stomachs. The light and fluffy meringue on the lemon and lime pie (HKD $90) is incredibly light, with forest berries and a vanilla tuile biscuit on top. The slight melon finish from the dessert wine glass of Brown Brothers Crouchen Riesling (HKD $80 a glass) sweetens the end.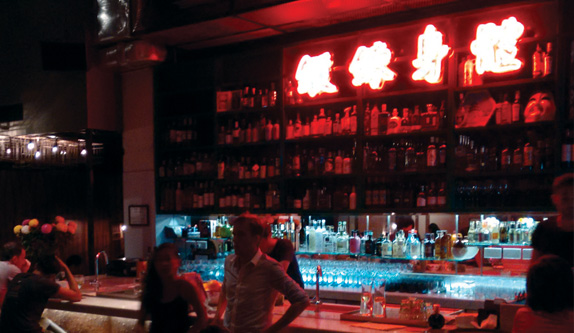 Ping Pong 129 Gintonería, with the sign 'Keep your body fit' above.
To finish the night we head to the western district of Sai Ying Pun, seeking the bright red door that leads to Ping Pong 129 Gintonería – a hidden basement gin bar that is supposed to be very cool.
Sitting between an unassuming seafood restaurant and an events space is an ex-table tennis hall – with a high ceiling and a series of paintings from local artists. The bartenders stand at the long bar, chipping away at the ice to create handcut cubes – underneath the red neon light above that reads '鍛煉身體' or 'keep your body fit' in Cantonese. The drinks list has a handful of G&Ts with different gins – the Adnams Copper House (HKD $150) was a peppery, zesty tipple with a slight sweetness to it.
An incredibly busy city, Hong Kong has earned its reputation for being lively in all sorts of manner. There's a great persistence in bringing new styles to a country steeped in such rich history and tradition. It was an ambitious move to try and see as much as possible in a short timeframe, but this visit left a hunger to go back and see a little more.