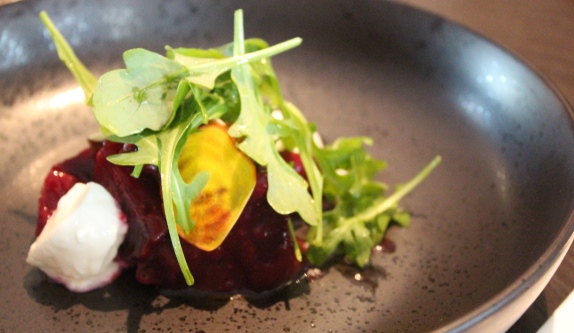 The Disgruntled Brasserie
28 Ann Siang Road, 069708
6808 2184

The Ann Siang Hill corner has always stood out for its 19th century shophouse. In a previous lifetime this building was a nutmeg and clove plantation, and currently houses the boutique Club Hotel. Opening in October of last year, The Disgruntled Brasserie was a modern European brasserie that had comfortable leather booths and a relaxed atmosphere that gave Club Street goers a bit of an escape. An intimate 40-seater on the ground floor of The Club, the sister space of The Disgruntled Chef in Dempsey now has a new Chef de Cuisine, Desmond Goh, who has revamped the menu.
For $48++ the new weekend brunch menu has a 5-course – three starters, a choice of mains and choice of dessert. With a $38++ top-up there's free-flow Prosecco, Pinot Grigio, Cabernet Sauvignon, beer and soft drinks.
The salt-baked beetroot and smoked burrata salad, with a cinnamon raisin puree and candied almonds, was a fresh start – the smokiness of the burrata a highlight for me. The cubed beetroot avoids that usual earthy taste you tend to have with the vegetable
The gruyere cheese soufflé, with caramelised onions, chardonnay fondue and a sprinkle of small-cut chives, was incredibly fluffy – the soufflé shaped like a cheese volcano, with the stretchy, golden brown cheese on top easy to devour.
The Boston Lobster Bisque – served with the piece of lobster-filled ravioli and sun-dried tomato in one dish and the bisque in the other – had decent-sized pieces of lobster. Not too large a portion, but given I had ordered the carbonara taglierini as my mains, this was a good thing.
The decision to go for the pasta dish was a tough call, with a colleague's order of pan-roasted barramundi fish – complete with cured seaweed potato hash and tartar sauce – arriving first, the smell was alluring. She tells me that the fish is tender, and the potato hash a nice crunch atop the crispy fish skin.
The al dente taglierini had large pieces of streaky back bacon and Kurobuta ham. On top was a parmigiano reggiano-coated egg, and with a runny yolk, a welcomed addition to stir in for an even creamier pasta.
For dessert, I couldn't resist ordering a crème caramel – in particular, the Baileys crème caramel with a Remy Martin cherry compote. On the top sat a scoop of Kahlua ice-cream and a raspberry, and held together in a malty house two cocoa rice crisp discs.