It takes just one mid-week staycation to remember what attracts people to this neighbourhood, Gerard Ward finds.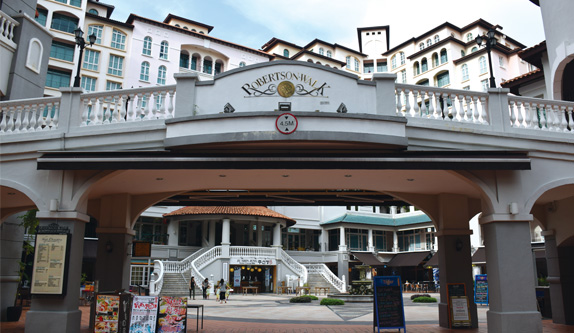 Robertson Walk maybe familiar to some, but a staycation means looking at the area with fresh eyes.
 Every Saturday morning I pass by the same corner on my way to yoga class. There tends not to be anyone outside Beast & Butterflies in the morning – the restaurant attached to hotel M Social – but I've often wondered what it'd be like inside.
Recently, a chance came up to stay a night and, despite hitting mid-week, I still wanted a chance to try it out – even if it was after work.
Robertson Quay – the once-bustling strip known for its stretch of restaurants and bars along Singapore River – has quietened down a bit. This is where people used to go for a night out – much like the nearby Clarke Quay – and in a way it still functions as such for the short-term visitors. This neighbourhood provides enough of what a nomad or business traveller would be looking for – from Japanese restaurants and whisky bars, to pub grub and football on big screen TVs.
A midweek staycation is new for me and, although there's no need to impose rules when on a staycation, it sometimes makes the 'trip' more enjoyable; I tell myself not to venture further than 15 minutes from the hotel to experience the neighbourhood.
Arriving at the lobby of M Social to a whiff of cool air – with marble tables, self-check-in machines and intricate statues encased in pink plastic walls – I check in to my room on the ninth floor.
Clean, concrete walls, floor-to-roof windows and a comfy bed on the second floor of the mezzanine, the Loft Premier Room (starting at $290++ per night) is modern and cosy, making use of the real estate. Designed by French designer Philippe Starck, the hotel follows the recent trend of shedding some of the traditional luxuries for modern extravagance fit for Instagram-hungry Millennials.
The fifth level pool is open 24 hours a day, and is quiet when I visit. There's a whole shelf of towels, plus a cold-hot water dispenser, which is a nice change. I actively avoid eye contact with the gym on the way out.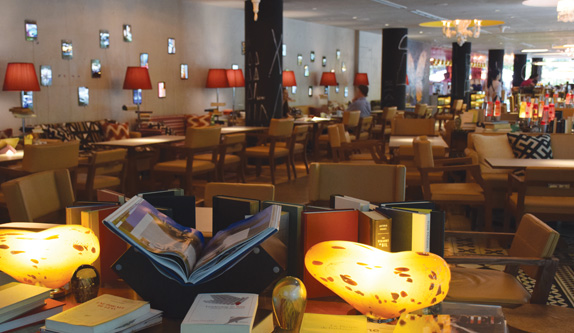 Sit back & relax, you're on staycation at the M Social.
Keeping to my 15-minute rule, Brewhouse (171 Chin Swee Road), a small bar owned by Singaporean microbrewery Innocence Brewing, is a little over 10 minutes' walk. On weekdays from 5-8pm they serve 1-for-1 craft beers, and even at the early time of 4pm they have $10 pints. I opt for the Calamity Coffee Ale – a dark ale with the burnt barley taste of a stout, and that bitterness of coffee.
Common Man Coffee Roasters (22 Martin Road), a five minute walk from the hotel, is a Melbourne-esque café with mixtures of dark wood, white tiles and bare concrete roof. Above the café is another one called Grounded, a smaller cafe owned by the same people for those going to Yoga Movement – the yoga studio owned by the group. The Common Man brand has grown incredibly in the last few years, being a well-oiled machine for the weekend morning and brunch rush.
At the time of my visit, it's almost empty – peaceful, you could say. I order a latte ($5) and a serving of churros ($12), trying the 'treat yourself' mentality one would want to adopt on a staycation. Served on a small cutting board, the hot churros are star-cut with thick edges, a soft centre, and a whole lot of sugared cinnamon. Closing hour comes and I head out to Roberston Quay.
What we tend to forget is that a lot of these neighbourhoods still play a big part in first impressions. Newcomers may be blown away by the sight of Robertson Walk with the architecture of the serviced apartments, fountain centrepiece and mix of sports bars and Korean BBQs. In fact, I notice that the variety of food is incredible in Singapore. You'd be hard pressed to not only know where to find particular cuisines if someone asked, but be able to name multiple places that serve it.
I arrive back at the hotel and see a strange robot plugged into the wall in the lobby. AURA, as she is known, is a room service robot that delivers all manner of things to your room. I'm not convinced but request some bottles of water delivered to my room. I giddily rush upstairs to wait for technology to come knocking at my door. The phone rings, but I instead rush to the door to a happy chime and AURA's head opening up to show two bottles of water. It works!
Later, I finally get to see inside the hotel's restaurant, Beast & Butterflies; the back wall covered in iPads playing videos of various highlights around Singapore, and dining tables surrounded by unique glass and lava lamps.
Duck Crispies ($15), a row of six dumplings with a crispy fried edge, filled with a delectable mix of shredded duck and a light peppery sauce, makes for a sweet starter. The sous-vide soy salmon ($25) with aubergine confit, sautéed snow peas and soy emulsion is a delightful mix of crisp, crunch and meaty. The Assam shortribs ($35) are boneless, tender, slightly sweet with the tamarind broth, with mashed chickpea coriander and sautéed pea sprouts – a mixture of tangy, spicy and fattiness.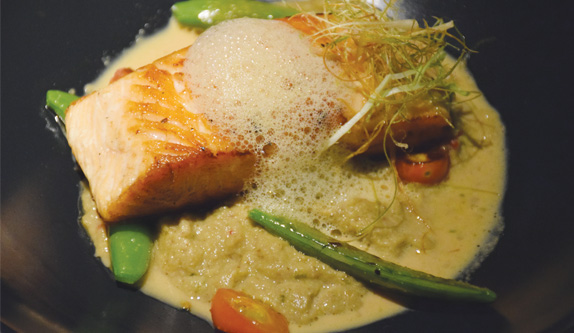 A delicious and beautiful plate of sous-vide soy salmon at Beast & Butterflies at the M Social hotel.

Leaving the restaurant, my girlfriend and I set off for a wander down the quay. SPRMRKT Daily (41 Robertson Quay) sits by Singapore River with a covered al fresco seating area. The selection of wines to choose from are listed as either organic, sustainable or biodynamic. We order two glasses of Bordeaux wines and watch people pass by, enjoying the red glow of the lights coming from Alkaff Bridge and soaking in what countless others before us have done.
I think to what makes this moment of reflection special to me; it's knowing what else Singapore has in store for those who venture out further, but that there's still a lot to enjoy around areas like Robertson Quay.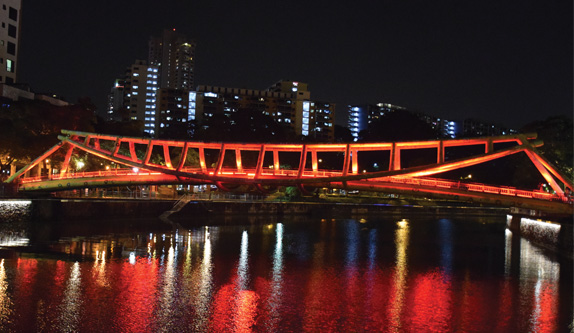 The evening view of Alkaff Bridge over the Singapore River.