Back again in Singapore for the M1 CONTACT Contemporary Dance Festival, Ross McCormack talks about his latest performance, Area² as part of the Borderline show.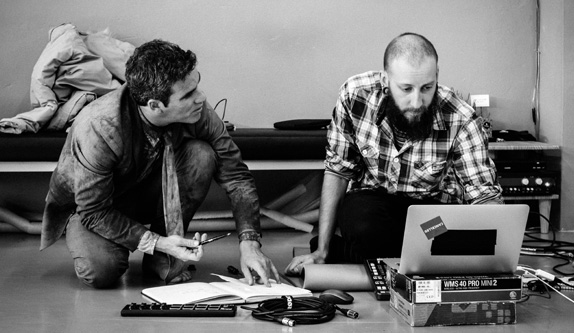 Ross McCormack (pictured left) talks about his latest performance to ANZA. Photo by Shaun Ho.
 
How are you feeling coming back to M1 CONTACT Festival this year with Area²?
It's super interesting in many aspects, not just for me but also as a part of a small group, Musclemouth, from New Zealand; it's the first time we have engaged or attempted to take our format as we understand it, and build something on another company while keeping that idea alive. It is different from a choreographic commission in that sense, but it's our first go at something like this, so it evolves as we do it. There are expectations on both sides that have to understand or find something new, which I like.
What kinds of collaborationS are involved in Borderline?
[Lead composer/sound designer] Jason Wright (pictured, right) has the hardest job, stringing together the whole evening in a sense, building two scores while keeping an overarching view on the production in its entirety; it's a huge task actually. We continue to push each other more and more. Obviously when we first began creating together, Jason's work was reactionary to the choreography, but these days we almost jostle for the floor! The ideas are pushed and contested, sound and movement both come first now and the idea, in some cases, can become the result.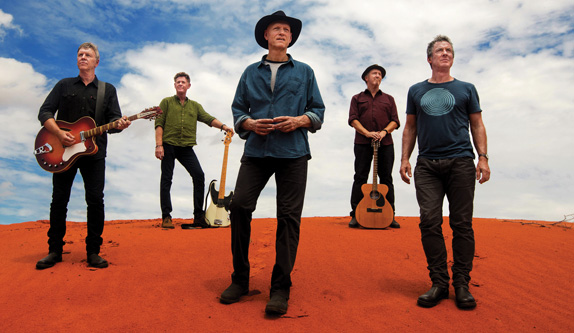 Contortion at the Borderline show. Photo by Shaun Ho.
 
When did you first come across movement theatre, and what drew you towards it?
It was viewing Les Ballets C de la B at the New Zealand Festival in 1999. That's not to say dance theatre was not rich and being presented… more that the subject matter and content, the approach to movement and idea of dance as the language, it worked with me instantly. I felt their world was in fact one close to me.
Simply put, in my mind it was as if their work 'Iets Op Bach' was set in my town Rangiora, out the back of one of our old pubs! It was also more than that – my heart shifted with the characters in such a profound way. I was watching with no care about technique or execution for the first time; how good he or she was as a dancer gave way to their craft as a performer, actor or dancer. I personally connected more to them as artists than dancers.
What themes do your pieces tend to focus on?
The environment, but not in the obvious way of the word, or what we attach to it especially in 2017. These are not statements from a political view, or reactionary in that sense. It is more surreal in the idea of environment.
There is something very intriguing, watching performers during the process come to terms with where the work might be in terms of its world. Once we have that defined I like going even further and letting rituals and systems take over…the natural order and some deep unknown, almost as if the dancers have a secret about their world.
I love to find what the body of movement is going to really be. It seems there is always a code of sorts that prevails and fits everyone. This time it's detail and something machinery-based. I had no idea that would be the case, but it's not important that I completely know or understand the work – this is a bit standard now, I get that, but for me it's important and very natural.
The difference being a complete commitment to the unknown, and the conviction from the performers that their world has been established by them. What we have made is a display, reaction, and representation of that.
Catch the Borderline show at Esplanade Theatre Studio 22-24 June.