Had a bit too much stress at work and need to vent? Give one of these activities a go and watch the worries fade away.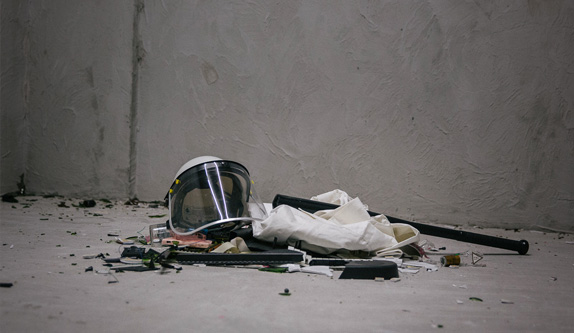 Rage Room
For an all-out vent, the newly opened 'rage room', The Fragment Room, is your new favourite place. The first in Singapore and possibly Southeast Asia, the grey concrete rooms are your safe space to take any anger out on objects.
You'll be given safety gear – overalls, full face mask and cut-proof gloves – and a room where you can take to physically smashing inanimate objects. There's a selection of 'plates, cups, vases, television sets, radio sets and other electronic appliances' to smash – anyone familiar with the movie Office Space may want to re-enact the scene with the office printer.
Everything provided is recycled, which lessens the blow of all this destruction, and it certainly gives you the safest space to try something so primal. The best part is you can bring your own music, so you can play Ride Of The Valkyries – or even Taylor Swift if that kicks in the adrenaline – while wielding a baseball bat, sledgehammer or crowbar. Packages start from $38 for a single session – which includes a crate of breakables and 30 minutes – $75 for a double with a friend, and the 'Annihilation' package with 60 minutes with unlimited crates.
A: The Fragment Room, 3 Balestier Road, 329671
T: 9155 8897
W: thefragmentroom.com
Baseball Batting Cage
Don't know how to play baseball? Pfft! All you need to know is how to swing a bat. Grab a helmet, head into one of these cages and let your arms do the talking. Arranged like an indoor golf driving range, there are four lanes at various speeds for players to step in – starting at the softball lane for beginners, and working its way to the 80km, 90km and 100km baseball lanes. The pitching machines, complete with a digital screen of a pitcher, spit out 15 balls per token (it's $20 for 5 tokens, or $40 for 11). The machines are fed by pre-paid tokens at the counter. While 15 doesn't seem like a lot at first, you'll realise which muscles you've rarely used as they ache by the third token.
There's a pitching game at the back of the room too, with nine squares for players to practice hitting targets. Ask the staff to teach you how to properly throw, or just pitch that ball with all your might.
A: Homerun Baseball, 200 Pandan Gardens , #01-01/04, 609336
T: 6635 6315
W: hrb.com.sg
Running
The freest way to sort out a muddled mind is to throw those runners on and head out the door – it's also free. Running causes the body to produce endorphins – those feel-good hormones that produce what runners have playfully called the 'Runner's High' – which increases your mood and acts as a natural painkiller.
Over time your running habits will help improve your reactions towards stressful situations. Running can also make for better sleep – and lack of sleep tends to be a big player in our moods to begin with.
The repetitive nature of running also serves as a kind of meditation. Because your body is busy making the various limbs work to keep the pace, your mind has more time to contemplate – whether it means plugging yourself into a music playlist to keep the mind busy, or just listening to our own body as it handles the exertion. Running with a friend also serves as a way to 'talk it out' with someone, getting a second opinion on all those thoughts running through your head.
Reach out to the ANZA Running Group if you're new to running and wouldn't mind joining in with like-minded folk. They're in the Singapore Botanic Gardens.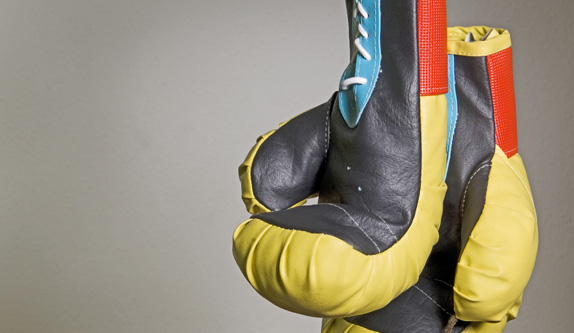 Boxing
It's an oldie, but a goodie. You don't need to be planning on a new career inside the ring, but boxing is a sure-fire way to get the heart racing – and shake the stress off.
While the physical benefits are plentiful in terms of weight loss, muscle toning, cardio and flexibility, there's something about the physical exertion that can really relieve built-up tension. A lot of what makes training effective as a stress reliever is taking instructions from a trainer; when you're being told to hook, hook and 1-2-3, there's little time for your mind to be wondering whether you should write a snarky email to a work colleague.
Places like Spartans Boxing Club (spartansboxing.com), Legends Fight Sport (legends.com.sg) and The Ring (thering.sg) are open to both men and women, with various packages. Like any sport, over time you'll begin to notice each session giving you a clearer mind.
Darts
While it's less of a full-body workout and more of a way to throw pointy things at a wall, darts is a great way to unwind. Grab a couple of friends and spend some time at one of the many bars around town that have a darts machine. Modern-day dartboards in Singapore are aplenty, working in the form of an arcade machine – with screens that count for you. Dart bar chain i Darts (idarts.com.sg) have spots around places like Bugis and Jurong East. Each game is a dollar, and there's usually a bar if you want to get a drink.
A: I Darts Halo, 201 Victoria Street, Bugis+, #-03-24, 188067
T: 6634 9662
W: idarts.com.sg