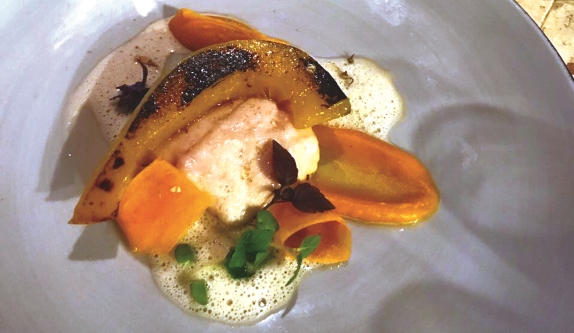 Audace
2 Dickson Road, 209494
wanderlusthotel.com
Step off the MRT at Rochor, Little India and you're probably not on the prowl for anything other than a simple dose of dosa and a bargain pick-up at the Mustafa Centre. But now, there is another reason to head to this colourful part of town; the Wanderlust hotel's stunning dining experience, Audace.
Found hidden away down Dickson Road, follow your nose and you'll stumble across one of the trendiest looking hotel interiors in Singapore. The achingly cool bar and lounge space is all polished concrete, industrial-esque lighting and contemporary art. Reworked barber chairs sit alongside brushed steel bar stools and lots of low-lighting add to a very Pigalle, Parisian feel.
The concept is the brainchild of Michelin Star awarded Chef Jeremy Gillon from Le Montana in the French Alps. From the all-seeing eye which features as the urban art focal point of the restaurant and the table cloths flown in from Europe, to the contemporary take on French bistro fare combined with medical herbs and local produce from the nearby Tekka Market, Chef Jeremy masterminds Audace.
Enjoy a martini at the bar whilst perusing the menu (they arrive in a delightful picnic hamper) and wrestle with the choice. I recommend taking the Chef's lead and opting for a four-course discovery sampling ($68). Simply tell any allergies or dislikes and let the professionals do the hard work.
On the evening we visited, we were treated to beetroot and squid salad, red snapper, delicious lamb and chicken breast with a must-get-the-recipe spinach wasabi coulis. The menu is ever-changing with seasonal produce and Chef's inspiration but I hope the macaron with cocoa sorbet stands the test of time. The cocktail ($16-19) and wine (from $13 per glass) menu is short but select – although there is only one artisan beer to choose from.
Audace is certainly an oddity in its location and décor – but that's what makes it such a hidden gem. Check it out for yourself