The Malaysian Queen of Rock returns to Singapore this weekend for the first time in 20 years to perform as part of Esplanade Presents Pesta Raya – Malay Festival of Arts.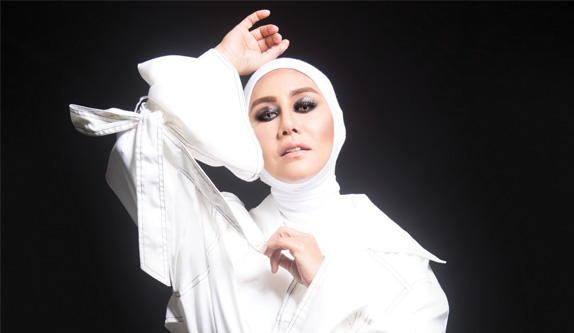 How do you feel about returning to Singapore?
It has been decades since my last solo concert here in the '90s so this will be a great time to reacquaint myself with my fans here. I'm looking forward to performing my career-defining hits for them.
How important is it to be a part of Pesta Raya?
I would like to applaud Esplanade for their initiative in hosting this festival to celebrate Malay heritage and culture from the Malay Archipelago. As a performer, the opportunity to sing on as prestigious a stage as the Esplanade, and to be part of the region's finest Malay festival, is definitely an honour. I'm glad that my genre of music has a place in Malay pop culture.
Will you have time to enjoy the city too?
I'm looking forward to a taste of sup tulang merah from the Deen restaurant in Jalan Sultan as well as biryani and murtabak from Zam Zam. I hope Esplanade will include that in my menu!
What do you love about performing?
The stage is my safe-haven. I love to be on the stage; it's where I feel the most comfortable and where I can be myself. I love how my fans are moved by what I do on stage, especially when they are singing along with me. The incredible energy that I absorb from the audience is a blissful sensation.
What is it about creating music that continues to push you to write, sing and perform after over 30-years in the industry?
Definitely my fans. They are the main reason why I'm still here; their love and adoration is what keeps me going. Their unwavering support makes me want to work hard and deliver only the best for them. As a special treat for my Singaporean fans, I'll be performing my latest track from my upcoming album in the concert – I hope they'll love it.
What are your passions away from the stage and studio?
Gardening; I love to tend my gardens. Sometimes I even talk to my plants. Watching the bees fly from flower to flower, or fishes swimming in the pond, is very relaxing. That is how I de-stress myself from my busy schedule. It's like therapy for me.
Who do you most admire?
Musically, it would be Michael Jackson. He contributed a lot and changed the world through his music.
What are the greatest changes to the music industry for you?
The technology. I started during the cassette era and have witnessed the digital revolution. The rise of the internet and the introduction of MP3 format in the mid-90s had a significant impact, resulting in rampant piracy and illegal downloading. From making music more accessible to the masses, to the technology used in actually producing an album, a great deal has changed. The industry needs to be current and keep up with current needs. I believe the music business will stay resilient and keep on evolving despite the challenges of a changing world.
What? Kembara Ratu Rock
When? Saturday 22 July
Where? Esplanade Concert Hall