Midnight Oil talk to ANZA ahead of their stop in Singapore for the Great Circle Tour.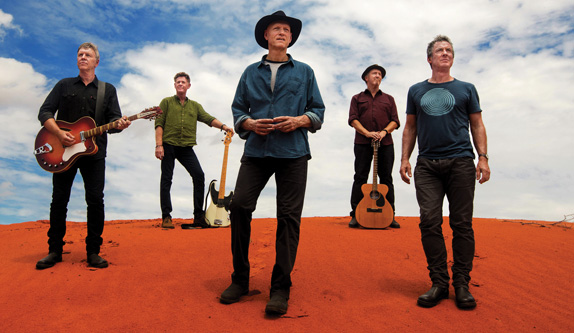 Midnight Oil by Olliver Eclipse
Is there a particular song you love to play because it means something to you? Or perhaps it is one that the fans love hearing?
That's difficult to answer. All the songs are like your kids in one way or the other and none of us like to just play the favourites. Songs like Hercules, Beds are Burning and Blue Sky Mine are the hits which people go pretty apeshit to when we play them. On this tour, we've rehearsed more than 170 songs, which we can draw on at anytime. We rehearsed for four months for this tour. It will give a deeper Midnight Oil experience for those that love the older stuff especially, and means we never get bored playing the same set over and over.
What is your favourite aspect of your career?
We've always loved the studio and would stay behind watching and learning because the Oils always worked with great producers and engineers. And writing we love too; words, music, arrangements and instrumentation. Touring in the old days was difficult as it was relentless but now it's easier for some reason – we stay in better hotels perhaps! It's great to visit our old friends, fans and family that we've made over the years out there on the road.

Biggest musical influences at the beginning of your career? Have they changed now?
We don't think our influences have changed at all, we don't think anyone's does, but we try to keep up with the new bands. King Gizzard, Olympia, The Drones, Holly Throsby et al, but also vintage gear like The Beatles, Creedence, The Faces, avantgard stuff like Pierre Henri and Rhys Chatham, and a lot of Canterbury scene people like Soft Machine, Syd Barrett and Robert Wyatt.
Most memorable concert?
The Oils have done a few, but we'd have to honourably mention the protest in 1991 where we set up a stage in front of the Exxon building in New York and stopped the traffic, protesting the oil spill in Alaska. And the Olympics in Sydney in 2000 where we wore the Sorry suits in front of the world to shame John Howard into an apology to the First Nation people in Australia.
What do you think of Australia's present music industry? What are the biggest differences you see now to when you started out?
There are always great bands in Australia, the sense of isolation from the rest of the world creates unique and interesting art. The trouble is, you find it hard making money if you're on a major record label or even an independent artist, as the music delivery systems are constantly changing and it's hard (but possible) to keep tabs on it all. Go Between's drummer Lindy Morrison is inspiring in her work to help artists find money under the hidden rocks and shoe boxes where it ends up, including radio airplay, film licensing, downloads and streaming through bodies like APRA, AMCOSS, PPCA. It's changed so much, but in a way live performance is now the best way to earn a crust, a bit like it was in the early 1900's before records were even invented.
What should ANZA members and Oil fans be looking out for with the Full Circle tour?
A celebration of Aus' music. It's a big show production-wise, but still organic and human, no computers or dancers, just flesh and blood. We change the set every night, but it's always a deep retrospective of our history with all the hits peppered throughout. Hopefully, it will make you think and dance at the same time.