From the breath-snatching ideal of Batanes, to the cascades of Lake Sebu, whether you're a history buff or a sun-kissed beach bum, you'll find your bliss in the Philippines. Lee Carsley heads to Siargao to find hers.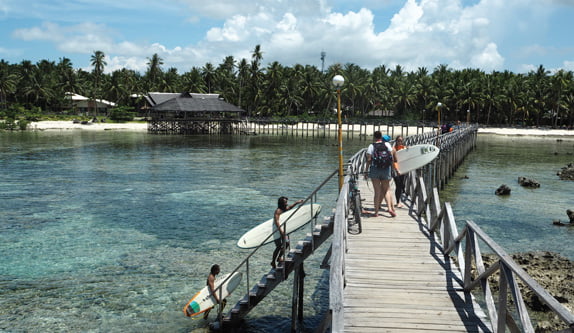 Getting to Paradise
Siargao is a tear-shaped island dropped in the Philippine Sea about 800kms southeast of Manila. There's a population of about 100,000, with probably just as many motorbikes. To get to the postcard-perfect beaches however I recommend a stop in Cebu. There is no way that plane connections can make it to Siargao in one day, so grab an overnight in Cebu.
Cebu is rated as one of the 'must see spots' in the Philippines. Although with its appearance on the Top Five Places in the country for murder – it beats Davao – robbery and car-napping, I'm at a bit of a loss to see why. Behind one of its major shopping centres, a slum city has flourished. I am left gob-smacked by the number of guns openly on display.
Perhaps Cebu's popularity is down to the whale sharks?
There are two conservation projects, in two different islands in the Philippines, but I chose Oslob, home to the world's greatest concentration of whale sharks and a three-hour drive from Cebu. This initiative has changed the local fishing community from one without water, sewerage and electricity, and yearly municipal earnings have grown from less than $400 to over $400,000 annually. It shows.
Like all initiatives, it has its downsides, the major one being that the changes to whale shark behaviour may have longer term negative consequences, and injuries to some whale sharks as they bump the boats that throw the krill for food to encourage them in.
For my two bob's worth, I would prefer they were left in their natural environment, however, I fear fishing the whale sharks would start up very shortly after and that would be a travesty. An average-sized animal (they can weigh as much as 34 tonnes) is worth about $250,000 at the end of the market trail in China or Taiwan, where consumers were paying up to $16 for a kilo of meat and up to $744 for a fin. The fishermen get $108 of that $250,000 by the way.
For about US$100, you can swim and snorkel with the whale sharks for half an hour. That's long enough for you to gain a sense of their size and also their extremely curious nature.
Touching Down in Eden
Siargao is known for its right-breaking reef wave that is the site of the annual Siargao Cup, a domestic and international surfing competition which is part of the Billabong Pro' Circuit. The legendary Cloud 9, is on any respectful surfer's bucket list with its reputation for thick, hollow tubes. It was named after a chocolate bar by American photographer John Callahan, has featured in US magazine, Surfer, and inspired Red Hot Chili Peppers' front man Anthony Kiedis to write a song after his visit to the island. It gives some insight to how great this surfing spot is.
There is a high and low season for the surfing. May through to October is considered the low season for surfing, with about 10% chance of a ridable wind or ground swell. I was there in June… Sigh. Yet, Siargao is far more than surfing.
What else shines here is its genuine focus on support for local farmers, sustainable agriculture, and environmentally-friendly products. Siargao will have the 'greenie' in all of us squirming with delight.
We arrived in time to head to one of my favourite restaurants, the Buddha Surf Resort, for lunch. This place grows produce in-house where possible, or sources from a local organic farm. It has its own free-range laying hens. They personally cut their beef with the butcher and dry-age it in-house. Their seafood is sourced locally, freshly caught and served on the same day. They even use metal straws.
Away from this foodie find, this is a surfer's paradise, so most activities involve physical activity, drinking or the combination of both.
Rock pools, caves, a 9-hole golf course and scuba diving can all be discovered. There's also a drunken carabao tour I did not do but apparently involves water buffalos, a sunset, an endless supply of rum and coke, and a guarantee you will end up with dirt stains on your knees and pants.
My family and I stayed at the Green House, where all bungalows have a magnificent view of the ocean. We took over the largest of the houses, which was closest to the ocean and boasted a private oceanfront balcony with couches to watch the sun set. For the cost of US$95 a night, including breakfast but not dinner – all of which is freshly prepared each day and everyone is catered for; meat lovers, vegetarians and all shades in between.
I'll put a couple of bottles of wine and some beer in the esky, meet you down at the beach just before sunset.
Andrew, the co-owner of the Green House, greeted us shortly after our arrival and asked whether we would like to go for a surf out front and, although it wasn't Cloud 9, it had a passable wave (one that can be ridden most times of the year). "Yes," we replied. "Great," he said. "I'll put a couple of bottles of wine and some beer in the esky, meet you down at the beach just before sunset." It's safe to say you can settle in very quickly here.
That evening we sailed out in traditional Philippine outriggers, known as pump boats. The waves were gentle – perfect for me as I hadn't been on a board for a while – but enough to catch. There were plenty of falls, but when you surface to that spectacular shade of blue that only the Philippine skies have, you feel at peace.
The next morning we picked up our hire surf boards – all fitted for our height, weight and surfing preference – from the Green House and looked to head out to Cloud 9. There are several other quality waves on Siargao and nearby islands, but Cloud 9 you can access in the Tuason Point and General Luna area via a long pier from the shoreline so no need for a boat. And we wanted to try it out.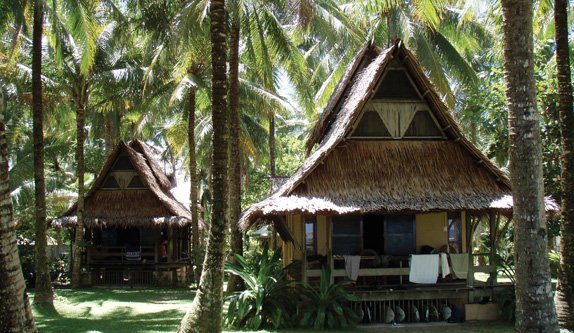 Our motorbikes (no licence needed) had surfboard side holders, and within 10 minutes we were already there.  (Local directions: "Follow the road until you see the signs, it's not far.")
We left our surfboards on our bikes, and walked along the beach, thinking breakfast might be a good idea to kick-start the day. A belly full of buckwheat pancakes (vegan option available), blueberries, mango and a great organic coffee later and we were ready to survey the surf and meander along the boardwalk, out to the first break.
The boardwalk is run down, and falling apart in places, so keep an eye on your kids (although the worst that will happen is they fall into the water and have to swim).
We passed by a woman teaching free Kundalini yoga for all the regular surfers, which only added to the serenity of the morning.  The surf was suitable for beginners and people who hadn't been on a board for a while – like me – and although the surf was small, I felt like a giant as I caught wave after wave. Why had I taken so long to get back on a board?
Later, it was time to leave the waves to check out the Magpupungko rock pools, an 1.5 hour ride away on our motorbikes. (Local directions: "Turn right up near the local grocery store…and keep going").
I have ridden motorbikes for years, but not even the odd flurry of interest such as seeing a huge boar on the side of the road, or farmers tilling their rice fields and yelling at their carabao were enough to distract me from a long road.
One very sore butt and an hour or so later and we were at the rock pools. The best time to see them is at low tide, which allows you to experience the full extent of their beauty. The track down to them hasn't been maintained, so most visitors walk on the reef to get to it. This constant wear and tear mean the local government needs to up its game on maintenance – not put it in their back pockets – but it's worth going to see.
We headed back to our resort in darkness, realising our bike lights were a tad dim, but were rewarded when we reached our home with a beautiful meal of fresh, line-caught tuna and salad.
The next day we spent doing absolutely nothing, which our resort was superbly equipped to deal with. We whiled away the hours reading, writing, listening to music, checking our FB page (when WiFi would allow) and posting the odd envy-inducing photo. For sustenance, we just about unfolded ourselves from the deck to go into town and sample a vegetarian restaurant everyone had been raving about. (Totally worth it! Go to Shaka Sargao for their power food bowls!).
Our resort had a yoga sala, so I spent most of my early mornings and evenings there. A cool breeze; a view of the ocean – what more could those of us wanting a retreat without the bells and whistles, hope for?
Our last day was a hard choice between island-hopping and scuba diving.  We opted for the latter and started off early. There are many small uninhabited islands in the area; some are visited more than others, but there is undoubtedly an ideal for everyone. The colours of the ocean and the sky were picture-perfect.
And the list of doing nothing, while doing something continued for our short stay…
All too quickly, it was time to leave and head back to Cebu. And, as I watched the one plane-a-day land, I saw the arriving visitors with surfboards over their arms, and I wished I was staying with them.