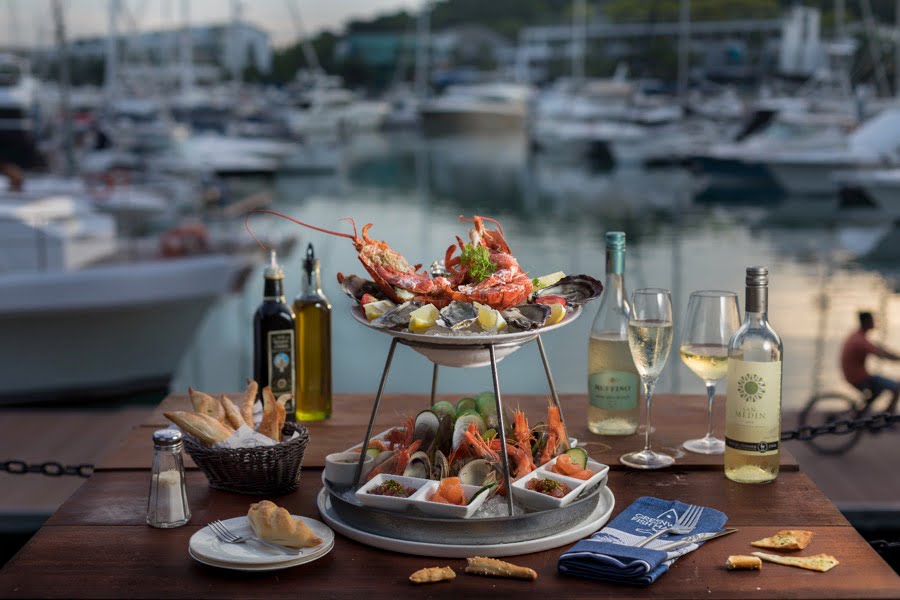 31 Ocean Way, Quayside Isle,
Sentosa Cove
greenwoodfishmarket.com
Pop over to Sentosa to indulge in Greenwood Fish Market's well-known seafood, with a festive twist.
Opened in April 2016, you can dine indoors, outdoors, or take-away their famous fsh and chips. At the prime waterfront spot beside the tranquil One Degree 15 marina with its feet of luxury yachts, this is the place to linger over a delicious meal with a bottle (or two!) of wine or beer, watching the passing parade, especially at twilight, appreciating nature's beauty in the changing colours of the sky.
Specialising in cold-water fish and seasonal seafood, there are regular air-deliveries from Australia and New Zealand among other countries, plus local waters. Look for barramundi (a personal favourite), John Dory and tuna as well as oysters, lobsters, crabs and clams. Seafood-Basket, a signature item, is an assortment of battered seafood, fsh, scallops, prawns and calamari served with salad and chips. For those who prefer, there are steaks and burgers. For little ones, a kids' menu is available.
To welcome the festive season, the menu includes tasty smoked cheddar and pumpkin soup; hot smoked salmon with roasted pecans, cinnamon butternut squash, dried cranberries and beets; and USDA prime rib accompanied by home-made cheese bread pudding. For dessert, try tipsy egg-nog cheesecake, or fragrant cinnamon rolls drizzled with egg-nog vanilla sabayon.
Bask in warm weather by the sea with ocean delights in a family-friendly setting this Christmas and New Year.
Raelene Tan