Amanda Broad talks to New Zealand expat – and vendor at ANZA's Great Australia Day BBQ event last weekend -, Valmai Dhir on the trials of setting-up a company in Singapore.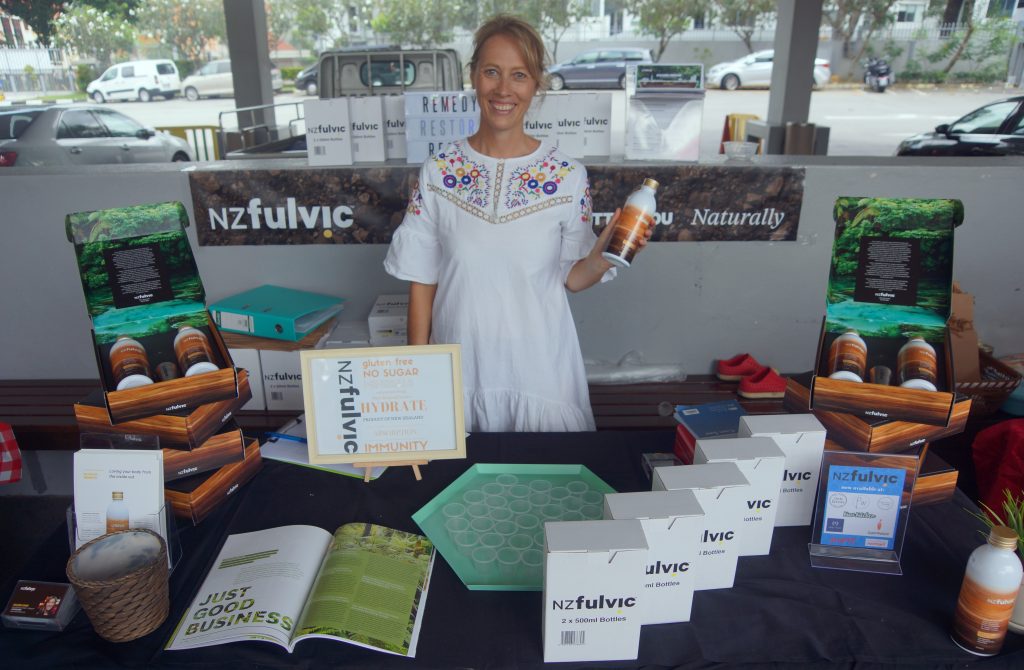 Valmai Dhir has been living and working in Singapore for 11 years. In 2016, Valmai's career journey shifted and she was afforded the opportunity to be her own boss and bring a product she is passionate about to the Singaporean market. This is how she went about setting up shop in Singapore – everything from setting up the company, work pass applications, product importing, and the unique challenges of attracting the diverse Singaporean market.
HOW LONG HAVE YOU LIVED IN SINGAPORE, AND WHAT BROUGHT YOU HERE?
My husband was offered a new role that would take us from Sydney to Singapore. We were open to the opportunity to experience expat life, so we took the leap and arrived here in May 2006. At the time, I was 32 weeks pregnant with our first child Harrison – giving birth for the first time was daunting, especially in a foreign country!
TELL US A LITTLE ABOUT YOUR COMPANY THAT YOU HAVE SET-UP HERE IN SINGAPORE?
I was first introduced to NZ Fulvic through my brother Rhys. I had mentioned some of my family's health complaints to him; throughout my childhood I had issues with my digestion, and my son Harrison experienced mycoplasma constantly. He suggested we start taking NZ Fulvic (a mineral-rich tonic made from the peat of New Zealand's South Island) on a daily basis, and after a couple of weeks I noticed my digestion improved dramatically and Harrison's immune system became stronger. As I'd experienced great results first-hand, I asked Rhys about the possibility of bringing it to Singapore. I wanted to share the positive impact something so simple has had on our lives with my friends here.
HOW DID YOU SET UP YOUR COMPANY, AND WHAT CHALLENGES DID YOU FACE?
I started by reading everything I could on the internet about starting a business in Singapore. The Ministry of Manpower (MOM) website and Facebook forums such as Singapore Expat Women and Singapore Expat Wives were my greatest source of information. I found an accountant who was willing to help me register the business with ACRA, and helped me with the paperwork. The next steps were setting up the bank account and applying to MOM for a Letter of Consent as I'm here on a Dependant's Pass. This process took a bit longer than expected as they required further documentation before I received my LOC and was rather time consuming – so if this happens to you, don't give up!
The other initial challenge I faced was my own fear of failure. For the first time I was leaving a 'safe' work environment and regular income and moving to the unknown world of being an entrepreneur, with a brand new product for the Singaporean market. At first it was daunting with many sleepless nights – however it has also been really exciting and incredibly satisfying. I have a long-term plan for the business and I know it won't be an overnight sensation but I'm willing to keep working hard and I am mindful about maintaining a balanced family life. My relationships are so important to me and I am focused on building a strong network of supporters and repeat purchasers. This is growing with word-of-mouth recommendations helping to raise awareness.
WHAT MAKES THE SINGAPOREAN MARKET UNIQUE, AND DIFFERENT TO YOUR HOMELAND?
Singapore is a melting pot of cultures, which is part of what makes it such a beautiful place to live. But this can make it tricky when you are trying to market a product that is meant for all ages, races and cultures, as I think generic marketing rarely works; it's best to be as targeted as possible. I have mainly focused on the health and wellness sector and I find a real joy in collaborating. I've approached influencers from many different backgrounds and shared my story and NZ Fulvic with them; the response has been fantastic. Lisa Clayton, Australian model and UFIT Founder, has been a wonderful supporter, along with Terri-Anne Lekse from Carrot Sticks and Cravings and local blogger and fitness guru Cheryl Tay.
ANY ADVERTISING TIPS FOR OTHER BUDDING ENTREPRENEURS?
Shed your inhibitions and fear of talking to people. Networking has been one of the biggest and most important ways I have been able to get my product out into the market. Singapore is a great place to meet people and there are many networking events (check out ANZA's events page to start!). I highly recommend the New Zealand Chamber of Commerce as they are very active with their networking events and they welcome all nationalities. Focus on your goals and work hard; nothing worth having comes easily. Singapore truly is a land of opportunity!