Avid traveller and Chill, Chat, Connect speaker Phil Biggin shares his globe-trotting stories ahead of next week's event.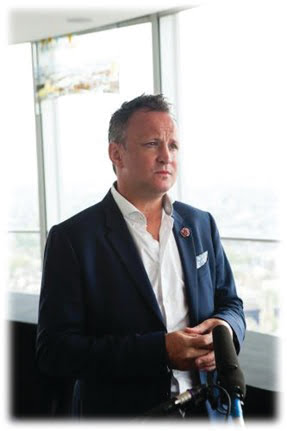 How much do you travel?
I travel extensively for work, from the UK and Europe, to the Middle East and Africa, Australia and all over Asia. I am sure everyone who travels for business will agree, it's not necessarily the air travel itself that's exhausting, it's all the waiting around and dead-time in airport lounges and driving to and from your workplace. That said, I would miss it, so I do try and manage my time as effectively as possible so I can enjoy it.
What's the first thing you pack when going on a business trip?
My skipping rope. It's small and yet keeps off the pounds – the key here though is the motivation to actually use it.
Best place you've ever stayed?
That's a tough one. Rio was amazing; as was Koh Samui for our first Christmas after moving to Singapore; but I think I am going to have to say Rock, a small village in Cornwall, England.
Strangest meal?
I once had to eat goats' eyes at a banquet in Ethiopia – long story, but not a happy ending.
Best app?
We always download the local apps – they're actually written by locals so they have some insider info. The Lonely Planet guides are pretty awesome too.
Where most lived up to the hype?
Vegas every time! I've been there so often but every time, it just gets more and more crazy – I love it!
Where do you go to relax?
Beach, beach and then the beach! Boat, beer and a book – what else do you need? This infuriates my wife though as she always wants to be on the go – so, a compromise is often reached; if not, it's off exploring I go.
Phil Biggin, Head of Sales Enablement BT Global Services Asia, Middle East, Africa & Turkey will be the guest speaker discussing Paradoxical Thinking at ANZA's Chill, Chat, Connect on Thursday 15 March. Book tickets here!