Photographer Tatyana Kildisheva and her husband spent 20-days trekking the Annapurna Circuit in Nepal. She shares her experience with ANZA Magazine.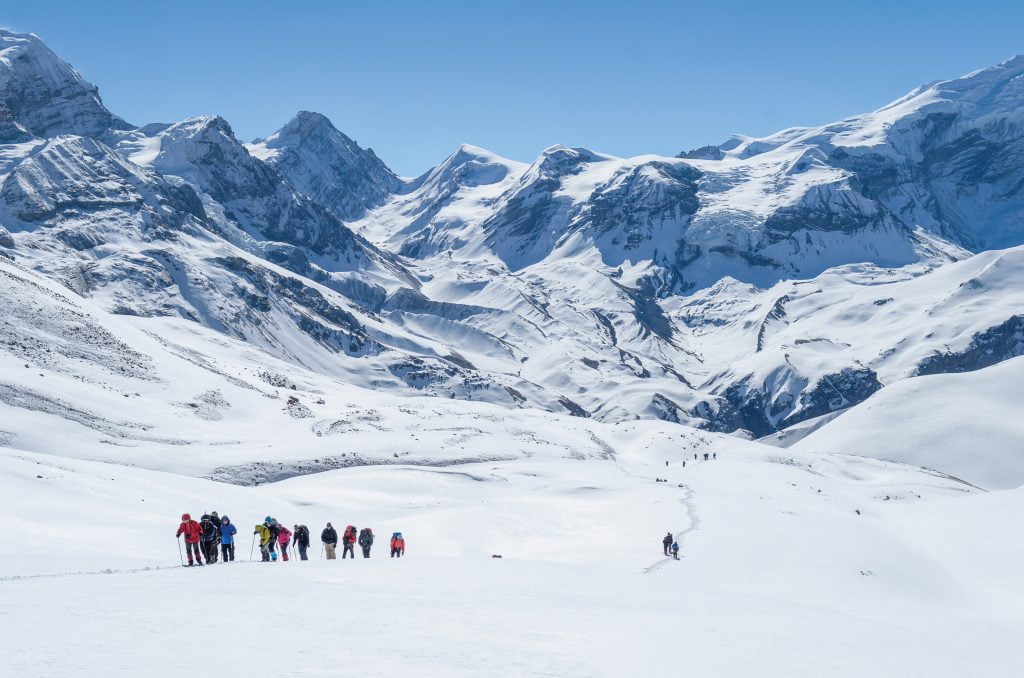 A couple of years ago, my partner John and I embarked on a trek through Nepal. The 230km-long route we chose, is considered one of the best in the world, passing through villages, crossing rivers, climbing mountains – including the famous Annapurna range – and descending into picturesque valleys. It offers a wide variety of climates from the tropics at 700m, along the path's highest point of Thorong La Pass, which touches the edge of the Tibetan plateau, to the subarctic at 5,000m.
Because of the new road construction, the trek can now be done in about 10 days with less walking and more driving, however, we opted to take the ancient trade route. Having applied for a 90-day visa, we realised that we had the greatest gift imagined – plenty of time in a phenomenal country. It meant we could spend an extra day or two taking in the villagers' way of life, interacting with the locals, tasting native food, and generally observing our surroundings. We were able to slow down and really appreciate what was around us.
At the beginning of our trip, we attempted a shorter trek in the east of the country, in the Langtang Valley. It was there, at about 3,000m above sea level, that I realised how prone I was to altitude sickness. It came unexpectedly and I went down with terrible headaches, shortness of breath and nausea. Thankfully, that was the highest point that we had to reach on that trek – and it left me realising I needed to be better prepared, to walk slower, spend more time recovering before moving up again and to stock up on lots of pills to alleviate the symptoms.
The Annapurna Circuit begins at Besisahar, in a subtropical valley with terraced farming. Trekkers share the muddy path curling upwards with villagers moving their yaks, goats and trade goods. Whilst we slowly traversed the trail, the temperature became colder with each 100m elevation and, at about 2,500m there was little vegetation, only rocks and mud.
We climbed to over 3,000m, reaching Pisang village and were greeted by lots of snow. None of the poorly constructed teahouses for trekkers provided any heating, but we considered ourselves lucky that there was a small stove for cooking where we could warm up a bit before going to sleep. At night, temperatures went down as low as minus 10 °C so we were super grateful for our comfy sleeping bags, although we were still shivering every night. I even slept with my camera batteries in my pockets to prevent them from discharging in the cold.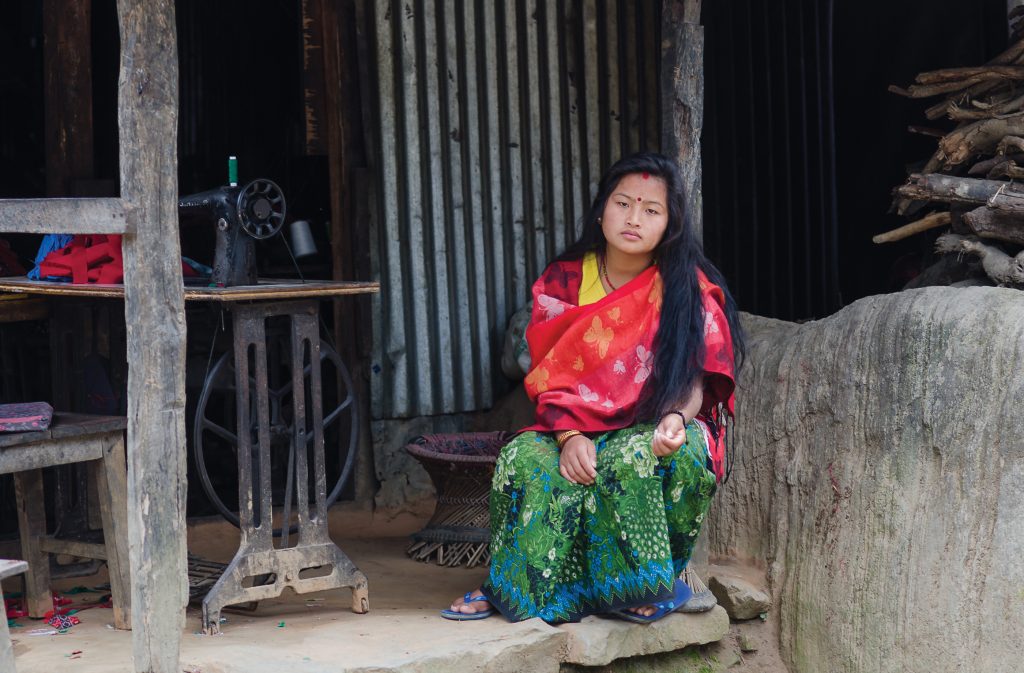 Unsurprisingly, Nepal is ethnically diverse and it shows on the smiling faces of the local people; the Mongolian, Tibetan, Chinese and Indian. They were very curious about us and the kids greeted trekkers with a traditional "namaste", immediately followed by "chocolate?". Buddhism and Hinduism are widely practiced but the higher altitude settlements are predominantly Tibetan Buddhist with quite a few ancient monasteries. The most remarkable one for us was Kag Chode Thupten Samphel Ling Monastery in Kagbeni village, just a few years shy of its 600th anniversary. We were allowed inside for the 6am prayer and breakfast with the young monks, who mindfully ate their Tibetan bread and drank their tea.
The scenery changed day-by-day as we climbed higher and higher and the magnificent mountains seemed close enough to reach out and touch. Such sights made us realise just how small and insignificant we were compared to the enormity of the Annapurna range.
Half way through the trek we reached Manang where we spent two days, acclimatising. It was the last village with electricity and a bucket of warm water for showering and laundry – so take full advantage should you ever find yourself there.
The settlement was in fact quite big; there was a volunteer doctor from the US staying in the village and giving lectures on how to recognise and deal with altitude sickness; and a 'movie theatre' where we watched Brad Pitt's Seven Years in Tibet with our backs to the mountains. We also took a training trek up to a Buddhist monastery, to touch prayer wheels in the bitter cold, before scurrying back down.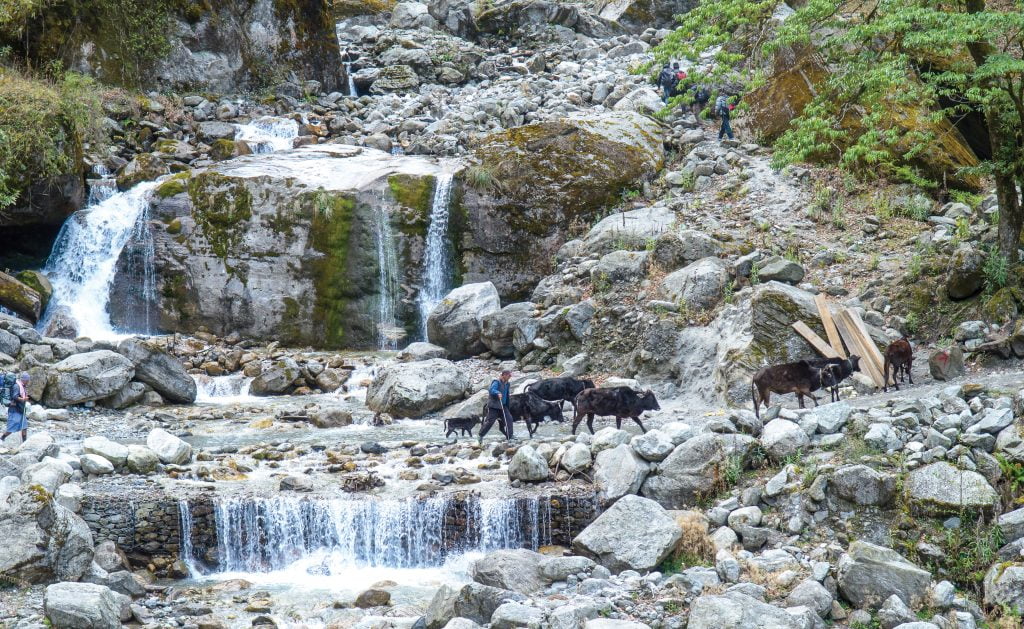 Within a couple of days though, it was time to move on and we reached Gunsung, a village of only five houses, half of them destroyed by an avalanche. We witnessed cooking on a stove with yak dung, the only fuel available, because there is no wood in the mountains and no one carries it so high up.
It had only been 10 days at high altitude but our bodies were slowly breaking down; it was painful to breathe, the skin on our faces and hands were cracking, and our ears were ringing. Our boots, backpacks, and clothes were looking rough from all the walking on mud, tripping in yak poo and scrambling over rocks.
Our last night before attacking the Thorong La Pass was spent at 4,450m in a lodge so cold that my water bottle froze overnight. We started slowly ascending on fresh snow at 5am and watched the stunning sunrise over the snow-capped mountains. I glimpsed a few people walking the trail below us, and thought how tiny they looked compared to the colossal mountain giants around them. We had a quick photo at the summit with the 5,416m sign for proof as the strong wind and snow whipped around us, before we were 'running' down the other side of the mountain, trying to make it to the village below before night
fell. This part of the trek is often the longest, with some people taking 11 hours to finish – although thankfully we made it in much less time.
As we descended over the next 10 days, the path led us through a whole host of villages with interesting traditions, inquisitive people, local architecture and temples and even a distillery making brandy from apples.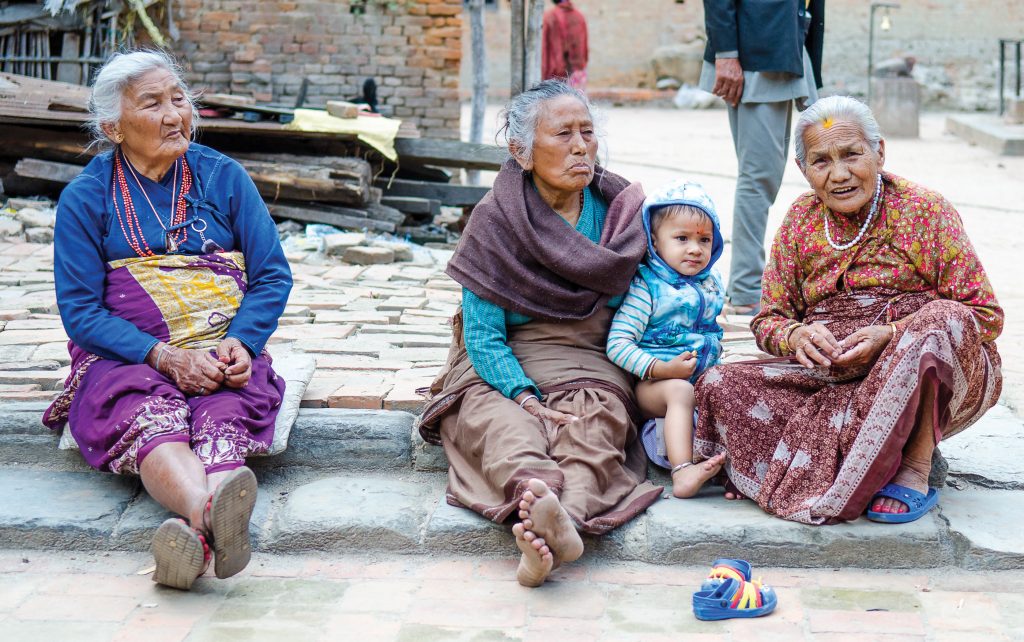 While the views of the Himalayas, the roof of the world, are so breath-taking that I have no words to describe them, seeing this scenery comes at a price. For an average person having grown up in the clean and sterile environment of modern city-living with everything within easy reach, trekking through Nepal is quite a lot to adjust to.
Surprisingly, there are no technical mountain climbs on this trek, so really anyone could do it; however, simply being physically fit doesn't necessarily equal completing it. We saw plenty of fit people turning around because of high altitude sickness or stomach problems as food hygiene standards in Nepal are so low that almost everyone gets sick. A few times we heard the whirring of a helicopter overhead which always meant someone was being evacuated due to sickness.
So, a few practical notes before you try to trek: You need a lot of time and patience, strong and comfortable boots, lots of warm clothes, a thermal sleeping bag, good backpack, hiking sticks and take paperbacks or a Kindle for when you finish for the day but there is still plenty of light and nothing to do. Essentials also include: all possible medicine you think you would need, plasters for your blisters (you will have plenty), good face cream, altitude sickness prevention tablets and, most importantly, water purification tablets. Also, don't be shy to hire porters if you're not strong enough to carry all your gear. For many Nepalese, being a porter is the only income they can provide for their families.
My takeaway from the trip is that climbing mountains is not as exhausting as having no access to the amenities that I take for granted at home like my comfortable bed, running water, a flushing toilet, clean clothes and food that I can stomach. A diet of Nepalese dal bhat (rice and lentils) didn't provide the best, much-needed nutrition to cope with the physical endurance of the trek. Sleeping on wooden planks with no bedding, no shower and no washed clothes for days was quite unsettling as was using outdoor squat toilets during very cold nights.
Regardless, I feel incredibly lucky for having had the opportunity to visit Nepal, to experience high altitude trekking for the first time in my life, to be surrounded by such stunning scenery and having found the strength to finish.
With thanks to Tatyana Kildisheva of Kildi Photo.