Adopted New Zealander, Marie Monmont is a business woman, social enterprise entrepreneur and a driving force for change says Charley Larcombe.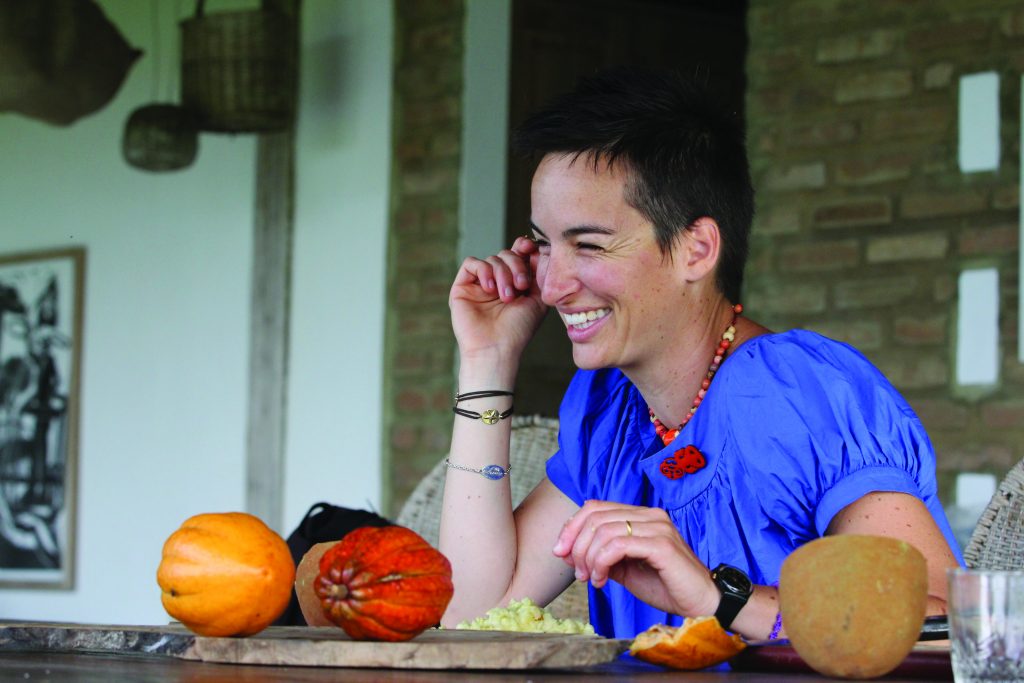 Marie Monmont is chic, petite, and quick with a smile to break across her face. Her French accent is still strong even after nearly 20 years living in New Zealand and she speaks, like so many of her countrymen, by quickly peppering her answers with anecdotes and gesticulating with her hands. Sitting across from me drinking hot chocolate in an Italian coffee shop in Singapore, dressed in pristine preppy clothes with a jaunty hat nonchalantly pushed to the side, she seems the epitome of a stylish, care-free city dweller.
However, where would you catch her on another day of the week? Working alongside her prisoner co-workers, under the watchful eyes of guards at a prison in Wellington, New Zealand. You see, Marie's colleagues can't nip out for espresso meetings or talk shop at lunch over an extortionately-priced salad, because whilst Marie goes home to her family, they do their shift and go back to their cells.
Let's just put this into some context.
Marie is the creator of Wildness organic chocolate, a rich exotic confection that stands above the rest due to its magic ingredient of cupuaçu, a fruit discovered in the depths of the Brazilian rainforest. From the same family as cacao, it's usually snapped up by the pharmaceutical and beauty behemoths for its health and wellness properties, but Marie has battled to get her slice of the shipment. By working closely with one solo farmer, Carlos, she has been growing, drying and exporting this little-known product back to New Zealand to add to her delicious chocolates.
The connection to the cell mates?
"I saw a French documentary about a former prisoner who had learnt new skills during his sentence and I thought it was really interesting," explains Marie. "Moments later, I was calling prisons around Wellington, asking if employing prisoners was even an option. I called and called and called, and eventually I wrote a quick business plan. Within 10 minutes, I had a reply, and the next day I was putting it into action and on my way to offering employment to prisoners."
Importantly, Marie is not only creating an opportunity for prisoners to learn new skills in graphic designing, printing, packaging and assembly of her chocolate products, she pays a proper wage – not a 'prison rate'. What also marks her out is that she physically goes inside the prison; she works alongside the offenders. With her elfin haircut and slight build, it must prove an interesting sight as she gets to work alongside her colleagues in their prison garb. I ask how she finds common ground? What do they talk about all day?
"I reserve all judgement; I'm not there to judge them on what they've done before or why they're in prison. At the beginning, nobody wanted to work for me, because I was a 'female company'; they saw that working for a chocolate brand was a woman's job. But then they saw that I'm not a meek little girl, I graft hard, I have a bottom line and they respect that. We're there to work but it's an incredible environment to be in. There is no Wildness company without them, and we all take pride in that."
The importance of this social enterprise aspect of the Wildness business is integral – not just a sound-bite. And this is evident in Marie's impassioned conversation and her stoicism in not caring that her approach hasn't been done before. She's not put off by attempting new methods, or employing a different staff base, simply because they're not the norm. She's here to shake things up and push the envelope.
Wildness chocolate (and also the pure raw honey her bees produce back in Wellington) are used by Accor and Intercontinental hotels in New Zealand – and soon to be in Singapore too. Her family haven't been here too long, but she is already looking at importing Wildness, as well as trying to set-up a similarly socially-conscious workforce here on the Little Red Dot. "Working in the prisons may not be viable, but I have found some incredible charities to potentially work with, where people can again learn new skills and be part of a growing company they can be proud of."
She is also incredibly mindful of the environment. She sources organic cocoa beans and is constantly striving to get the precious cupuaçu organically certified too. She experiments with the chocolate packaging to ensure everything is degradable and is produced ethically and is environmentally-friendly. She is just as passionate about the environment as she is about her social responsibilities. "It is important that we all do our little bit. The environment is incredibly important to me, as it is what will affect my three children. Making sure we are working for good in the environment is a major driver."
It's important to say that Marie isn't preaching or earnest. She's very warm and funny and makes light of the way she charges through life.
"I'm not wanting to change the world, but as a young business, I can implement these things straight away and as we grow and grow, I can prove that not only is it a commercial success, but being more socially and environmentally conscious is viable too. It does not have to be one or the other."
Oh, and by the way, the chocolate is delicious…