Prima Ballerina, Irina Kolesnikova visits Singapore this month with the St. Petersburg Ballet Theatre. Get ready to be spellbound says Charley Larcombe.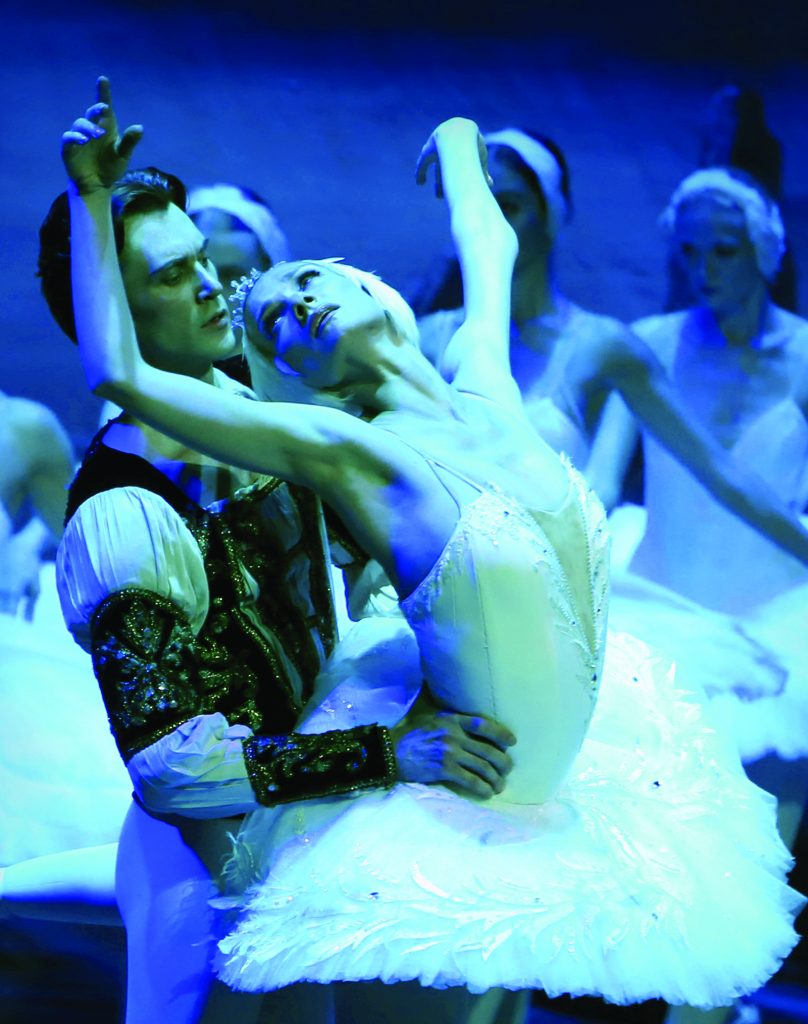 Describe your typical morning of diet, training and ritual:
My regime changes depending on whether I am performing or not. If I'm in the middle of a performing season I try to take a lot of rest. This means I might sleep until 10 or 11 in the morning – although that is hard to do as I have a four-year-old daughter. As soon as I get up, I do some stretching exercises. This is good for my body and also helps me to wake up! Breakfast is important for me so I will have eggs, cheese, some toast and tea. Then I will go to the theatre or studio and do a class with my coach and perhaps a rehearsal with my partner, to work on any issues from the previous night's performance or perhaps to try out some new steps. After a performance, even though I can be exhausted, I wind down slowly, by having a good meal, maybe reading or watching TV. I'm ready for sleep by 1am.
How do you prepare for that evening's performance?
I get to the theatre two hours before. This is my quiet time. I prepare slowly; I limber up and gradually do my hair and make-up, but the most important aspect of my preparation is getting into the mood of the character I'm about to portray. I definitely don't like to be disturbed during these two hours of preparation; so, don't knock on my dressing room door!
What would you describe as the hardest aspect of your career?
When it comes to the physical part of my life, of course a dancer's life is 99% a physical challenge; keeping fit and managing a constant diet (especially hard when on tour) is difficult. These are all a part of the career I have chosen and which I love. I don't see the challenge as a burden… it's part of the job.
Describe your feelings when you step out on stage.
I'm always a bit nervous for the few minutes before I step on stage but then if my pre-show preparation has gone smoothly, the role that I'm playing takes over and I, like the audience, can be transported into another world. I think of nothing but the ballet when I'm on stage.
Do you have a role model?
There are so many ballerinas who have influenced my work. As an artist, you absorb whatever you see and hear and try to mould all the influences into something unique to you alone. I have always greatly admired Maya Plisetskaya who was the legendary dancer of the Bolshoi. Maya was so very strong on and off stage. She was her own master; I like that.
How do you bring something new?
Every performance is different. The great challenge is to bring new aspects to every single performance to keep your character fresh, not just for the audience, but for one's self too. So, I'd say every performance has something new – a new emotion, the glance of an eye, the toss of the head… these are the things that make one ballerina different from the next.
What advice would you offer to young ballerinas?
Work. Then work some more and then when you are totally exhausted, work some more again. There will be no success without work. Love music, study costuming, be interested in everything around you… you can draw on all of this for the next performance.
Catch the St. Peteresburg Ballet Theatre's performance of Swan Lake from the 8th-13th May, at The MES Theatre at MediaCorp, 1 Stars Avenue, 138507.