TRAVEL: Tatyana Kildisheva takes us on a cycling tour of South Korea.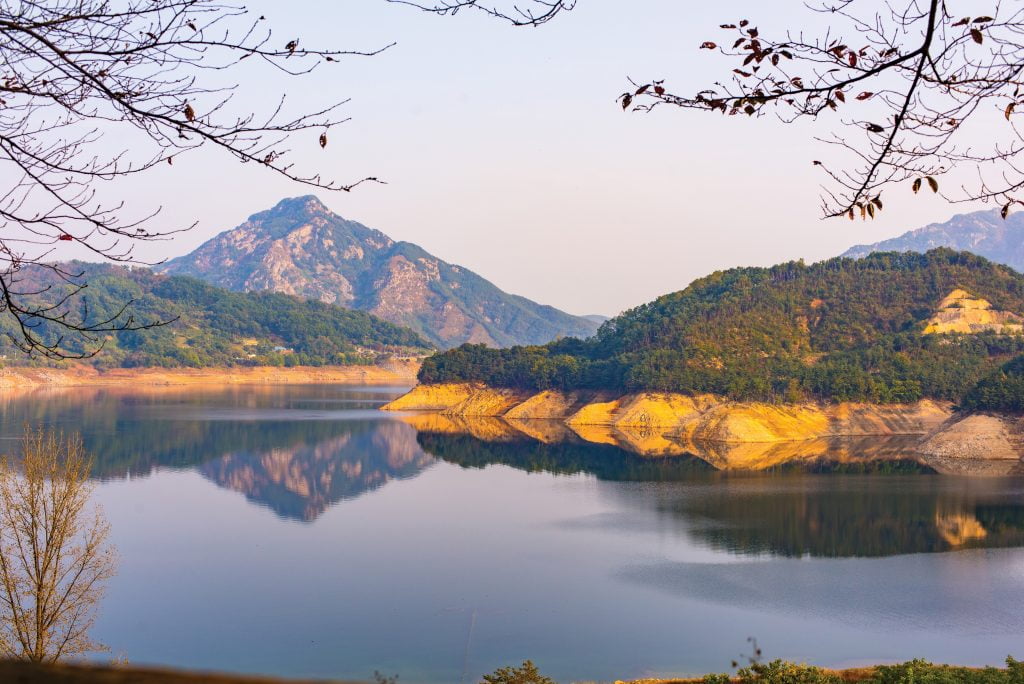 If you love cycling and crisp autumn air, head to South Korea in October to ride the bike paths winding through the most gorgeous scenery and quirky towns. During that time of
year, weather in the region is generally dry with lots of sunshine and temperatures of 15-20C, which make for very pleasant cycling conditions.
Somewhat overlooked by many tourists heading mostly to Seoul and DMZ, the Four Rivers Cycleway from Seoul to Busan runs southeast for over 600km. Most of the way, it's a designated, well sign-posted cycling path, equipped with a few tourist information centres and even certification centres, where a cyclist can pick up a special passport to get stamps at booths along the way as proof of completing the route. Afterwards, a special certificate is issued by the authorities and a medal is presented to the finisher. It's not a race though, so it can be done in any amount of days. You set your pace.
Three of us – my partner John, our friend Denis and I – landed in Seoul on a fresh morning in mid-October and took a train one stop up from the airport. We removed our bikes from their boxes, and after an hour of assembly, we were good to go.
We did not know really what to expect from the path and from cycling in South Korea at all. The only information about the route we had was pretty generic and just taken from the Four Rivers Cycleway official website.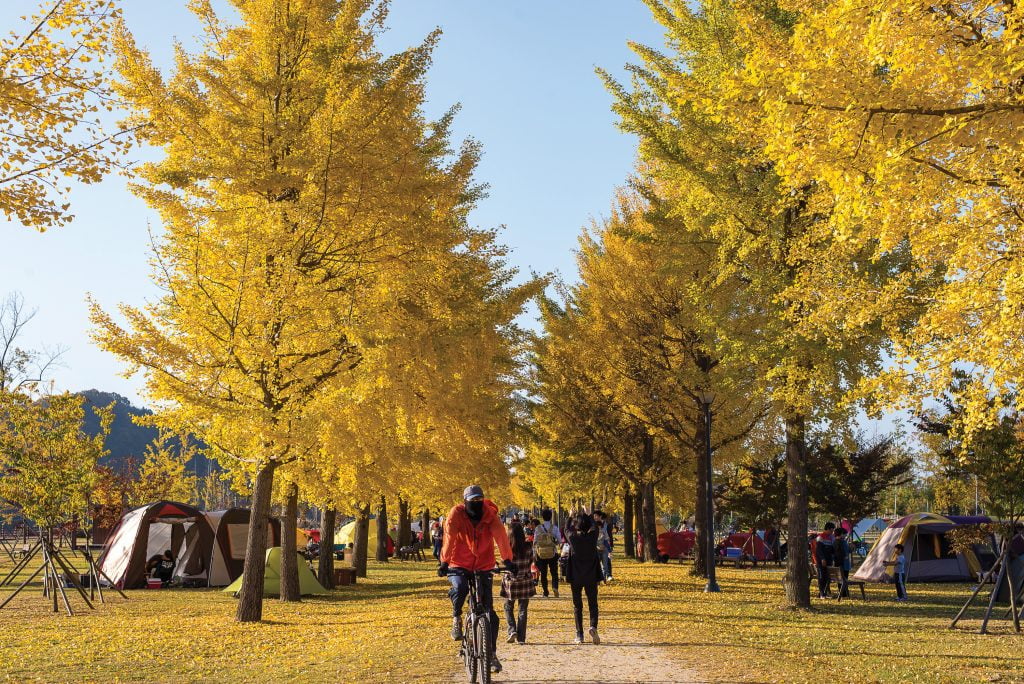 However, seeing South Korea on a bicycle did not disappoint. The cycleway runs from north to south diagonally in the middle of the peninsula, which affords many sightseeing opportunities of cities, smaller towns, villages and the glorious landscape. Due to flooding in the past, many rivers are controlled by dams now, which run across bodies of water and are only accessible to cyclists and pedestrians with no cars allowed. It was such a nice surprise to have such freedom of movement on super wide dams with no motor traffic.
Each dam had a distinct design for its towers; some looked pretty futuristic, but some had funny figurines and bike silhouette engravings. The path itself and the facilities looked sparkling new and very clean with lots of local cyclists around on the weekends but mostly deserted during the week.
Being foreign tourists, we attracted lots of attention. Despite most people speaking little-to-no English, and us lacking in any knowledge of Korean whatsoever, we were still able to communicate in signs and gestures. The great language of travel, right? The locals smiled and expressed their approval of our long cycling journey in their beautiful country. Some were eager to take photos with us, and on many occasions we were given different Korean treats, which was very endearing. A few local cyclists rode along with us making small talk and sharing tips on cycling in the area. They were always welcoming, friendly and helpful.
It was incredible to see the country open up in front of our eyes. We passed by mountains and cycled through canyons, over rivers and alongside reservoirs. While we were traveling, the weather got colder and the leaves started changing colour to the most beautiful shades of yellow, orange and red.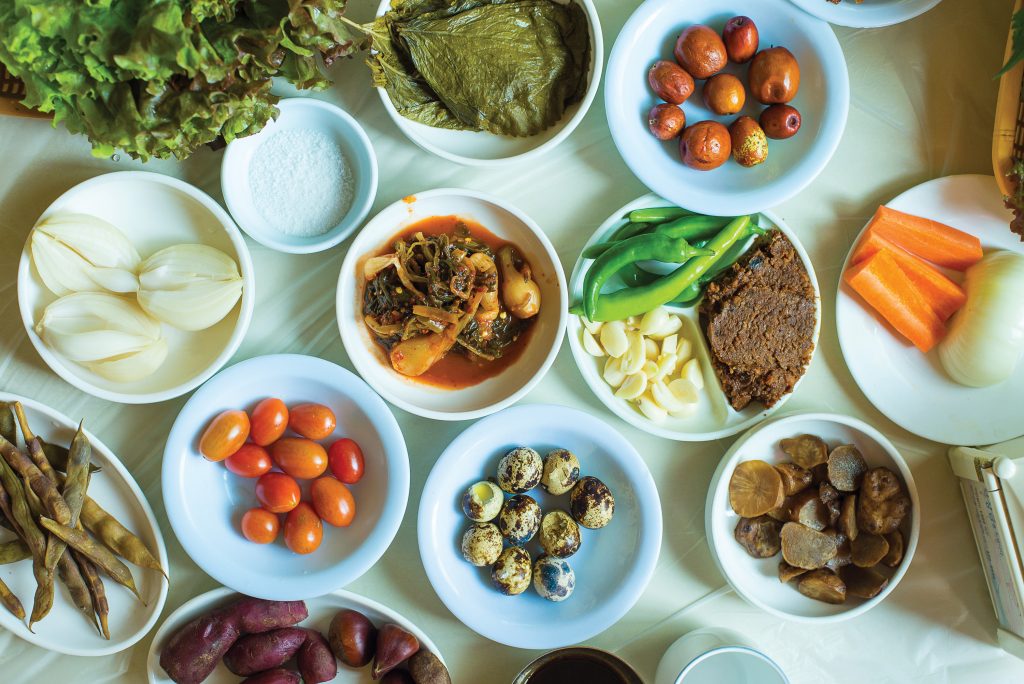 After finishing the cycleway near Busan, we decided to go on and complete the loop by going north on the west coast of the Korean Peninsula, making it a 1,442km cycle route through the stunning country over 18 days.
The geography of the Korean peninsula is quite varied. While the country is very densely populated with many cities, towns and villages, we saw a lot of nature too during our ride. We had a chance to admire local agriculture with endless rice, soybean, cabbage and carrot fields, and the sweet smell of apple orchards and persimmon trees travelled with us along the road. Since it was harvest time, the streets in the villages were partially taken up by long tarpaulins full of rice, left out for drying on the road.
It was amazing to discover that even away from the Four Rivers Cycleway, lots of the towns were equipped with designated bike paths and cycling was quite easy with the roads proving perfectly smooth. When we left the paths, we ventured into the mountains on our bikes and hit a few climbs of over 500m, the most notable of which was Jirisan Mountain. Every view we were treated to was simply breath-taking.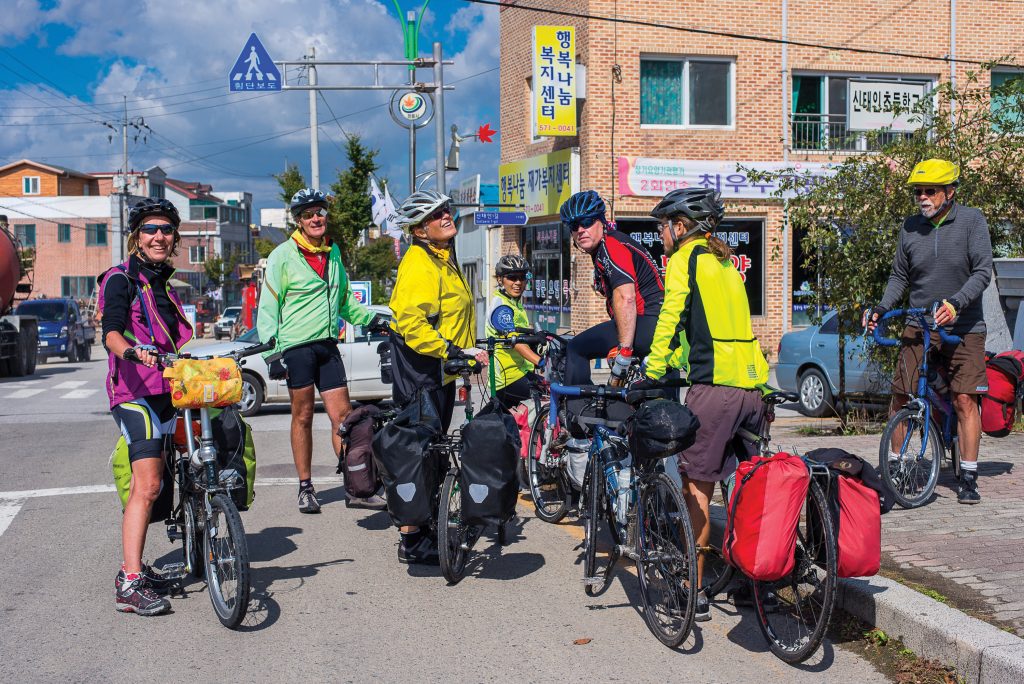 Korean food also deserves a special mention in this article! First of all, we noticed that restaurants can be found everywhere, even in places one would not expect to find eating establishments, like in the middle of nowhere alongside a field. The fare was incredibly varied with different textures and tastes, at times spicy and pungent. The dishes we ate were (mostly) great with lots of fish, different meats and vegetables. We developed a special love for dishes that were tiny in portion size yet large in numbers, which often arrived free of charge with the main meal: all kinds of vegetable pickles, kimchi, potato salad, fermented beans and chestnuts, and even deep fried fish spine! However, we did have a few fiascos ordering: when not being able to read anything on one of the menus, we resorted to pointing to the dishes the local patrons were having. Once, this resulted in ordering a huge dish with raw squid bathed in very spicy ice cold broth. We just couldn't master eating that one!
At the end of our journey, we rode north from Seoul to the DMZ area, seeing triple barbed wire fences everywhere. We then visited the Unification Museum and gazed through a binocular to the North. The views did not differ much from the peaceful pastoral landscapes of South Korea, but we definitely sensed some Cold War breeze coming our way.
The trip was wonderful and we are planning our return to cycle the west coast of Korea in the future. We suggest you give it a try too.