Love mixing food and travel? Check out our travel guide to Penang's inventive eateries, street eats, cooking schools and fine-dining restaurants.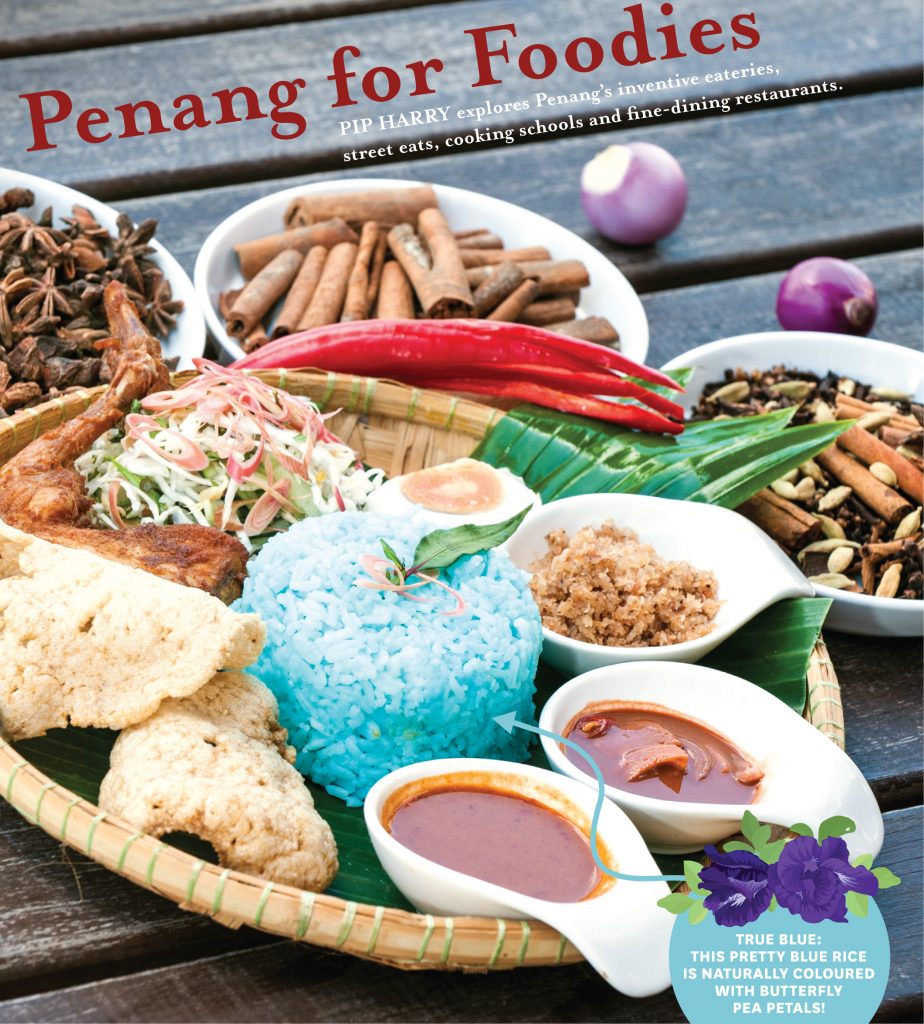 There's no doubt Penang is one of Asia's hottest gourmet escapes. Alongside funky street art, stylish hotels and a World Heritage Listed old town, visitors can indulge in some of South East Asia's best street food, a booming café culture and a fine food and wine scene.
Arrivals hall
The island of Penang is located on the north-western coast of Malaysia, easily accessed by ferry from Butterworth, or by crossing a 13.5 kilometre bridge that links to the mainland. After travelling overland by train from KL and taking the wind swept ferry with a full load of cars, we're more than ready to check into our rooms at Seven Terraces hotel in George Town (www.georgetownheritage.com) – a carefully restored row of Anglo-Chinese terrace houses. It's impossible not to feel relaxed as soon as you enter the serene central courtyard and open the door to stately rooms, featuring dark polished woods, rich ruby fabrics and every mod con. The hotel's stunning pool area is well shaded and made for lounging in the heat of the day with a newspaper or book. As luck would have it, it's also where a complimentary afternoon tea of neon-coloured Kueh sweets is about to be served. Don't mind if we do . . .
Top tandoori
Once we've nibbled on the pretty glutinous rice creations, cooled off with a swim and had an afternoon siesta, it's time to search for our first meal, and we're certainly spoilt for choice. Every cuisine imaginable is available here –from Indian to Nonya, Chinese, seafood and hawker fare. It's hard to know where to look as we wind through the busy streets and laneways in search of North Indian restaurant Kashmir (105 Jalan Penang). This gorgeous heritage zone is crammed with historic shop-houses, famous street artworks, gilded temples, Neoclassical churches, mosques and opulent mansions. Known as one of Penang's best Indian restaurants Kashmir doesn't disappoint – the famed tandoori chicken is smoky and succulent, with excellent crispy naan to dip into a fiery vindaloo.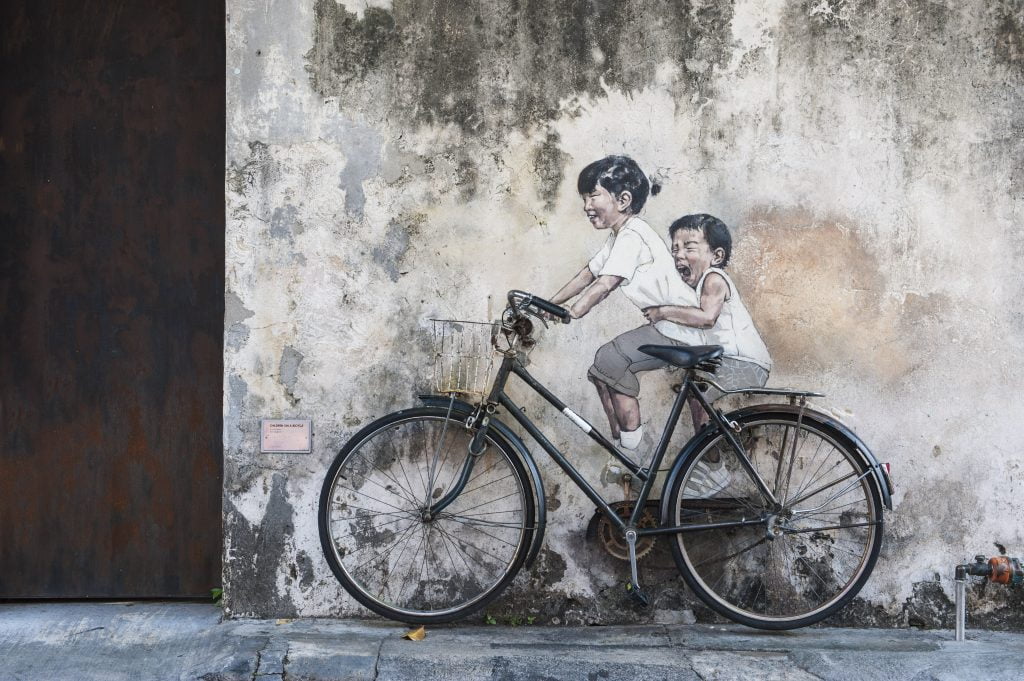 Street art tour
In the cool of the morning we head out on a private walking tour with experienced local guide, Joann Khaw, from George Town Heritage Walks (016-440 6823). Joann starts with an overview of the history of Penang, then takes a leisurely pace around the streets, stopping to reveal more about the architecture, art, food and bars and traditional local produce like perfumes, oils and spices. Joann makes a point to step off the tourist trail and after just a few hours with her we feel like we've really cracked the surface of George Town and discovered its true heartbeat and history. Food is also on the menu and we satiate mid-morning hunger pangs with a just-out-of-the-oven flaky egg tart and refreshing street side fruit juice. Vibrant fusion café China House (153 & 155 Beach Street, 183B Victoria Street George Town) is our lunch stop. This compound of three interlinked heritage buildings includes a café, restaurant, art gallery, shop and bakery. The menu is Western, with an Asian/Middle Eastern twist, but plenty of people just come for coffee and cake. It's hard not to press your face against the glass display of towering cheesecakes, layer cakes, tarts and brownies. In the end, I resist the siren song of cake for a special bento box with small, perfectly balanced portions of meatballs, crisp apple and pomegranate salad, rice and enoki mushrooms. The bento bites revolve according to what's in season.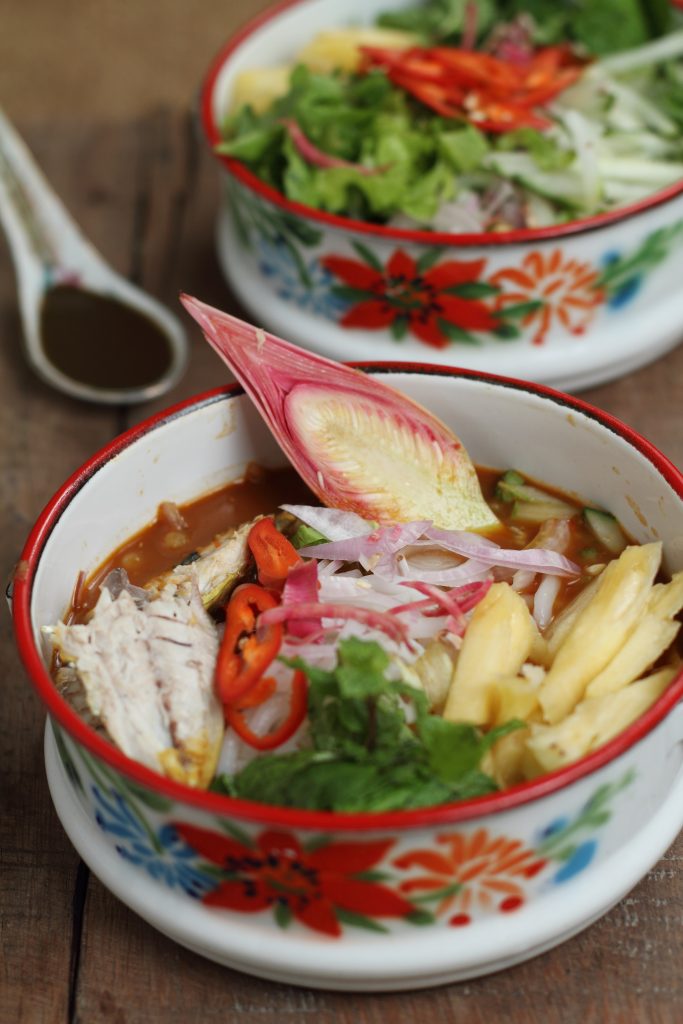 Tropical Spice Garden
On our third day we visit the Tropical Spice Garden Cooking School (tropicalspicegarden.com), located on the tranquil white sandy beaches of Batu Ferrangi, about a 20-minute drive from George Town. Before hitting the kitchen, we meet up with a guide who takes us on a tour through lush, landscaped jungle gardens, set over eight spectacular acres. Along with spotting a snake coiled in a tree, we taste from the spice terraces, drink a lemongrass herbal tea in the heart of the jungle and wander through 500 species of tropical flora and fauna. Even without the cooking class, this would make a lovely outing. At the top of the hill lies a small, purpose-built cooking school, where we're faced with our own cooking station and a menu we'll later devour for lunch. Our patient and calm teacher, Jamie, is a classically trained French chef, but she taps into her family favourites with recipes for coconut rice, Chicken Rendang and Buah Melaka (Onde-onde).We quickly learn how to milk a coconut and use local flavours like pandan, lemongrass, kaffir lime leaves and candlenut. It's not long before we're sitting down to plates of rich rendang, coconut rice and gooey green balls of Buah Melaka, filled with a burst of sweet palm sugar.
Saving the best to last
On our last night we decide to visit Seven Terraces's highly rated in-house restaurant, Kebaya (kebaya.com.my), which fuses "traditional Malaysian flavour profiles with Vietnamese lightness, Thai spiciness, and traditional French cooking styles." Enjoy a pre-dinner cocktail in the refined, colonial-style adjoining bar, and then head to your table for a four-course menu: To Begin, Protein, Greens and Dessert. Envelopes of betel nut leaf arrive filled with toasted coconut, shrimps, lime, cashew and Norwegian salmon roe, followed by 72-hour sous vide Australian beef shoulder, glazed with tamarind and gula melaka and finished with egg custard, spiked with pandan essence and served with sugar snaps. Confession time; we came back another night for a late night supper of warm chocolate fondants and vanilla ice-cream! Aren't holidays all about the food?