The East Coast neighbourhood of Katong is a food-lovers paradise. Pip Harry
dishes on the best restaurants, food stores and cafes in the area.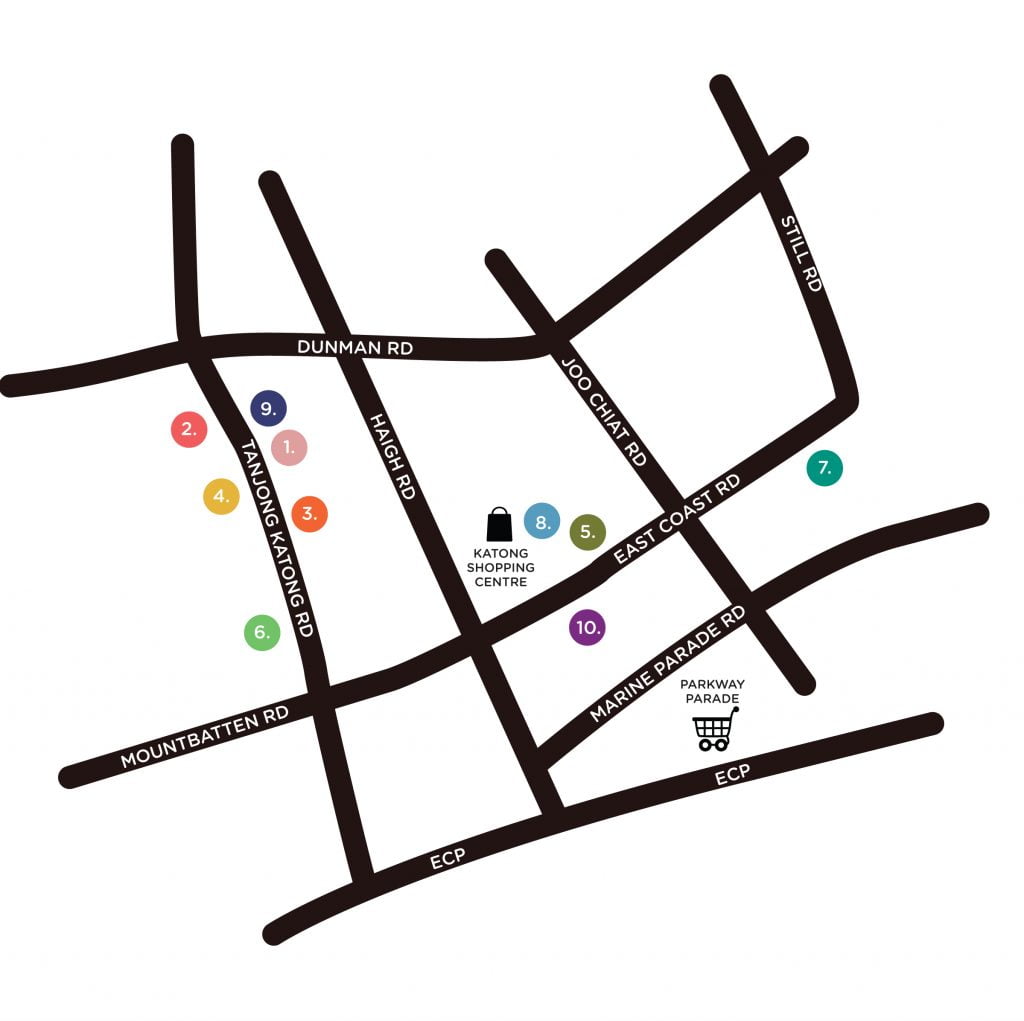 Eng's Wantan Noodle
287 Tanjong Katong Road, 437036
Singapore Hawker Master Ng Ba Eng started selling his delicious springy noodles, succulent Char Siew pork and hand-folded dumplings from a humble pushcart more than 50 years ago. Eng's noodles are now a household name, with a line snaking out the door of this no-frills eatery most days of the week. Don't forget to sprinkle on a handful of crunchy 'lard chips' but beware the fiery chilli sauce!
TIP: If the line is long and your tummy is rumbling, there's a rival outlet down the road at 248/250, run by Eng's children.
Madeleine's Original Portuguese Egg Tart
98 Tanjong Katong Rd,
Singapore 436997
www.facebook.com/MadeleinesOriginalPortugueseEggTarts
This hole-in-the-wall bakery is famed for their perfect Portuguese egg tarts. Flaky, buttery pastry meets wobbly, smooth egg custard, with a sticky caramelised top. The original is the best, but the fragrant pandan tart is a close runner up. Look for the bright yellow signboard for the perfect on-the-go snack.
Foodie Market place
313 Tanjong Katong road
SINGAPORE 437096
This specialist grocery store has a cult following, with a high quality range of cheeses, meats and hard-to-source deli products. Fill up your basket with Scottish smoked salmon, Australian grain fed tomahawk, Udder's & Kook artisan ice-cream, Route 11 potato chips, frozen New York style blueberry bagels and a small selection of wines. Prices are affordable, too.
Ponggol Nasi Lemak
238 Tanjong Katong Rd 437026
www.ponggolnasilemak.com.sg
Established in 1979, Ponggol Nasi Lemak is home to Singapore's most popular version of the beloved Malaysian dish. Get in line at dinner time or stagger there at midnight after a night out, and you'll see what all the fuss is about: golden, crunchy fried chicken pieces sit atop coconut rice, with your choice of toppings – I like the fried egg, long green beans, crispy dried peanut and anchovy mix and a dollop of spicy sambal.
Birds of Paradise Gelato Boutique
63 East Coast Road #01-05 428776
www.facebook.com/bopgelato/
This heavenly ice-cream store has a range of scoops inspired by the botanical flavours of nature, like flowers, herbs, nuts and spices. Choose from Asian-inspired flavour combinations like pandan, lychee raspberry, spiced pear, lemongrass ginger, mint cacao, strawberry basil and white chrysanthemum.
Brunos Pizzeria and Grill
344 Tanjong Katong Road 437113
www.facebook.com/sgbrunos/
East Coasties adore this cosy Italian bistro, so it's best to book ahead, especially on weekends. Choose from a regularly rotating board of specials and a range of tasty pizzas, pasta, seafood and steaks and enjoy attentive service and a family atmosphere. The desserts are pretty special too – crack into the crème brulee or finish with the authentic tiramisu.
Forty Hands
226 East Coast Road 428923
www.40handscoffee.com
Made famous in the hipster hood of Tiong Bahru, Forty Hands recently opened their first East Coast branch. The coffee is excellent and the hearty menu features burgers, salads and brunch items like eggs benedict, smashed avo on toast and banana bacon French toast. Deborah from ANZA marketing swears by the Kong Bak Pau here – steamed slider buns stuffed with braised pork in soya sauce.
Udipi Ganesh Vilas Restaurant
No 10 Ceylon Road 429606
Tucked away on Ceylon Road, this hidden gem offers vegetarian Northern, Southern and tandoori items from a converted shop house near the Sri Senpaga Vinayagar temple. Dip steaming fresh naan and pratha breads into chickpea dahl, or creamy spinach and cottage cheese palak paneer or enjoy a paper thin roll of light dosa masala.
Bottega
263 Tanjong Katong Road, #01-02 Suites@Katong 437050
www.bottega.com.sg/tanjongkatong/
Bottega (meaning 'shop' in Italian) is a smart grocery store and wine bar in one, offering a good wine list and menu of Italian bites. Sip a boutique Italian beer, refreshing spritzer or fruity red at the handful of outdoor tables, and order a few share plates of fresh burrata, cold cuts, antipasti or authentic pizza.
Tomi Sushi
30 East Coast Road #02-14/15/16
Katong V 428751
www.tomisushi.asia/katong/
Above a supermarket in this small shopping mall lies Tomi Sushi, a serene Japanese restaurant offering super authentic food, lovely service and attention to detail. Fresh sashimi, sushi, bento and lunch sets are all fresh, light and beautifully presented, with side dishes of tempura, soba and udon noodles. Tomi also welcomes kids.