Australian expat Isadora Noble set up Pop Up Wine with her husband David Harker to offer expats and locals a more affordable drop.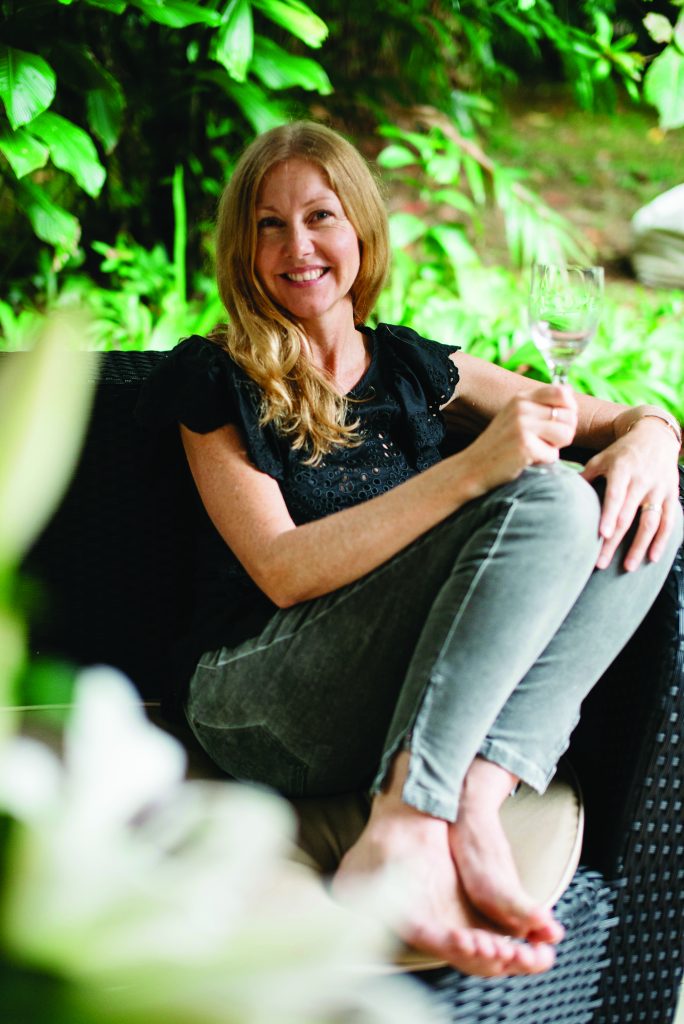 Where's home in Australia?
A wheat and sheep farm in Kulin, Western Australia with a population of 300 people, 300 kilometres from Perth. My relatives account for about three-quarters of the town. I came to Singapore via Sydney.
How long have you lived in Singapore?
Five years. I now live between Perth and Singapore, where David (and our family cat!) is still a resident. We swapped our sprawling black and white house in Goodwood Hill about a year ago for a historic 1930s bolt hole of an apartment in Tanglin. Our four kids grew up in Singapore. Our youngest (now almost five) was conceived there. Whilst in utero we called him our 'Singapore Surprise' as, at 43 I wasn't expecting any more babies! Singapore holds a special place in all of our hearts. We plan never to have to say goodbye!
What are your winemaking roots?
Our association with wine began in 1849 when David's great, great, great, grandfather, 'ol man Freebairn, left Scotland for McLaren Vale, South Australia – planting what would be some of Australia's first wine-growing vines. My Grandpa Ted unintentionally bought a working vineyard – to house his mob of 1000 prize merinos – near the wine region of New Norcia, Western Australia. The region is planted with vines from the anointed hands of Italian-born, Benedictine monks.
Why did you decide to open up Pop Up Wine in Singapore?
Our folly into online wine retailing evolved out of our love of wine and the seemingly impossible task of finding good wine in Singapore for less than the air fare back to Oz. Aghast at the thought our friends might be drinking one bottle of wine instead of two, we initially started supplying friends with wine. Now we supply friends-of-friends-of- friends. David's background is finance but he has a life-long love of wine. When I moved in with him in Sydney, every cupboard and wardrobe in the house was full to the ceiling of cases of wine! And as I would find out later, many cellars in wine storage facilities throughout the world.
Cheap and cheerful drop or a fine vintage?
Our favourite finds are undervalued wines, that don't get much attention from the industry. David's just as happy when he finds a $30 wine when it should be $50, as when he buys a Penfolds Grange for $500 when it should be $700! We started the store with Australian and New Zealand wine, so the Kiwi's and the Aussies were the first ones to find us. They liked the fact the wine wasn't much more than what they were paying back home for the same labels.
Away from the wine industry, what's nourishes your soul?
Yoga is my love. Meditation is my saviour. Both keep me grounded. I like to live a fast-paced life but I can't do it without bowing out of the frenetic pace through daily practice. I also love to walk in the Botanic Gardens, which is a stone's throw from our apartment in Singapore, or on Leighton Beach in Perth.
Join Pop Up Wines and ANZA for a wine tasting evening in a Black and White Heritage house. August 30, 6.30-8.30pm. Register here