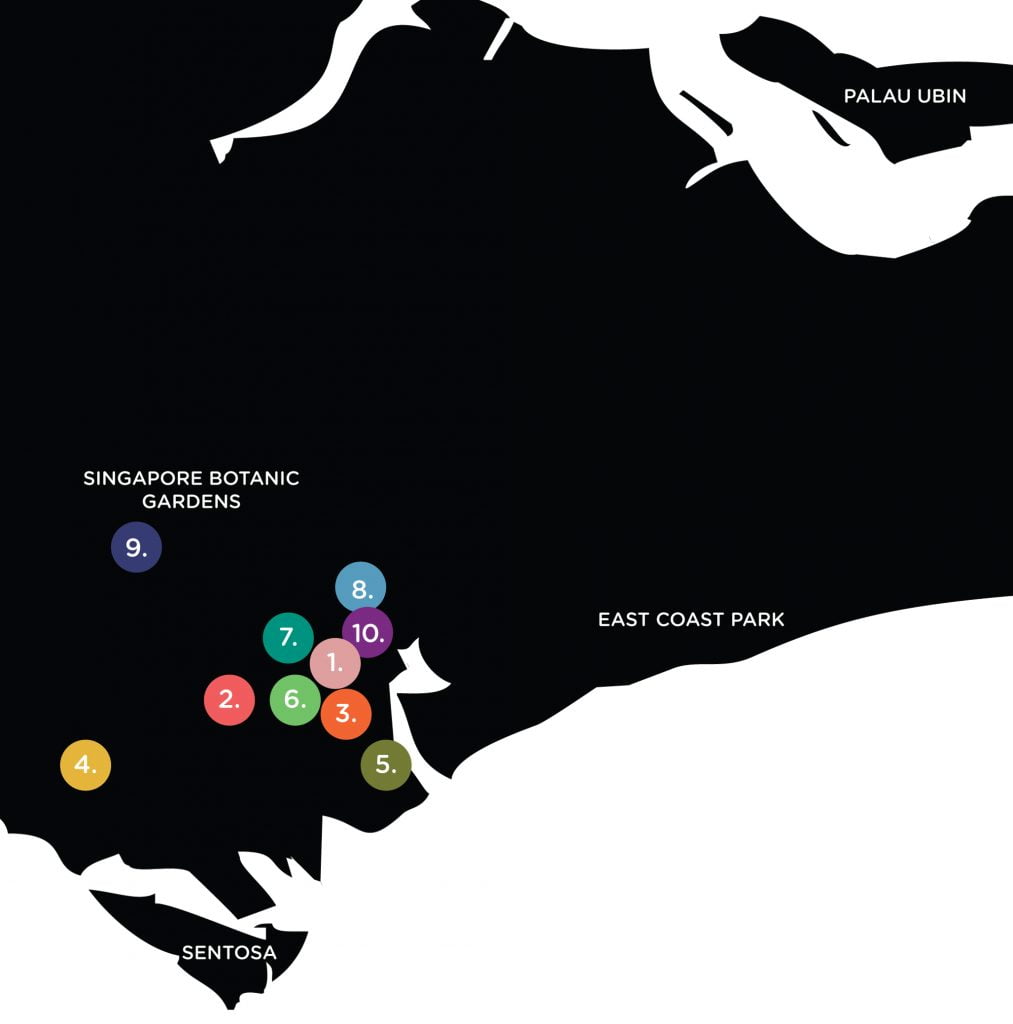 1. St Andrew's Road 178957
www.nationalgallery.sg
Your first stop on any Red Dot art tour should be this serene heritage space, which showcases a huge collection of South East Asian and Singaporean art. Tons of family-friendly programs and a dedicated children's space are ideal for visiting with kids, with regular art workshops, story time sessions, drop-in activities and tween workshops. A Children's Festival, focused on experiential art and play is running until 9 September.
2. Singapore Tyler Print Institute
41 Robertson Quay 238236
www.stpi.com.sg
STPI houses a stunning collection of print and paper art. The institute collaborates with established and emerging artists to create contemporary, often evocative pieces. Complimentary guided tours of the exhibition are conducted by Friends of the Museums (FOM) docent volunteers (see our story on page 24). Don't miss the current exhibition of modern masters Jasper Johns, Roy Lichtenstein, Robert Rauschenberg and James Rosenquist, until 8 September.
3. Red Dot Design Museum
1 Marina Boulevard 018940
www.museum.red-dot.sg
If you're passionate about gorgeous, clever design, then make a beeline for this Insta-worthy venue. Their collection features more than 1,000 award-winning products, communications and concepts from over 30 countries. Retail therapy can be found at the Design Museum Shop, with a treasure trove of quirky design objects and collectibles. Finish by sipping a coffee or boutique beer at their hip café-bar.
4. Gillman Barracks
47 Malan Road 109444
www.gillmanbarracks.com
Built in 1936 as a British military encampment, Gillman Barracks is now a sprawling art outpost with more than ten galleries. These include leading contemporary art gallery Sullivan + Strumpf, NTU Centre for Contemporary Art Singapore and Playeum's Children's Centre for Creativity. Browse Supermama, a gallery shop featuring over 100 local designers, or explore Art After Dark, held twice a month on Friday evenings.
5. ArtScience Museum
6 Bayfront Ave 018974
www.marinabaysands.com/museum
Seamlessly blending art and science, this vast, ultra-modern museum features world-class touring exhibitions from impressive collaborators like Dreamworks Animation, the American Museum of Natural History, and the Smithsonian Institute. Kids adore the permanent exhibition – Future World: Where Art Meets Science – a digital playground of engaging, interactive installations featuring the themes Nature, Town, Park and Science.
6. Asian Civilisations Museum
1 Empress Place 179555
www.acm.org.sg
Browse beautifully curated artefacts celebrating the artistic heritage of Asia and the rich culture of Singapore. Thematic galleries feature an array of fascinating exhibits, including a shipwreck display, sculpture, ceramics, textiles, painting, and ritual objects. Bring the kids to Saturdays@ACM – a family-friendly programme held on the last Saturday of every month.
7. The Peranakan Museum
39 Armenian Street 179941
www.peranakanmuseum.org.sg
Get to know Singapore's vibrant Peranakan community and history at this wonderful, intimate museum, filled with historically significant artefacts and exhibits, including wedding garments, furniture, textiles, jewellery, colourful ceramics and religious items. A Peranakan photography exhibit is running until 3 February 2019.
8. Indian Heritage Centre
5 Campbell Lane 209924
www.indianheritage.org.sg/en
Housed in a striking modern building in bustling Little India, this museum traces the history of the Indian and South Asian communities in Singapore and beyond. Soak up the colour and history of Indian artefacts, fashion, festivals and family life. Take a guided tour, try a workshop or bring the kids along – there's plenty for little visitors to see and do.
9. Red Sea Gallery
Block 9 Dempsey Road,
#01-10 Dempsey Hill 247697
www.redseagallery.com
This peaceful gallery in leafy Dempsey Hill features regularly refreshed contemporary art exhibitions from artists around the globe, including Singapore, China, Indonesia, Vietnam, the UK, France, Russia and America. Browse striking artworks that you can buy for your own home.
10. Singapore Art MUSEUM (SAM)
8 Queen Street 188535
www.singaporeartmuseum.sg
Showcasing the best in South East Asian contemporary art, this funky museum updates its exhibitions regularly, featuring cutting-edge photography, thought provoking artworks, awesome installations, and family-friendly programs. Imaginarium: Into the Space of Time looks at the concept of time and runs until 26 August.