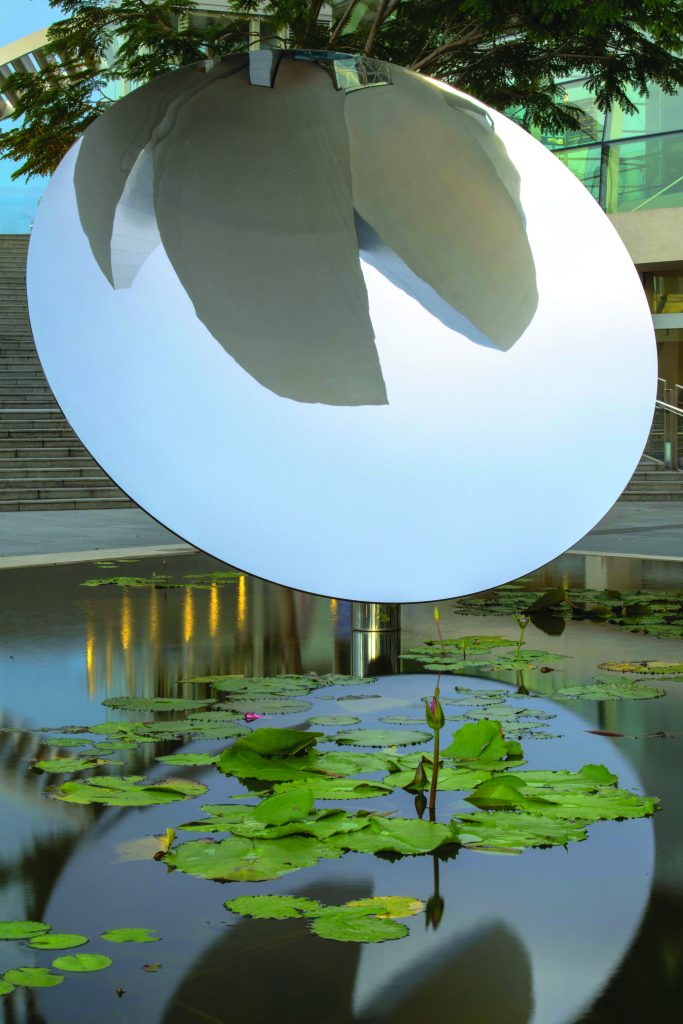 1. Sky Mirror, Anish Kapoor, 2010
Location : Lily pond at ArtScience Museum
This elegant stainless steel, reflective artwork from a Bombay-born British sculptor, sits in calm lily ponds overlooking Marina Bay, reflecting the sky and the iconic lotus-shaped ArtScience Museum.
Fast fact: Sky Mirror weighs a whopping 1,800 kilograms!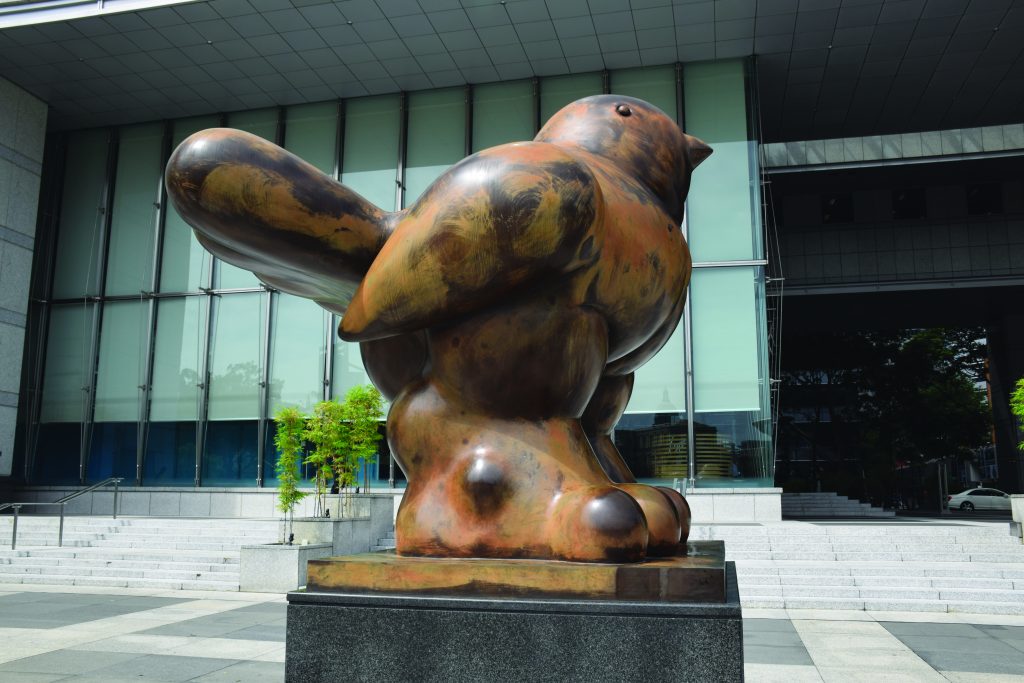 2. The Bird, Fernando Botero, 1990
Location: UOB Plaza near Raffles Place
It's hard to resist stroking the chubby feet of this very sweet, very plump bird, created by famed Colombian sculptor and figurative artist Fernando Botero. Made entirely of bronze, it represents peace, serenity, and joy.
Fast fact: Another Bird can be found outside the airport in Florence, Italy, with the same weighty proportions.
3. Nutmeg and Mace, Kumari Nahappan, 2009
Location: ION Orchard
This iconic two-tonne bronze sculpture is an interpretation of an opened nutmeg seed. It connects the mall with its past as a nutmeg plantation in the 1930s and is symbolic of trade prosperity.
Fast Fact: Nutmeg and Mace, as well as Urban People and Panda Family are part of CapitaLand's extensive public collection in Singapore, which includes sculptures, murals, mosaics, stained glass, paintings and calligraphy. art.capitaland.com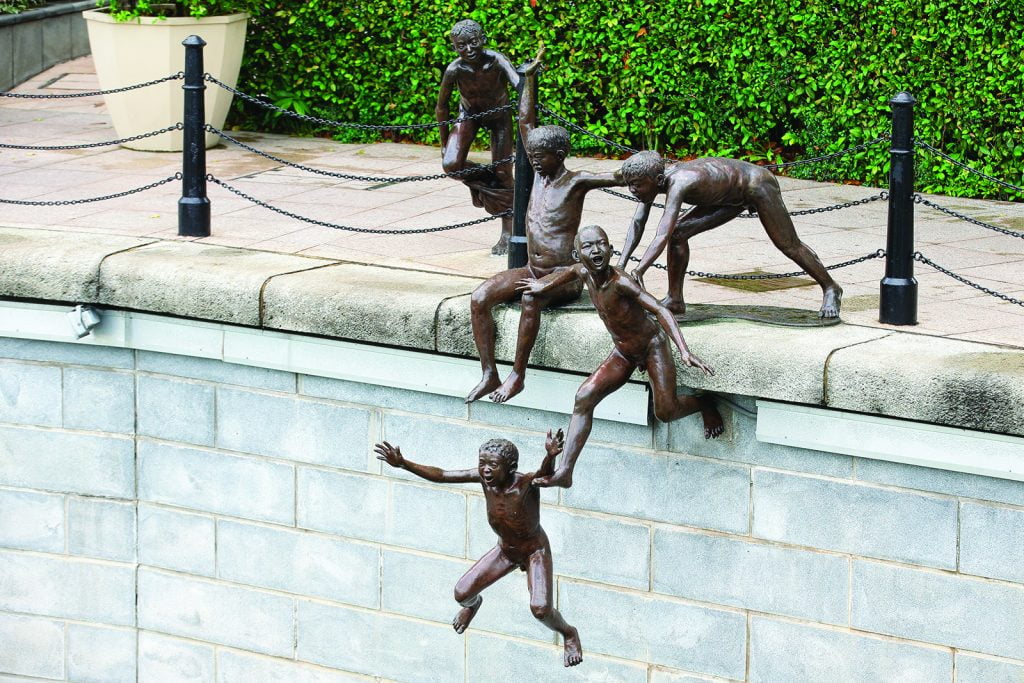 4. First Generation by Chong Fah Cheong, 2000
This exuberant bronze statue group shows five boys leaping into Singapore River. The sculpture acts as a reminder of simple pleasures and highlights Singapore's transformation over the years, with the river now surrounded by towering skyscrapers and hotels.
Fast Fact: Other bronze statues The River Merchants, From Chettiars to Financiers and A Great Emporium are located nearby and are part of the People of the River sculpture series.
5. 24 Hours in Singapore, by Baet Yeok Kuan, 2015
Location: Front lawn, Asian Civilisations Museum
This interactive audio sculpture installation of five stainless steel balls is more than meets the eye. Local artist Baet Yeok Kuan has incorporated familiar sounds of daily life in Singapore, from traffic in suburban heartlands and MRT trains, to the chatter in wet markets and coffee shops. With the passage of time, this sculpture will become a slice of history.
Fast fact: Kuan's distinctive sculptures can be found in many public spaces in Singapore.
6. Panda Family by Julien Marinetti, 2013
Location: Westgate Mall, Jurong
The Panda Family features four pandas sitting in identical poses, with the father at the head of the group. The subject hints the proximity of Westgate to the Chinese Garden, whose pagoda and pavilions are prominent landmarks of Jurong.
Fast fact: The colours splashed on the pandas have meanings: orange and red for the sun, pagoda and pavilions; blue for water and sky; and green for nature.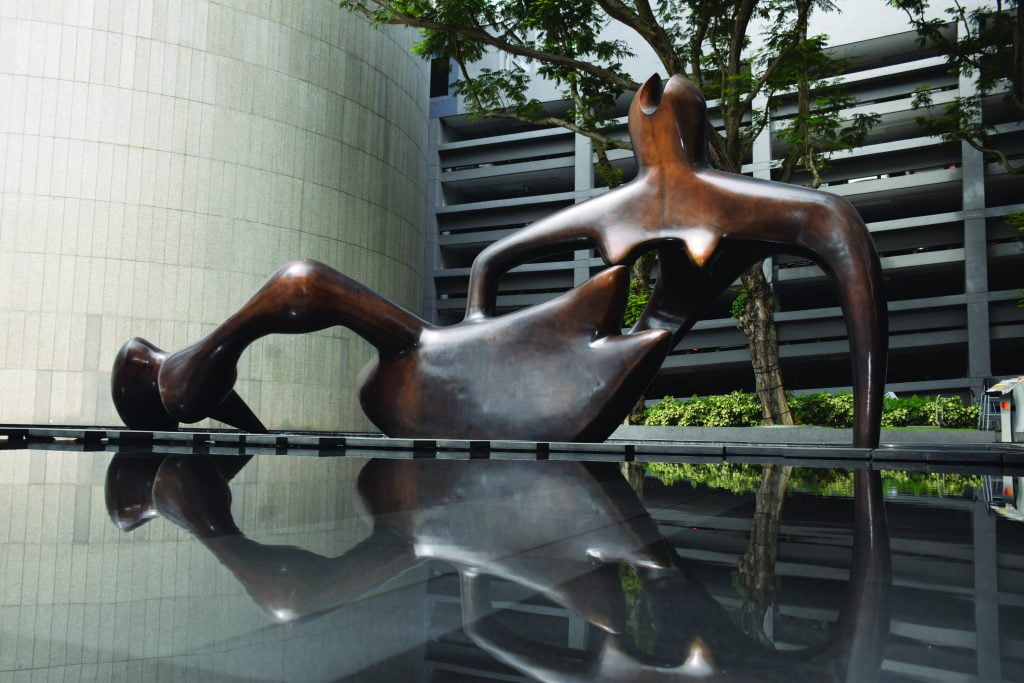 7. Reclining Figure by Henry Moore, 1983
Location: OCBC Centre
This monumental, semi-abstract bronze sculpture was created by famous British sculptor, Henry Moore, whose work often features female figures in recline. It's position by the water makes it even more serene and striking.
Fast fact: Measuring over 10 metres in length, Reclining Figure is one of the largest sculptures that Moore has ever created.
8. Urban People by Kurt Laurenz Metzler, 2009
Location: ION Orchard
Commissioned specially for ION Orchard, this set of six caricatured urbanites invites shoppers to hold their hands, give them high fives or link arms. Their bright colours and poses with shopping bags, briefcases and newspapers capture the vibrant shopping and business district of Orchard Road.
Fast fact: Look closely – the woman in purple is carrying a silver shopping bag with an ION Orchard logo.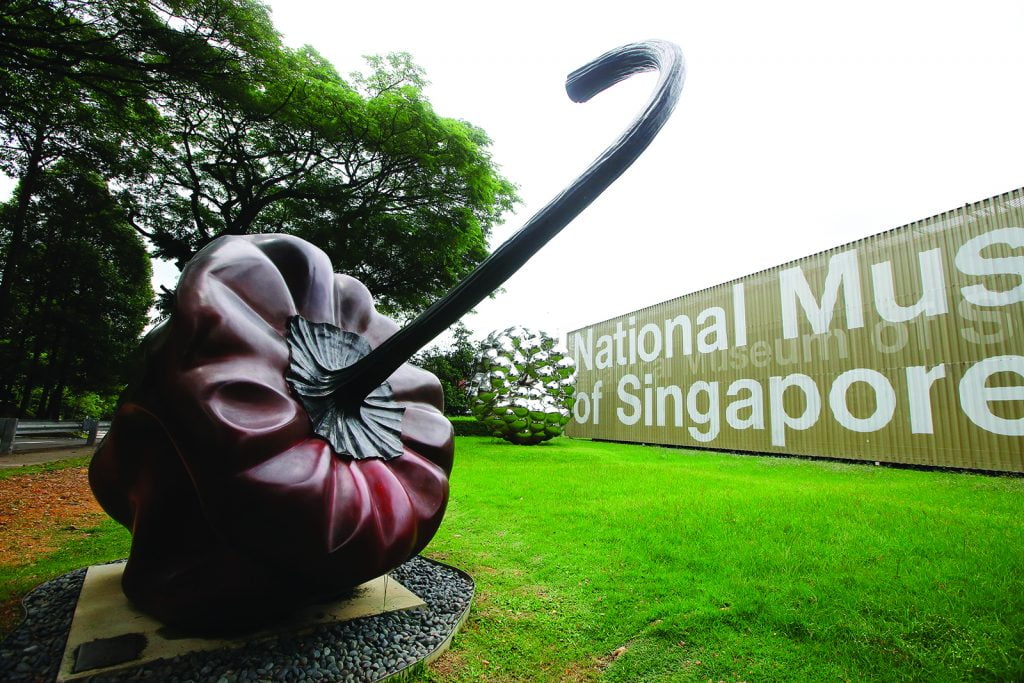 9. Pedas, Pedas by Kumari Nahappan, 2006
Location: National Museum of Singapore, Fort Canning Entrance (Level 2 Exit)
In this commission by the National Museum, artist Kumari Nahappan represents a common local ingredient: chilli. Standing at almost four-metres tall the artist used chilli to reflect Singapore's multicultural society – as the ingredient is found across many Asian cuisines.
Fast fact: Nahappan pursued a successful interior design career before studying fine art at the Lasalle College of the Arts, Singapore and Masters of Fine Art from the RMIT University, Melbourne.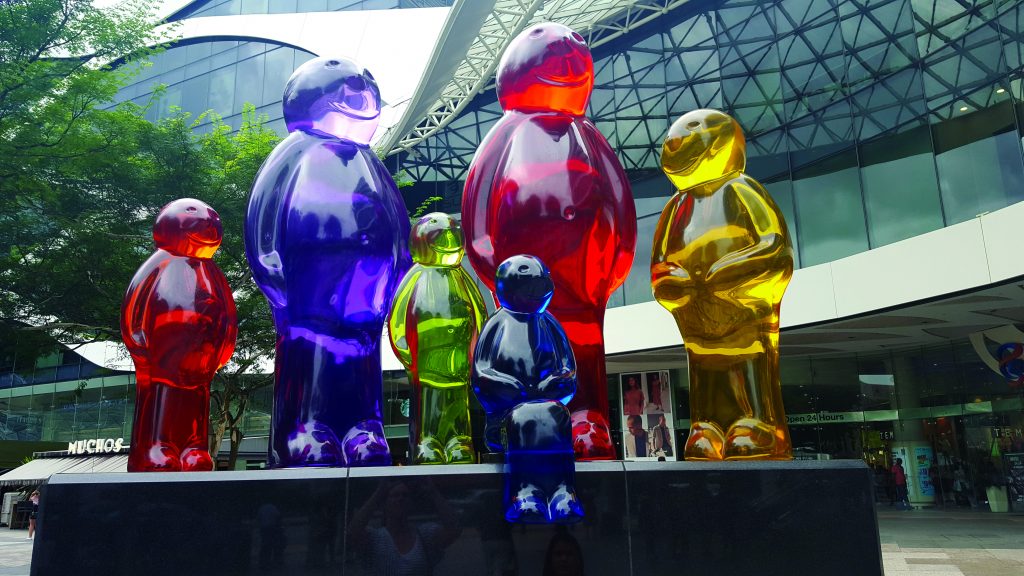 10. Jelly Baby Family by Mauro Perucchetti, 2012
Location: Plaza Singapura
These colourful pop art style resin sculptures at first seem cute and cuddly, but the Jelly Baby Family series stems from Perucchetti's interest in cloning and his mixed horror and fascination with the possibility of cloned human beings. Do their smiles look more sinister now?
Fast fact: The Jellies have toured the world – being exhibited in London, Paris and Rome, before finding a permanent home in Singapore.
Download free public art walking guides from www.publicarttrust.sg/Public-Art