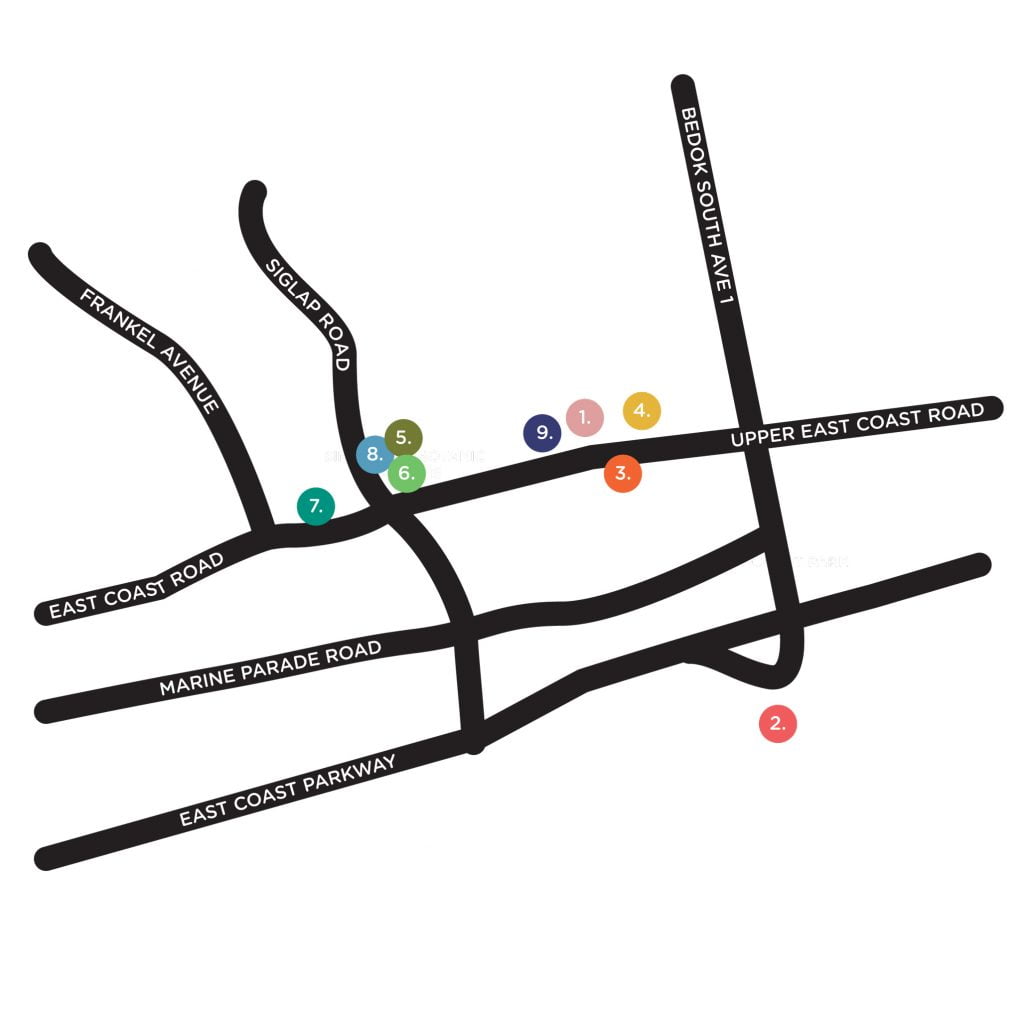 Udders & Kook
81 Upper East Coast Road 455220
udders.com.sg
Singaporean brand Udders is famous for their offbeat artisanal ice-cream flavours. Their decadent boozy range includes Bailey's and Bourbon, Wineberries, Rum Rum Raisin, Ocktobeer and the cheekily named Cereal Killer (a grown-up version of cornflakes and milk, with a hit of bourbon) Kids will love the Star Wars range – try the Chewbacca (Chewy fudge with brownie) or the Yoda flavour (Green tea with coconut caramel) They also dish up juicy burgers, pancakes and fried chicken. Leave your diet at the door.
Aloha Sea Sports and Beach Bar
1212 East Coast Parkway, (Area E Car Park E2) 449886
alohaseasports.com.sg
Aloha Sea Sports is located smack bang on the beach, on the historic site of the former East Coast Sailing Centre. Hire a stand-up paddle board or windsurfer ($30 for the first hour), hit the water and enjoy stunning views back to the city. Or sip a beer, mead or cider at the relaxed beach bar, and mingle with laidback locals. If you're looking for instruction, they offer beginner and progression courses. Peckish? The East Coast Lagoon Hawker is footsteps away.
Etna Italian Restaurant
110 Upper East Coast Road 455298
etnaitalianrestaurant.com.sg
Named after Italy's most iconic volcano, this elegant ristorante oozes upscale elegance and charm. Tuck into classic Italian and Sicilian dishes like antipasto with burrata and parma ham, fresh Mediterranean salads, bruschetta, pizza, pasta, steak and fish dishes. Finish with delicious dolce including Sicilian cannoli filled with ricotta cheese, candied fruit and chocolate, panna cotta or creamy tiramisu. There's also a Duxton outlet if you're on the other side of town.
Art of Yoga
02-01, 121 Upper East Coast Road 455245
artofyoga.sg
This tranquil boutique yoga studio offers all sorts of restorative classes to balance the stress of city life. Daily classes range from a full Ashtanga Mysore program to Vinyasa yoga (or flow / power yoga) to Gentle Yoga, Hatha Yoga and even Pre-Natal Yoga for mothers-to-be. The teachers are all excellent and there's a tea café which acts as a community space, reading room and quiet work zone.
Coast Cycles
54 Siglap Drive 456176
www.coastcycles.com
This hip bike repair, store and showroom is a great place to browse for beautifully designed custom two-wheelers. The Buzzraw is an electric bike with fat wheels, designed for effortless cruising, while The Quinn is a cool urban commuter and The Humble is stripped back and ready for tricks. They also have a range of lightweight, durable mountain bikes.
Legend Spa
2 First Street, #01-08 Siglap V 458278
legendspa.com.sg
Although it looks a little sketchy from the outside, Legend is an unassuming, affordable local spa that can help soothe and relax even the most tense and knotted muscles. Choose from a range of treatments from foot reflexology (from $30)oriental body massage, lymphatic body massage, ear candling, cupping therapy and more.
Malthouse
685 East Coast Road 459054
facebook.com/pg/MalthouseSG
Start your Siglap pub crawl at the Malthouse – a friendly little neighbourhood bar which specialises in craft beers and comfort pub grub. Grab a table in the small beer garden out front, or retreat to a couch inside, and watch the regularly rotating big screen of footy matches and sports events. The menu here is straightforward and tasty – with a range of pizzas, fish and chips, burgers and steaks.
Craftsmen Specialty Coffee
2 First Street, Siglap V, #01-01 458278
craftsmencoffee.com
If you're looking for great coffee and hearty plates, Craftsman is a solid choice. You'll feel instantly calmed by the quirky, Scandi space and the café's lovely personal touches like gorgeous glazed pottery, and a tiny square of dark chocolate served with each cuppa. They have a delicious brunch-lunch menu featuring fresh waffles, eggs, salads and wraps. Coffee lovers should also check out nearby Stamping Ground Coffee and Dutch Colony Coffee Co.
Black Pearl Steakhouse
85 Upper East Coast Rd 455222
perlenoire.com.sg
This cosy brick walled steakhouse really knowns their sirloin from their ribeye. There are plenty of appetisers, a good kids menu and some pasta and salads, but it's the meat that's the main event with cuts from Australia, the USA and Spain, including tomahawks, ribeye, tenderloin, and even a rack of lamb. Pair with béarnaise, peppercorn, shitake and rochefort and port sauces, with grilled corn, mash or crispy truffle fries.