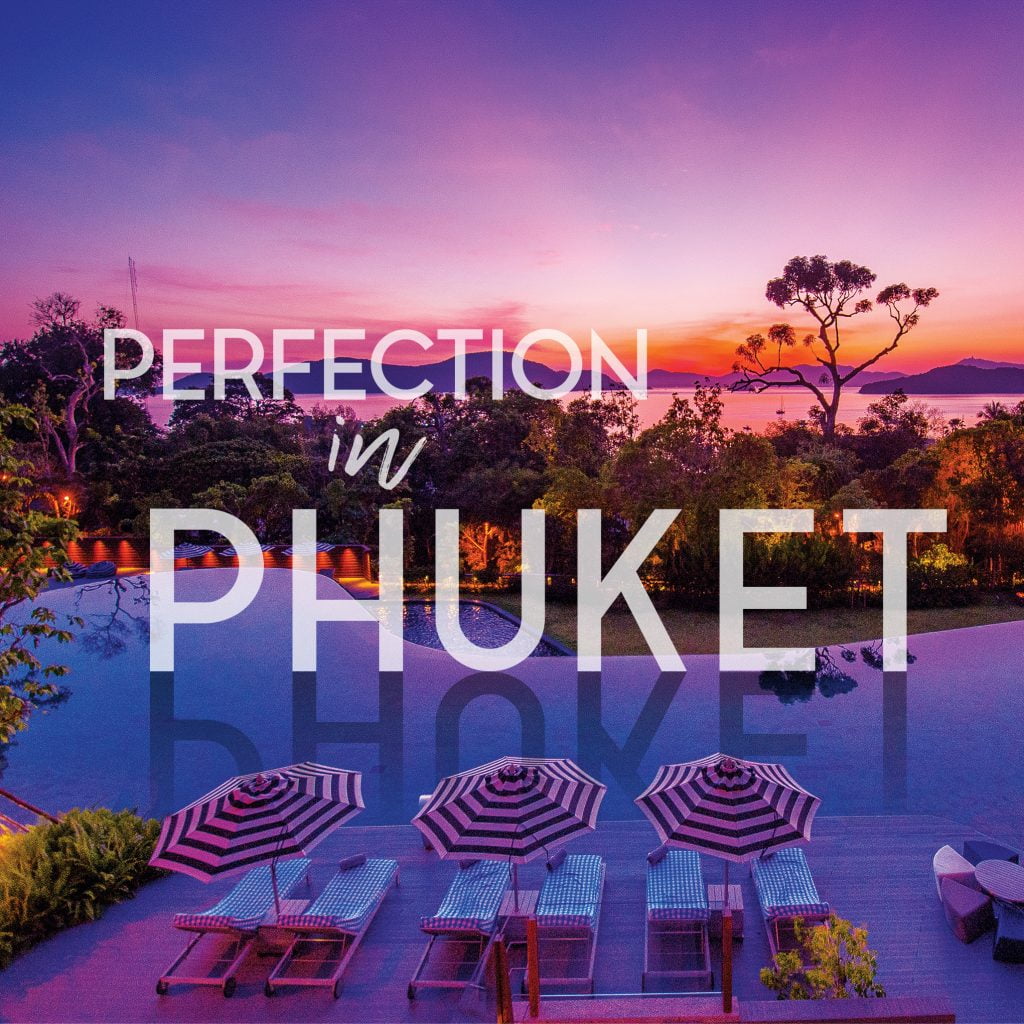 Perched atop the cliffs of Cape Panwa, overlooking the Southeastern tip of Phuket sits Sri Panwa, a six-star resort that's in a league of its own. Offering 90 suites and villas, all with private swimming pools, it delivers pure luxury and glamour.
Day one
Morning: After a short morning flight from Singapore and an easy one-hour drive from Phuket Airport, we arrive at Sri Panwa just in time for lunch. Baba, the resort's restaurant concept, has six dining locations with a wide range of culinary offerings, from Thai soul food to elegant Japanese, and even an onsite cooking school. After a stroll around the beautiful grounds, we settle at Baba Hot Box for lunch. Nestled in a quiet corner and surrounded by verdant forest, this casual BBQ diner serves succulent grilled meats, seafood and vegetables, and is located in The Habita, the resort's newest enclave, which houses two restaurants, 20 pool suites, and 10 spectacular penthouses; all of which are sunset facing.
After a hearty lunch, it's time to check into our villa. Hidden behind large carved wooden doors is a private and calm one-bedroom villa with spacious rooms and an expansive sundeck. The main bathroom has a Jacuzzi big enough for two, and a steam room. Drink in the breathtaking ocean views from a second open air outdoor Jacuzzi, or just drift in the dreamy 12m infinity lap pool. It's easy to pass the time here, cozied up on the plush day bed, listening to the curated playlist. From almost every spot in the villa you can enjoy epic sunrises, sensational sunsets and quiet starlit nights. If you can drag yourself from your villa, a dedicated activities team offers a healthy choice of fun-filled pursuits, from snorkeling and diving, to watersports, a games room, art classes, and more. The resort also boasts two tennis courts, a state-of-the-art gym with its own boxing ring, and gorgeous communal swimming pools. If the call to venture out is strong, the resort offers yachting excursions and speed boat trips to neighbouring Racha, Coral and Lone Islands.
Afternoon: Scattered over 40 acres of tropical hillside surrounds, moving around the resort could be challenging, but fear not, Sri Panwa has a flotilla of Tuk Tuks ready and waiting to whisk you to your chosen destination. Our evening starts with cocktails and Mexican tapas at Baba Nest rooftop bar. I savour my tom yum inspired cocktail, relaxing in a plush beanbag and taking in the magnificent views across the island. As the sun starts to set, a golden hue ascends over the Andaman Sea. It's no wonder Baba Nest was recently named in the top three best beach bars in the world. We dine at Baba Soul, which showcases a traditional Thai menu and unsurprisingly boasts its own breathtaking views.

Day 2
Getting active
Morning: To start my day I've been offered a choice between a serene sunrise yoga session or a more active Muay Thai lesson, and the decision is easy. I wrap up my hands, slip on some gloves, strap on some shin pads, and (after a clumsy fight with the boxing ring ropes!) I'm ready to go. It's been a while since I last hit pads and although it's heaps of fun and a great workout, I have to ask my trainer to lower the height of the pads, along with his expectations of my side kicks. Appetite fuelled, I head to Baba Pool club where daily breakfast is served; a vast array of Western and Asian choices with a sprawling buffet and a la carte selection, including plenty of healthy options. We spend the rest of the morning relishing the solitude of our villa, alternating between cooling off in our private pool and the comfort of the loungers. Unable to sacrifice the seclusion, I opt to watch the paddle boarders below, rather than join them… maybe tomorrow.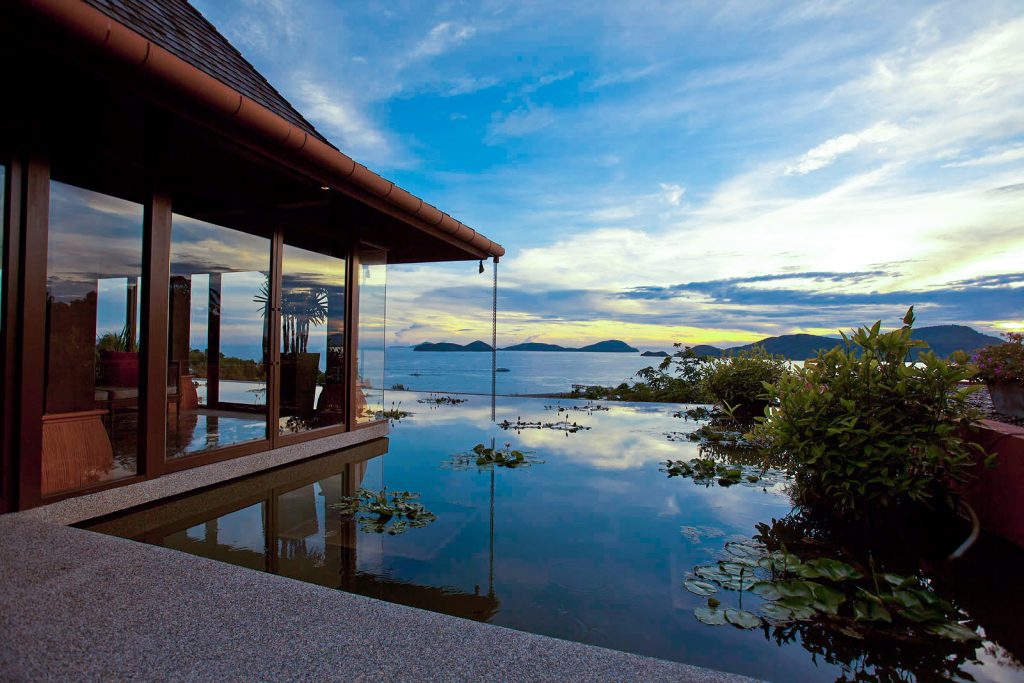 Afternoon: A trusty Tuk Tuk arrives to whisk us off to Baba Sunset Lounge for our Thai cooking class. Chef takes us through the culinary steps to create Som Tam Goong (papaya salad) and Tom Ka Gai (chicken-coconut soup). Afterwards, we enjoy the fruits of our labour for lunch. Our dishes would have been plenty, but there is a large array of delicious seafood dishes filling the long table and we tuck in!
After all the feasting, I walk down the hill for a tennis lesson to work it off. Like many of the dedicated resort staff, tennis coach Toon has worked at Sri Panwa since it opened 12 years ago. The team here is like one big family. Toon is a great coach and delightful company and I have a heap of fun hitting balls and working up a sweat. Finally, the time arrives for my 90-minute massage at Cool Spa. After two hefty sports sessions I choose the Deep Relax: an invigorating deep tissue massage focusing on pressure points and realigning the deeper layers of the muscles. I leave with my tired body feeling completely relaxed and rejuvenated.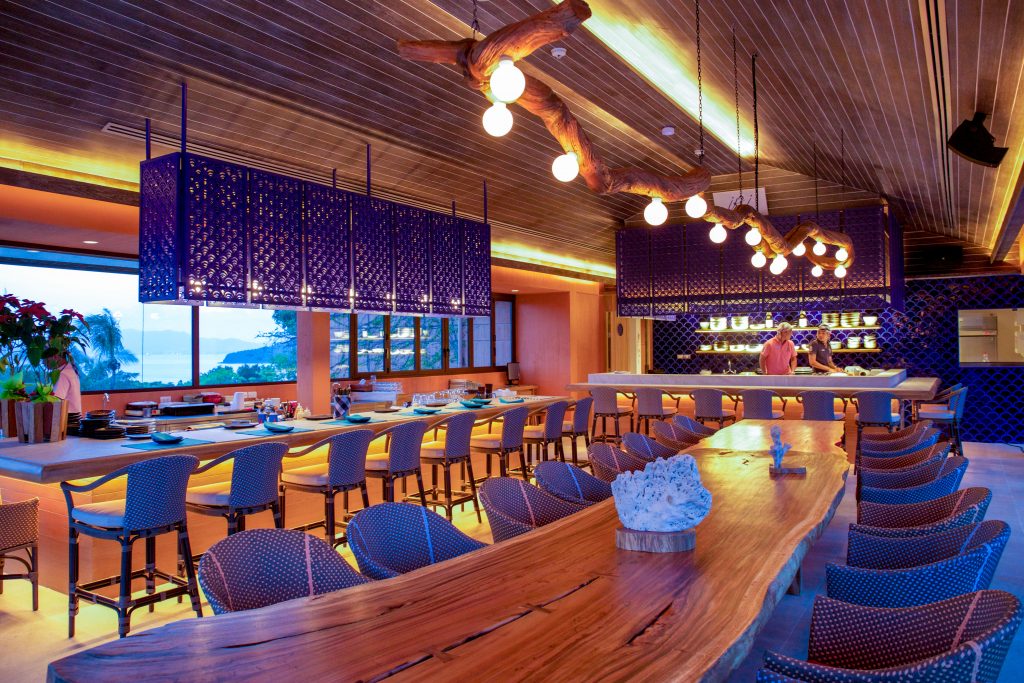 Evening: At nightfall, Baba Pool Club transforms into a hip nightspot serving signature cocktails. On the recommendation of bar staff I try the famous Baba Daiquiri and sit back in a nest of plump cushions to enjoy a spectacular fire show. Dinner tonight is at Baba Iki; renowned for serving up some of the best Japanese cuisine on the island. The restaurant's head chef was trained by the legendary Iron Chef Boontum and this is reflected in the quality of the Omakase menu, which includes Hokkaido scallop seasoned with yuzukocho and truffle oil, blue fin tuna sushi with egg yolk and lime, and red seabream smoked with straw. But the pièce de résistance is the melt-in-the-mouth deep fried Japanese Wagyu Beef from Hakata with Japanese curry sauce. Beware the call of 'IKI!' which in Japanese means 'drink' – something we hear often throughout the evening!
Day 3
Morning: Waking at 6am to the sound of waves lapping on the shore is a sublime way to start the day. I'm not usually an early riser, but I want to squeeze in every remaining moment in my amazing villa. During my stay at Sri Panwa my book stays in my suitcase, both TVs in the villa are switched off and I only use my phone briefly to let my family know I'm alive. In this spirit I use the earliest hours of my last day to enjoy the spectacular panoramic views stretching to the horizon, swim, and relax on the sundeck. Eventually the call of the pristine beach below gets the better of me and I head down the steps to stand up on the paddle board and kayak in the calm waters off the floating jetty – an apt close to a glorious getaway.
Travel essentials:
Get there Jetstar offer several daily flights to Phuket. booking.jetstar.com/sg
Best time to visit With a warm, tropical climate, it's nearly always a good time to visit Phuket. But the best time is between November and February. The rainy monsoon season runs from mid-May to October.
Good to know The general rule in Phuket is don't drink the water from the tap, and instead rehydrate with bottled water. Ice in tourist zones and hotels is usually safe and made with filtered water.
sripanwa.com