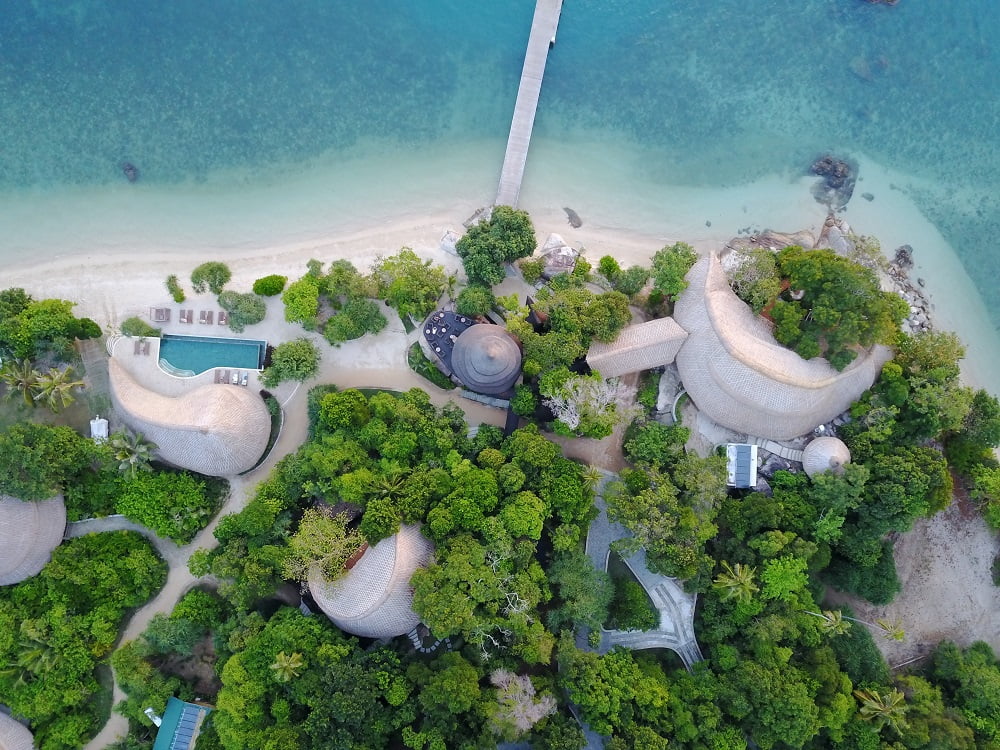 With the roaring success of Nikoi, visionary Australian owner Andrew Dixon and his partners were looking for another property to develop – this time with a focus on couples and adults. Cempedak (the local word for "Jackfruit"), a 7-hectare private island located 9km off the coast of Bintan, proved an ideal choice. Fringed by pristine sandy beaches and studded with striking white granite boulders, Cempedak is an absolute treasure. It buzzes with wildlife – from inky butterflies to curious otters, shy pangolin and marine life, but during a stay it's easy to feel like you're completely alone in the wilderness.
First impressions
Bouncing over cobalt waters on a speedboat, we sight the island and its impressive bamboo villas, curving gracefully into the thick jungle setting. Arriving at the jetty to a warm welcome from staff, it's clear Cempedak has nailed their brief – taking the very best cues from over a decade of fine-tuning on Nikoi. It's a resort that focuses on thoughtful, simple luxuries and lets the island's natural beauty take centre stage.
Little wonder the rest of the world is hearing the call of Cempedak's considerable charms – on our transfer we meet guests from Australia, who have travelled expressly to stay at the resort, bypassing Singapore for the island experience.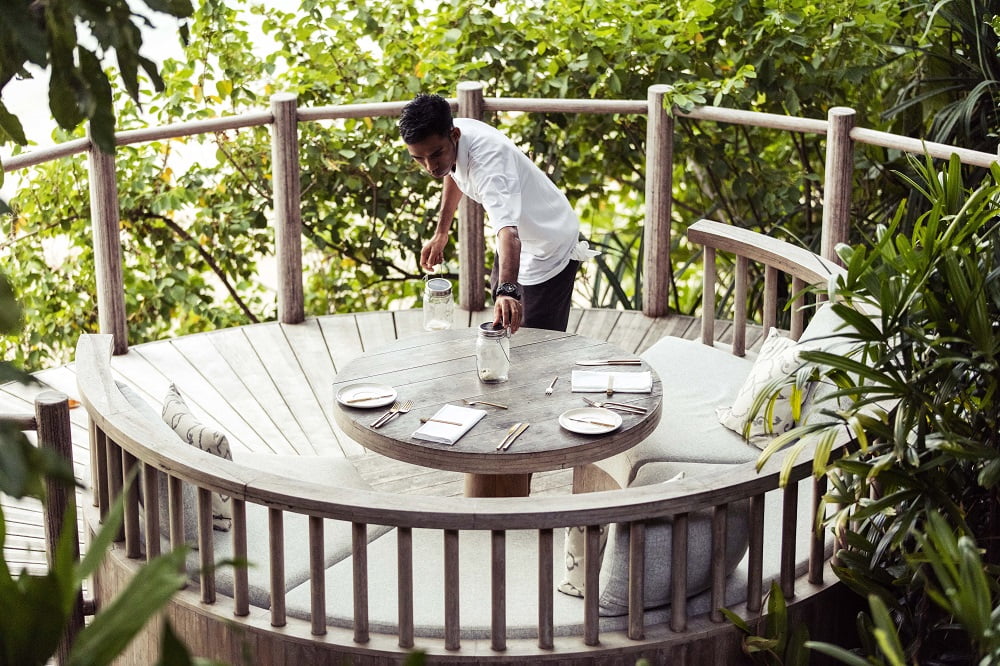 Time to eat
The stress of mainland life dissipates as we sit down at a table overlooking the sea. We're presented with a generous platter of spicy local curries, vegetables and coconut rice, followed by a lick-the-bowl-clean jackfruit icecream. Breakfast, lunch and dinner are offered as a package – with a flexible set menu that changes daily. During our visit we're treated to perfect eggs and bacon, freshly baked muffins, strong brewed coffee and tropical juices, lobster with squid ink tagliatelle, grilled fish, noodles, seasonal fruits and more. Eating very well is part of the Cempedak experience, and several times during our stay we're asked if we'd like more dessert or pastries – the answer usually being yes, but no!
Wow factor
A short buggy ride away is Villa 18 – our home for the next few days. Staff confide that they love flinging open the villa doors, as guests are left gaping in awe at the knock-out ocean views and horizon plunge pool on the expansive deck. As our host explains how to use the supplied iPad to make bookings or requests, we can hardly drag our eyes or our attention from the view, repeatedly muttering "wow" and feeling like the luckiest people alive. During our stay we bump into Cempedak's lead architect Miles Humphreys and have a chat at the bar about what it takes to build a resort almost entirely from bamboo and local grasses. His commitment to the project spanned over many years, with an unwavering vision to build structures that blended into the landscape and invited cooling sea breezes (rooms are naturally ventilated and there's no need for air con) but were strong enough to withstand monsoon season. He points out the clever places where he reinforced and tethered the material and hid electrical cabling; each villa took three months to construct, with 30,000 pieces of bamboo shipped from Java and Sumatra, and they are truly a sight to behold.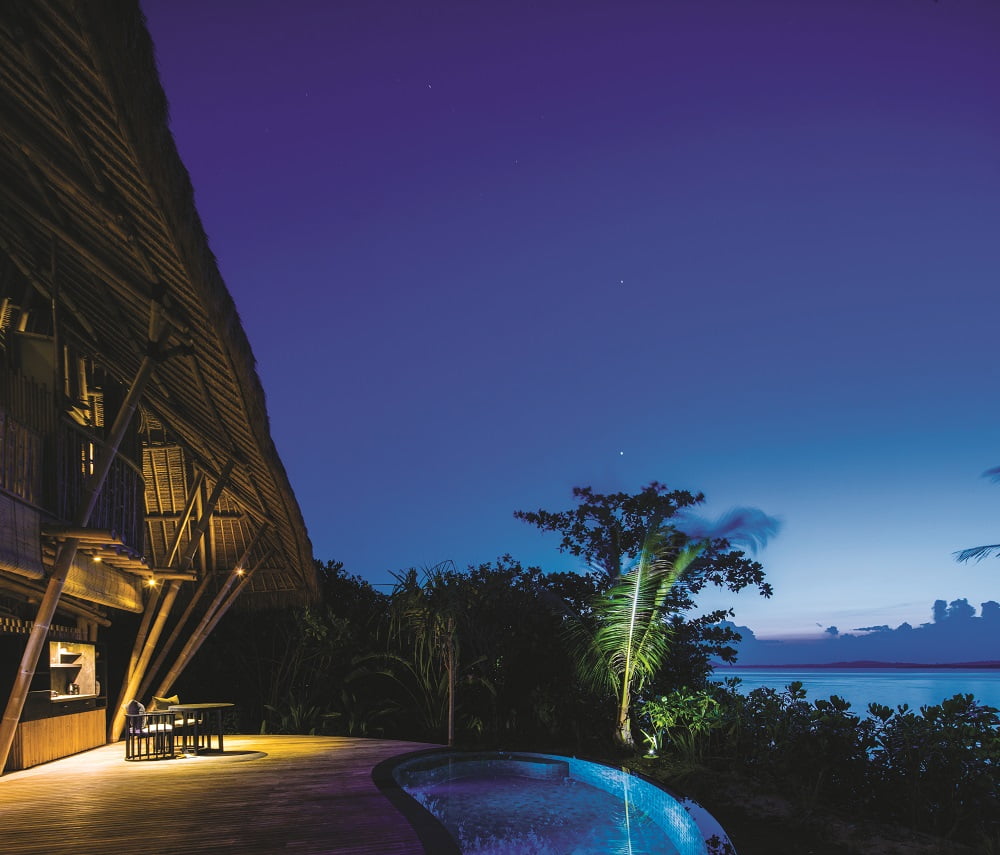 What to do
Leaving our villa proves difficult – guests can order drinks and meals directly to their front door…tempting! But we make the effort to explore our lovely surroundings – a guided nature walk reveals the island's thriving herb garden, unique composting system (it involves a colony of maggots!) and bats coiled into fruit trees.
At the friendly boathouse on the beach we sign up for a spin on a catamaran, taking the rudder and slicing a path to neighbouring islands, feeling the wind in our hair and the call of the open seas. The following day we take out a paddleboard and grab a couple of snorkel masks to flipper past small reef fish. Cempedak also offers diving and snorkelling trips to nearby reefs, and lazy island hopping with a picnic basket. March to November is usually the best for diving in these waters – when visibility is clear, and seas are calmer. We don't have time to take the bike tour of a local island, or try rock-climbing and a game of barefoot lawn tennis. But we do squeeze in a visit to the spa on our final morning – the prices are reasonable for this style of luxury resort ($65 for an hour long massage) and we splurge on a 90-minute Balinese massage. Located on a rocky point, the beds look out to mangroves and water views, and all we can hear is the lapping of gentle waves, as our therapists do their magic. Sipping on ginger tea post treatment, it's amazing how much we've unwound in just a couple of days.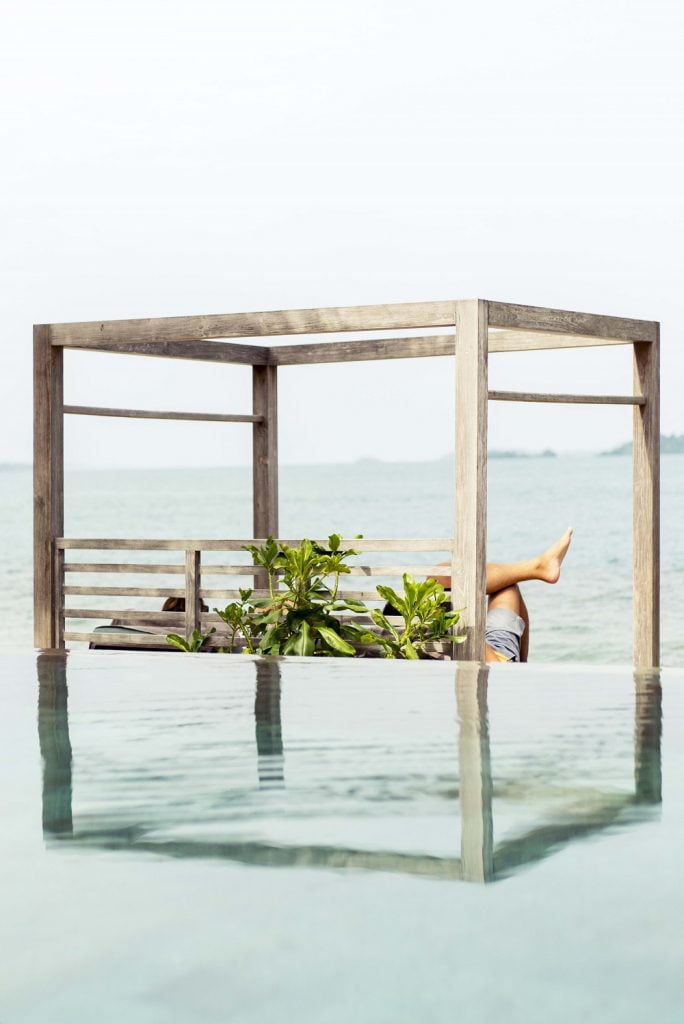 Sustainability and staff
Cempedak is an impressive model for sustainability in tourism. The resort was built and is operated using local materials, labour and services and many of the contractors and staff have picked up new trades and techniques during their time on the island. There's a passion and commitment to preserving the environment and local communities, through ongoing sustainability, education and employment programs. Supplies are sourced locally, where possible – much of the delicious food is picked up at local markets. Staff here work a 5-day week, instead of the usual 6, so they can return home to Bintan to see their friends and family on their weekends.
During our stay we are impressed by the cheerful friendly staff – they are eager and available to help, but also leave us to explore the island on our own. As we push off from the jetty with heavy hearts, staff wave until we slip out of view. We feel like we've been welcomed into their extended family during our stay, and that's a big part of what makes Cempedak so incredibly special. As a travel writer I've stayed in my share of excellent resorts, but this is one of my all-time favourites.
Getting there: A one-hour ferry from Singapore to Bintan Resorts, an hour drive to the jetty and a speedboat launch of less than 30 minutes will have you in Cempedak in around three hours.
Pricing: Villas start from $450 a night, and daily meals are $95++ per person. Free activities are offered daily.
When to go: Any time of the year is lovely – we visited during the monsoon season and it was sunny and warm, with fresh winds. March to November offers clearer water and more predictable weather.
To book: cempedak.com