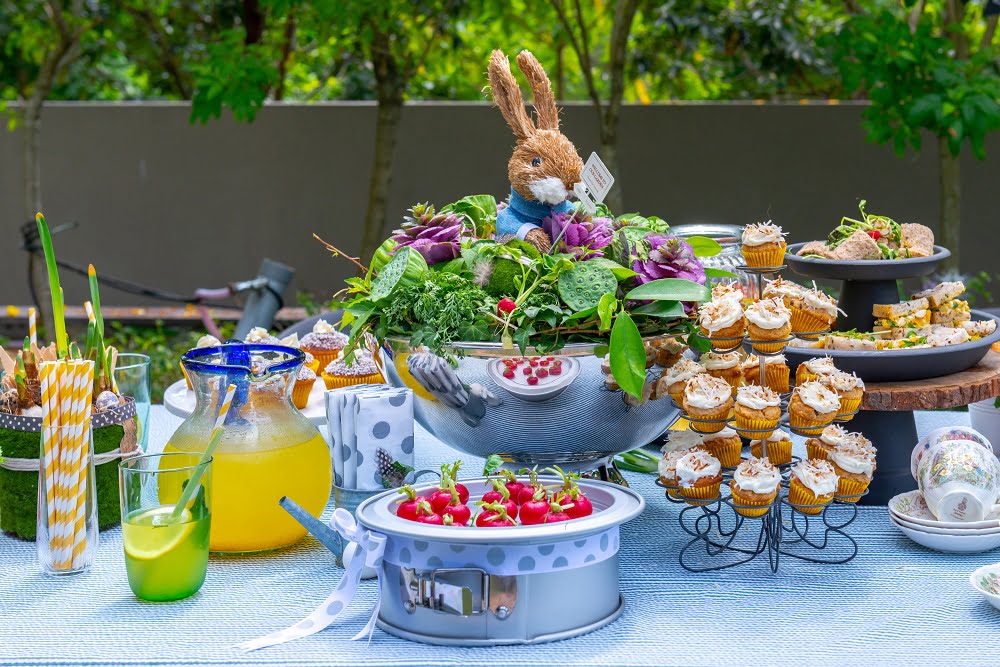 Nature notes: Keep flower arrangements unstructured and opt for edible greens where you can, like fresh parsley, herbs and ornamental cabbages. Make it even more enchanting with whimsical quail feathers, little birds' nests and bursts of colour.
Emerald and jade green shines among the metallic and neutrals of this setting. Decorate with pots of narcissi bulbs, moss covered eggs tied in twine and bunches of fresh herbs. A simple striped tablecloth provides the canvas, and we also propped up a retro bike to add to the laidback mood.
Let seasonal produce steer your colour palate from there. Although citrus accents pop our picnic, deep purple makes a striking statement, along with dashes of radish red and rich orange, reminiscent of an informal cottage garden.
Yellow notes are continued across the table using fruit, tableware, ribbon and other accessories. Green glasses and assorted plates complement the overall look.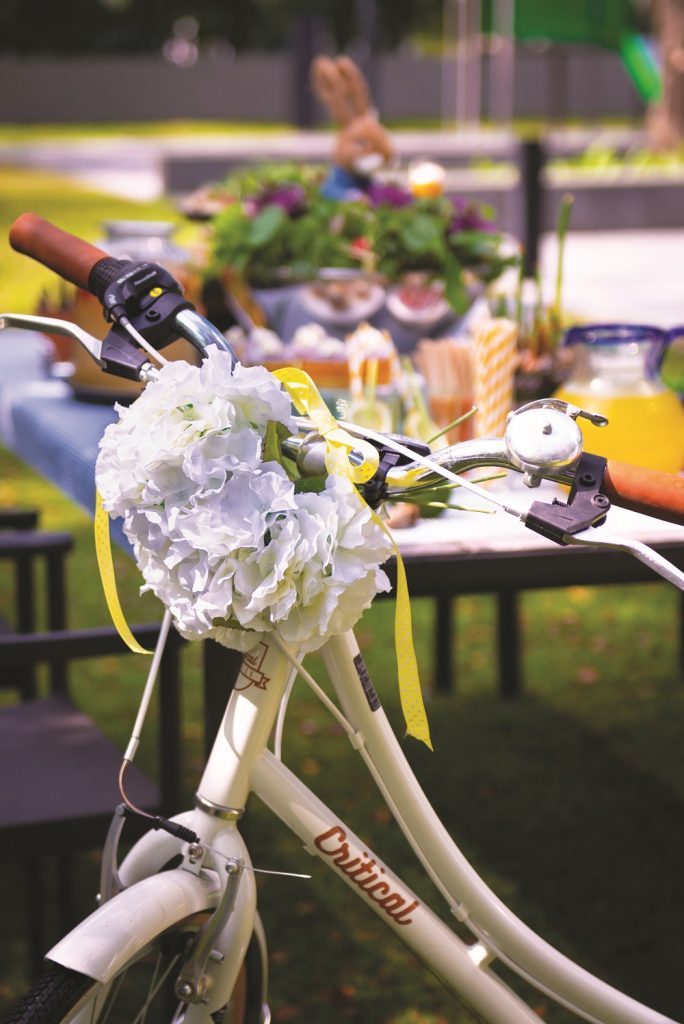 Where to shop:
– Spotlight for paper straws, napkins, artificial moss and Peter Rabbit spotlightstores.com/sg
– Terracotta or plastic garden pots from Hawaii Landscape, 559 Thomson Road
Melamine tableware from Binlin, 17 Temple Street Chinatown binlin.com.sg
– Teacups by Royal Doulton
– Fresh hormone and antibiotic free poultry supplied by The Fishwives, Cluny Court thefishwives.com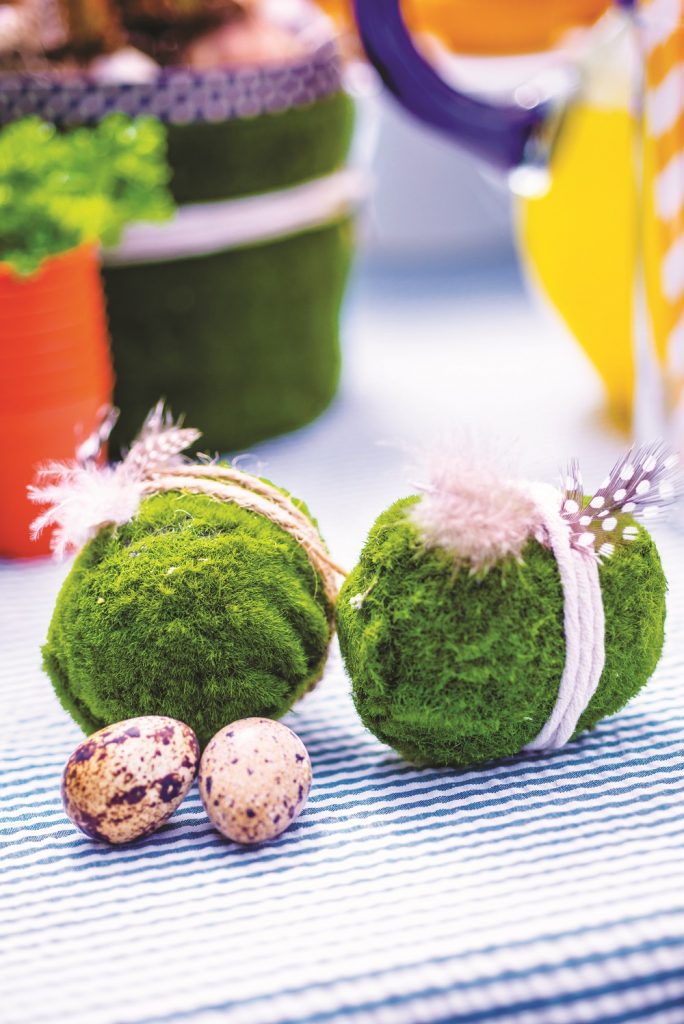 The menu:
An icy cold ginger and turmeric lemonade is refreshingly exotic on a hot spring day, plus it has wonderful anti-inflammatory properties. A touch of The Source gin with its lemon, orange and coriander notes is a great combination, for those wanting a little more zing! For the kids, you can never go wrong with fresh strawberry lemonade.
If you're hosting a crowd, rather than a formal table setting, allow guests to move around and mingle. Keep the menu simple with homemade sandwiches, enchanting cupcakes and healthy crudités. Here I've made chicken rolls with a hint of mint and lemon zest, and tried and true egg and chive sandwiches. Lamington fairy cakes and lemon coconut muffins are an excellent end to the day.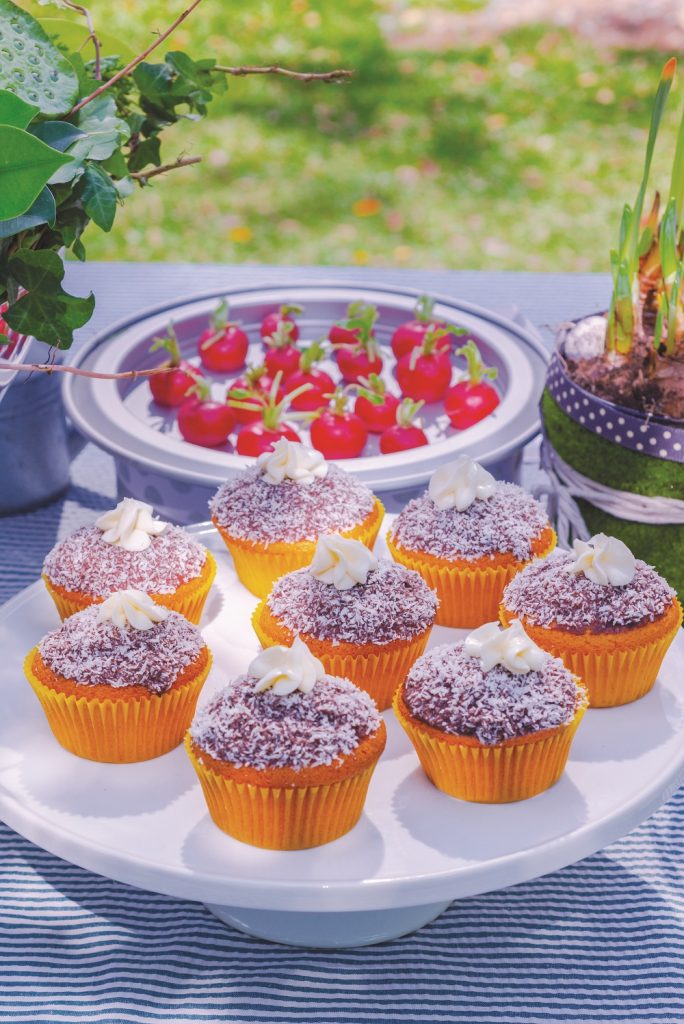 Lamington Fairy Cakes
Ingredients
180g plain flour
1.5 tsp baking powder
115g butter, room temperature
200g castor sugar
2 eggs
1 tsp vanilla essence
120g milk
Method
Whip butter until fluffy, then add sugar until creamy. Add eggs, then baking powder. Alternate flour and milk and mix for about 45 seconds. Fill cupcake pans and bake for 18 minutes at 180 degrees.
Icing
150g icing sugar
15g cocoa
17g butter
60g milk
100g desiccated coconut
Method
Warm milk and butter until butter is melted, then add sugar and cocoa and mix well. Place in a flat bowl and add coconut to another. One at a time, dip the cupcake in the icing and then the coconut. Top with whipped cream rosette.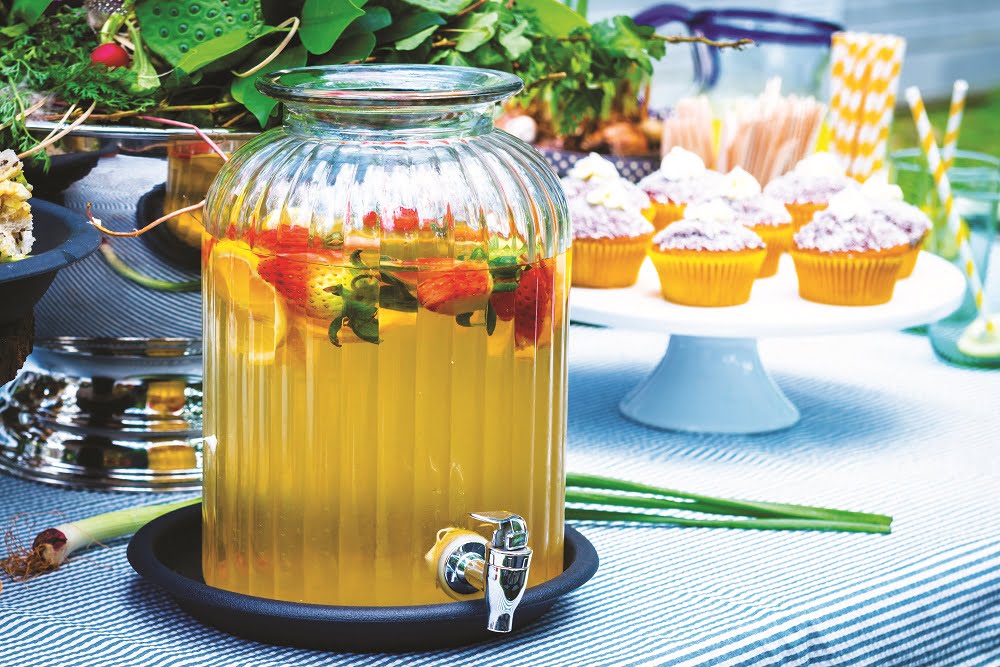 Ginger Tumeric Lemonade: Bring to the boil 2 cups of water with 1cm piece yellow ginger and turmeric, plus 3 x 8cm stalks of lemongrass. When cool, add 1 ½ tablespoons of raw honey, 2 more cups of water and 1 cup of lemon juice. Add a sprinkle of black pepper or chilli flakes. Serve over large ice cubes with a lemongrass stalk.