Normally, I don't travel in organised groups, preferring to plan my own trips, but when my friend Johanna, an adventure guide for YMCA Singapore, invited me along on a tour of Mongolia I jumped at the opportunity. I became a part of a group of Singaporeans keen to discover more about this captivating adventure destination, bordered by China and Russia.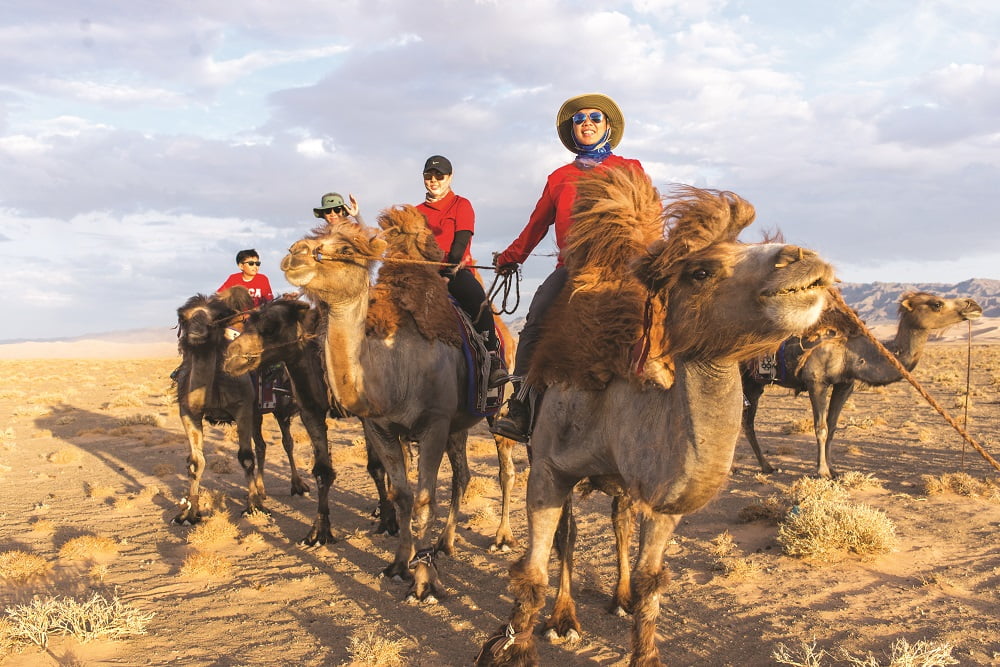 Arrival in Ulaanbaatar
We arrived in the capital Ulaanbaatar's tiny airport and made our way into the city. The urban planning in the city immediately threw me back to my 1980s childhood in the Soviet Union. The resemblance to the Soviet urban planning and architecture was very eerie – with ugly grey building blocks screaming of cookie cut construction done on the cheap over 30 years ago. To top it off, Mongolians adopted Cyrillic script (also used in Russia) for their language, so for me at least, all the signs were easily readable. Sadly, the gorgeous curvy, ancient Mongolian lettering can rarely be seen.
Mongolia's landscapes are vast but the population is sparse – a little over three million people are spread across the whole country, with roughly half residing in Ulaanbaatar. Tibetan Buddhism is the predominant religion and there are still many beautiful temples and monasteries that thankfully weren't destroyed during the Soviet times, when religion was widely suppressed by the communist regime.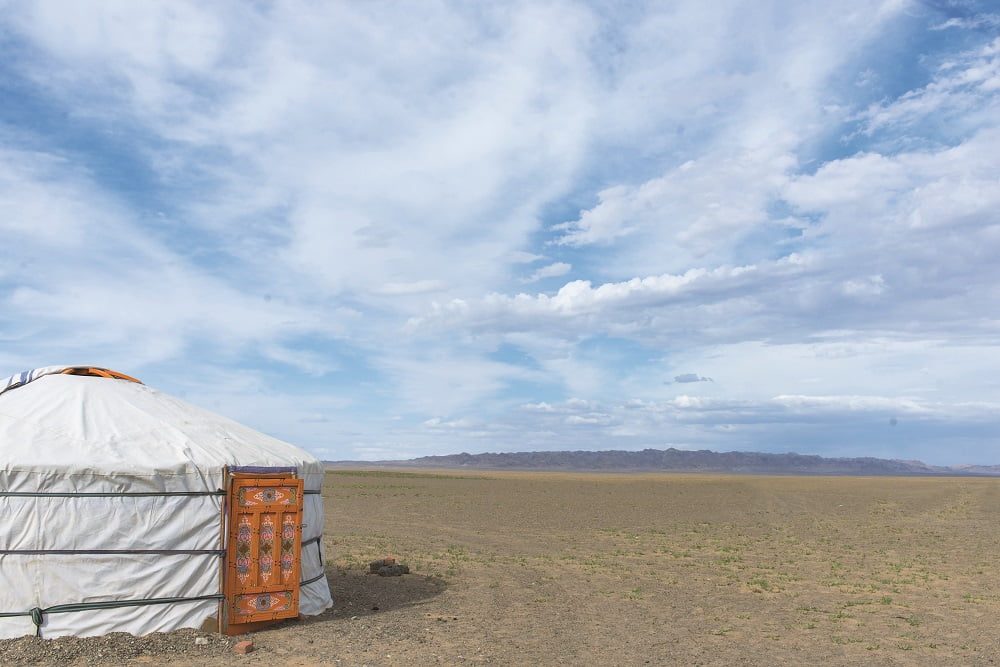 Home stays
Our two-week tour included city sights, national parks and home stays with nomads and camel herders. For the first home stay with nomadic Mongolian families, our large group was divided into smaller units and we were taken from the city to the vast steppes. The isolation was astounding – there's nothing around, not even a single tree. Five of us were assigned to a completely empty traditional yurt or ger: a portable, round tent covered with felt and canvas, with a sturdy roof supported by interior wooden posts. Yurts have been used as a dwelling by nomads in the steppes of Central Asia for thousands of years.
As there's literally nothing on the ground of the tent, our sleeping pads and warm sleeping bags came in handy! The nights proved chilly, but during the day it was a comfortable 20-25°C. Since there's not much available wood in the flat, unforested grassland steppes, all cooking is done by fire on the outdoor stove, using dried animal dung that we collected. Since most nomads' own horses, cows, goats and sheep, the stove fuel is plentiful. The hosting family appeared and spent a couple of hours with us, taking care of the animals and herding them for the night using dogs and motorbikes.
With the help of our guide, we made our own dinner – soup with vegetables and lamb. The Mongolian culinary choices were underwhelming for our group, spoiled by Singapore multicultural cuisines and wide variety of choices. Mongolians consume a lot of meat, while vegetables are quite hard to come by, since most of the land is dry and not suitable for farming. Most vegetables, if you can find any, are imported from China, while packaged snacks, candy, chocolate, cookies and dry goods usually come from Russia.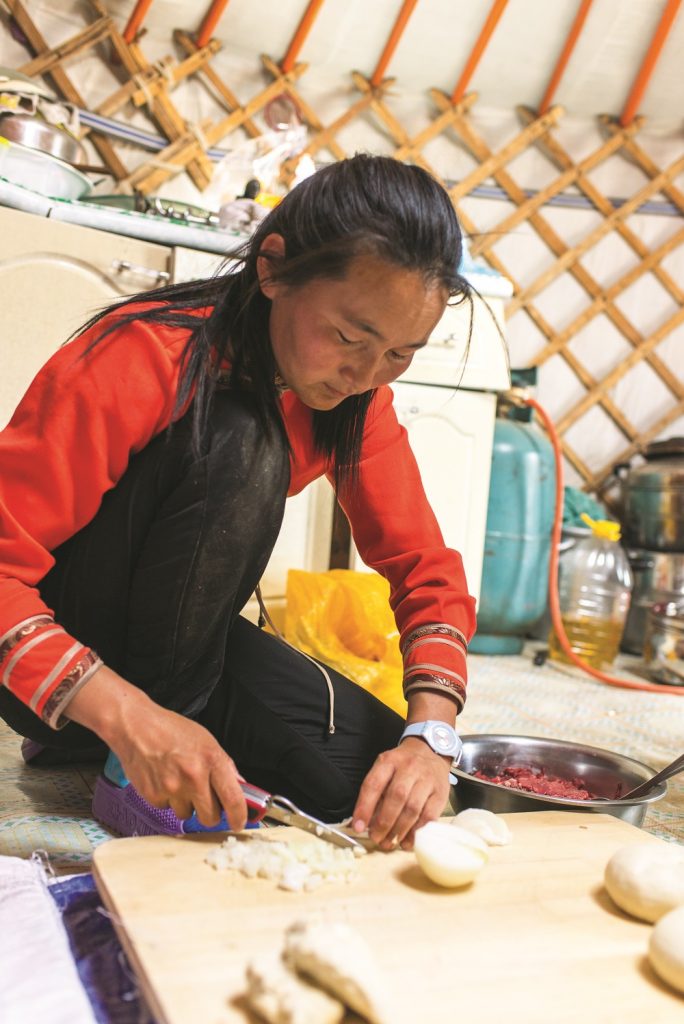 Gorkhi-Terelj National Park
Our next stop was a few days in Gorkhi-Terelj National Park, a breathtakingly scenic region. We climbed the beautiful Bodgkhan Mountain and spent two days horse riding. None of us had any riding experience, but to our surprise we quickly learnt to guide our horses through the wild terrain, including river crossings! It was a highlight of the trip. We also spent a night in a large ger that we built ourselves with felt and wooden sticks using ancient techniques. I'm not sure I'll use this skill in the future, but it was certainly entertaining!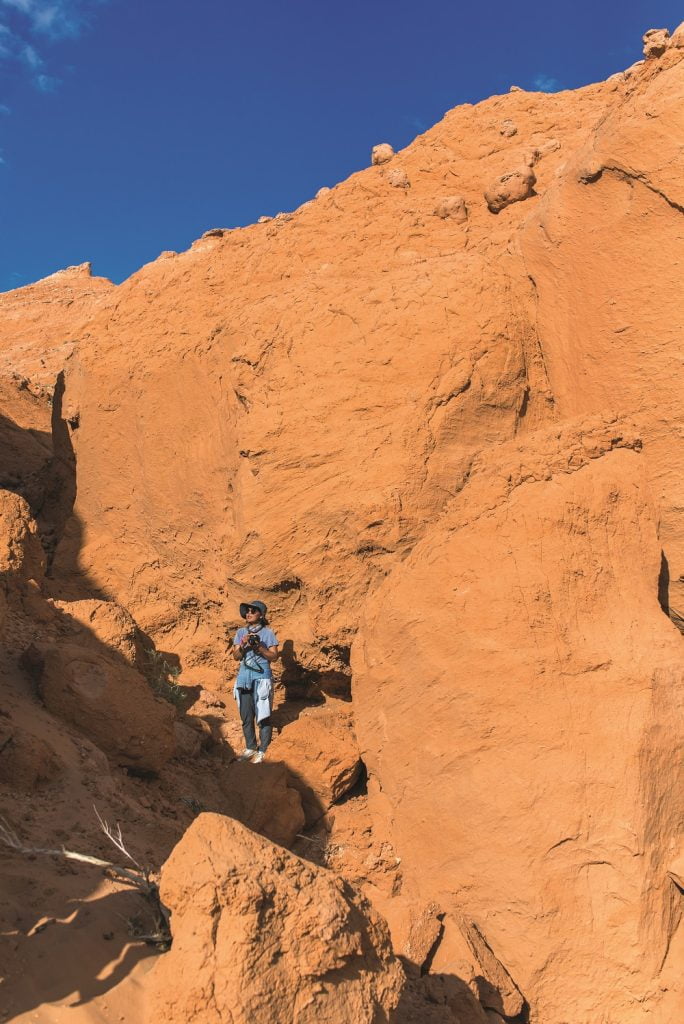 Gobi Desert
It took us five days to travel to the Gobi Desert – along the way we visited the famous Flaming Cliffs: red sand formations that glowed and reflected the sunset. They also contain dinosaur bones within their hard-packed structures. When it comes to dinosaur fossils, the Gobi Desert is one of the world's top sites – three of the most famous dinosaur species have been found here. Dino fans should head to the Central Museum of Mongolian Dinosaurs in Ulaanbaatar, a palaeontology museum offering exhibits of dinosaur fossils, artefacts and educational programs. Travel in the desert was a breeze as there were very few tourists. We were far outnumbered by wild camels – easy to spot from a distance in the sparse terrain. We climbed to the top of Khongoryn Sand Dune, the largest sand dune in the desert. The hike was exhausting and the sand was treacherous – two steps up, one slide down. Up to 12 kilometres wide and 180 kilometres long, the dune rose to a height of around 80 metres. We also saw a very unusual place – Yolyn Am Ice Gorge, where the mountain gorge is so deep the sun never reaches the bottom and even in the hottest part of the summer people can see, touch and walk on ice!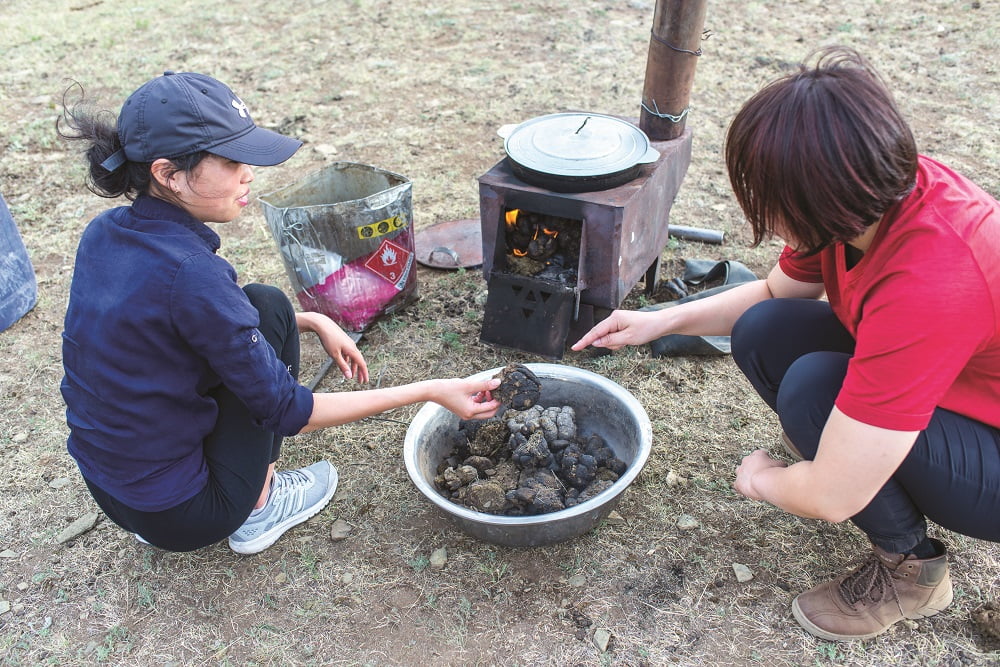 Life as a Camel Herder
We spent some time with a multi-generation family of camel herders in the Gobi, learning their way of life. Their ger had some furniture and decorations, however it was still small and basic. Their proud possessions included an old Soviet radio set from the 1970s (my granny had the exact same one!) and a National Geographic photo book from the 1990s, where the family was featured with stunning photography and stories about their life.
When we arrived, the men were out herding the camels, while the eldest daughter and her younger brother welcomed tourists to the settlement and tended to a few camels. The daughter informed us that women in Mongolia are very important in the family and independent in decision making. We helped her make dinner and learnt how to make dumplings with camel, goat and mutton fillings.
There was no electricity and running water in this settlement, so everything needed to be purchased in a village and transported out to the desert. The way of life is basic, but the people seem content and happy to be free and roam the desert the way they've done for thousands of years.
I didn't know what to expect from this landlocked country, sandwiched between two empires: China in the south and Russia in the north, but our trip was fantastic, and I learnt so much about Mongolia and its people.