Otters
Otters had almost disappeared from Singapore by the 1970s, due to waterway pollution. But a general waterway clean-up, mandated by Lee Kuan Yew, saw their return, and thanks to a cleaner habitat the otter population began to flourish. National University of Singapore (NUS) biology lecturer N. Sivasothi, who heads the OtterWatch facebook group (www.facebook.com/OtterWatch), estimates the population at about 80. The otter species commonly seen here is the smooth coated otter, which can grow to nearly one metre long. These social animals usually live in family groups. "Marina Bay, including Kallang and Singapore Rivers, are the best places to see the otters as there are permanent resident families there," explains Sivasothi. Co-existing with humans in these urban areas does present some problems. "Some of the main threats are roadkill, entanglement in fishing line, and plastics," says Sivasothi. Although they seem very cute and cuddly, National Parks advisories warn that otters are wild animals and should be treated with caution, especially when otter pups are nearby. In 2017, an otter bit a five-year-old girl at Gardens by the Bay.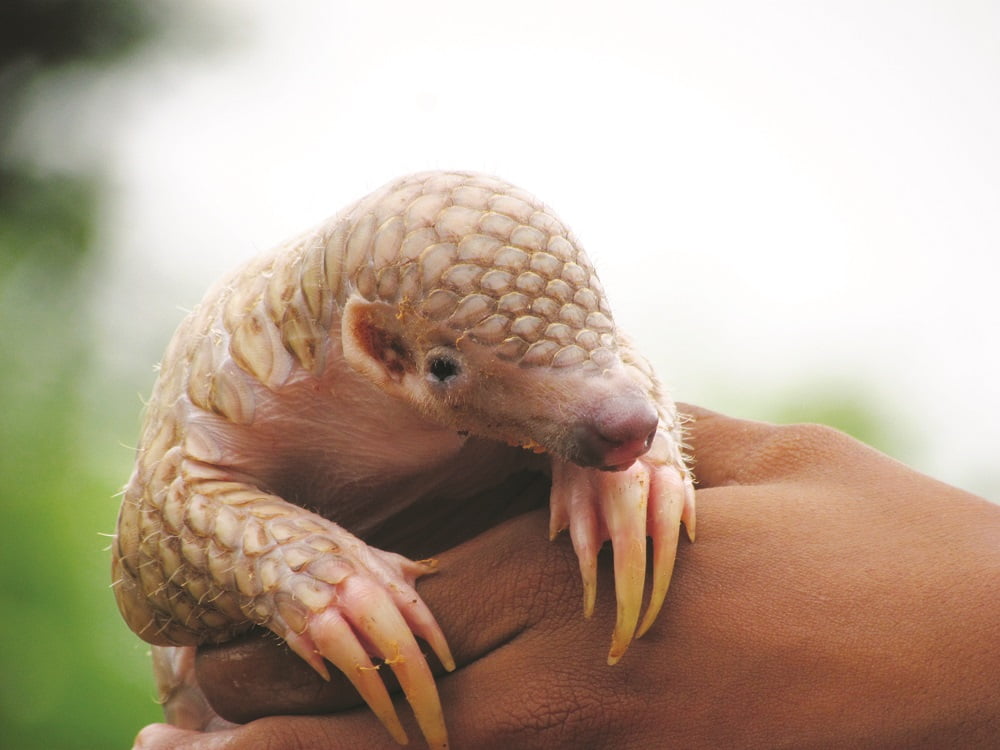 Pangolin
Pangolins are the world's most heavily trafficked mammal, according to Wildlife Reserves Singapore. Their scales and meat are prized in traditional medicine and for food. They are also slow breeders, with only one or two babies per year. This combination of factors has led to their critically endangered status.
These shy nocturnal creatures are hard to spot in the wild. Angelica Teo of pangolin research group, The Pangolin Story (https://thepangolinstory.wordpress.com/), explains: "As pangolins are nocturnal animals, they're only active for a few hours each day, this makes them notoriously difficult to track. It's thought the population is in the low hundreds."  A few live at Central Catchment Nature Reserve (MacRitchie Reservoir), and Bukit Timah Nature Reserve. The main threats to pangolins in Singapore are urban development and roadkill. "As Singapore continues to rapidly urbanise, it is inevitable that pangolins start to venture into urban areas. Roadkill claims an average of 6 to 8 pangolins a year." To help pangolins, you can donate to the Wildlife Reserves conservation fund: wrs.com.sg, or volunteer with The Pangolin Story: thepangolinstory.wordpress.com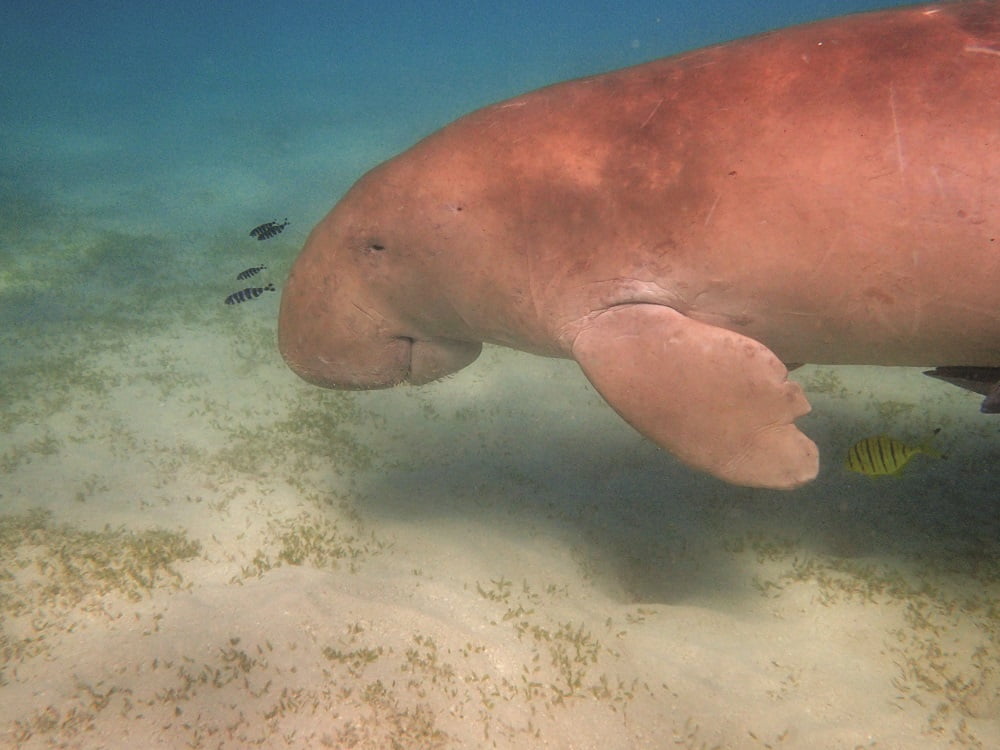 Dugong
Yes, dugongs can occasionally be spotted in Singapore. These air-breathing mammals live underwater and exist on a diet of seagrass. They can grow quite large, over 2.5 metres and weigh over 300kgs. Dugongs often travel hundreds of kilometres for food and are difficult to find in the wild. In recent years they've been spotted off Pulau Ubin. Dugong activity can also be seen in the 'feeding trails' they create through seagrass meadows as they methodically rip up the seagrass while swimming past. Trails have been seen off Changi, Pulau Ubin, Pulau Sekudu, Pasir Ris and the Southern Islands. Dugongs are listed as critically endangered. Humans are the main threat to the dugong population, as they are still illegally hunted for their meat, skin (for leather) and for traditional medicine. The greatest threat is the loss of seagrass habitats. One of the most effective ways to help dugongs is to preserve Singapore's seagrass meadows. Visit the Team Seagrass website for information on this valuable habitat and volunteering opportunities. teamseagrass.blogspot.com
Crocodiles
Singapore is home to Estuarine Crocodiles, also known as saltwater crocodiles, which can grow to over five metres. Estuarine crocodiles are listed as critically endangered – threats come from hunting (for skin and meat), and habitat loss. Some scientists believe that extensive coastal development in Johor has forced some crocodiles further south into Singapore. Croc enthusiasts should head to Sungei Buloh Wetland Reserve, where several crocs have made their home. National Parks hosts regular crocodile talks at the Reserve (nparks.gov.sg). It's rare to see crocodiles elsewhere, but in February of this year, a 1.7 metre crocodile was captured by National Parks officers at Lower Seletar Reservoir and relocated into the wild. In 2017, several were spotted near Pasir Ris Park, prompting warning signs at the beach. They've also been seen at East Coast Park and Changi Beach. If you find crocodiles in an urban area, call the Agri-Food and Veterinary Authority (AVA) on 1800 476 1600.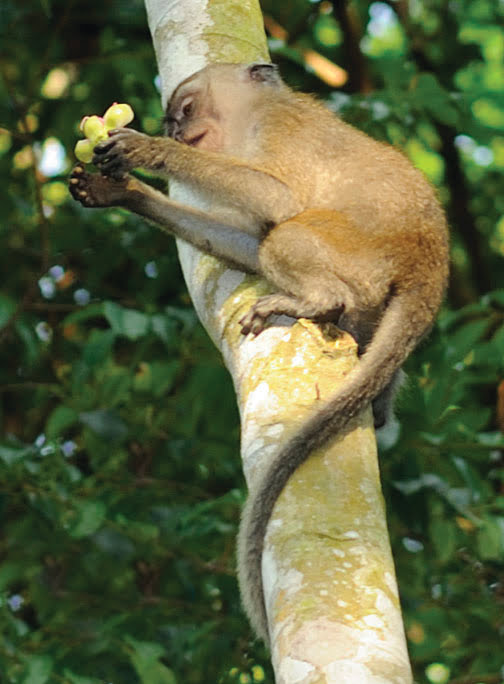 Long-tailed Macaque
There are several monkey species in Singapore, of which the Long-tailed Macaque is the most common. National Parks estimates their population at around 1,500. They live in large family groups and are often seen around Singapore's nature reserves and coastal areas.While you might think the monkeys are cute, they can be aggressive when they feel threatened. In 2017, the AVA received over 160 complaints about monkey attacks and behaviour. This led to the formation of the Macaque Working Group, comprised of agencies including the Jane Goodall Institute, National Parks, Animal Concerns Research and Education Society (ACRES), the AVA and several universities, to develop solutions to human-macaque tensions and educate the public on macaque behaviour. Humans feeding the macaques is a big source of concern, as it can change the feeding patterns of the monkeys, and cause aggression or illness. If you want to learn more about these primates, the Jane Goodall Institute and National Parks run monthly guided monkey walks at MacRitchie Reservoir, Bukit Timah Nature Reserve and Lower Seletar Reservoir (janegoodall.org.sg/event)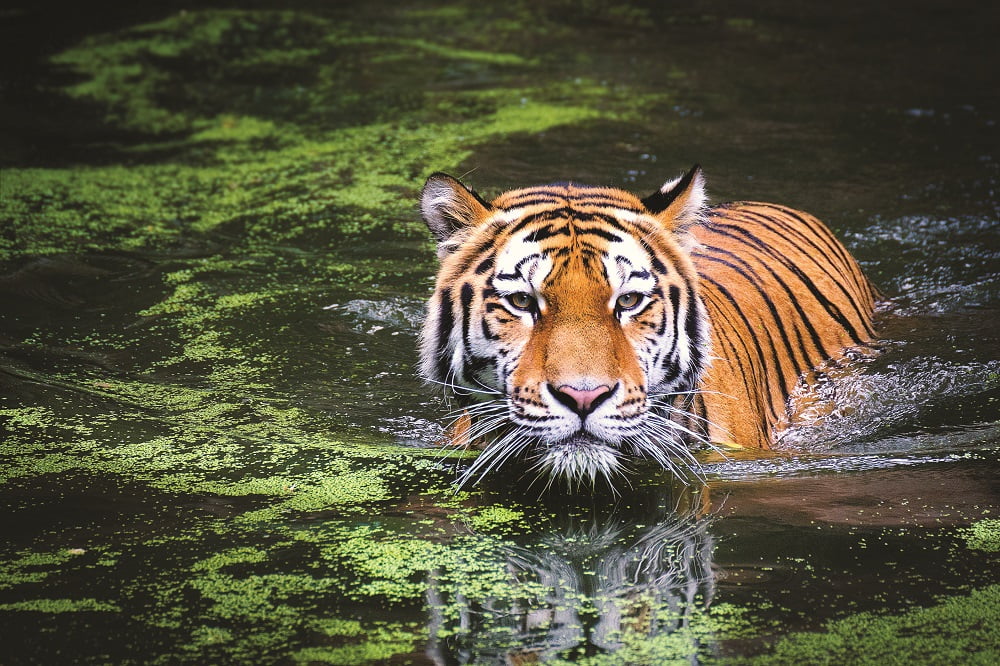 Tigers
Singapore once hosted a significant tiger population during early colonial times. Jungle areas were extensively cleared in the mid-1800s for plantations, forcing the tigers into the open. According to the National Library Archives, during the 1860s more than 350 people were killed in tiger attacks. An entire village near Bukit Timah was abandoned due to frequent tiger attacks in the area. The government put a bounty on tigers, starting with $20 for every tiger killed. This was soon increased to $100 to curb the growing problem. Unfortunately, the enthusiasm displayed for this 'sport' led the tigers to extinction in Singapore, with our last wild tiger killed in the 1930s.
Interacting with Wild Animals:
As wild animals often wander into urban areas, it's important to know what to do when you encounter them. Ms Anbarasi Boopal, Deputy Chief Executive of ACRES, explains their guidelines: "When sighting wildlife, the golden rules are to appreciate from a distance and never to feed them. If the animal looks distressed, lost or trapped call our 24hr wildlife rescue hotline 9783 7782 for assistance. For baby animals such as birds or squirrels, we urge public not to remove them or bring home but to look for adult animals or call us with a photo for further action." The Animal Concerns Research and Education Society (ACRES) works in wildlife rescue and rehabilitation and has a dedicated wildlife rescue centre. "We attend to over 700 calls a month for wildlife in distress" explains Ms Boopal. ACRES also works extensively against the wildlife trade, including conducting undercover investigations and public education campaigns. The rescue centre currently houses 105 exotic wild animals from the illegal wildlife trade.