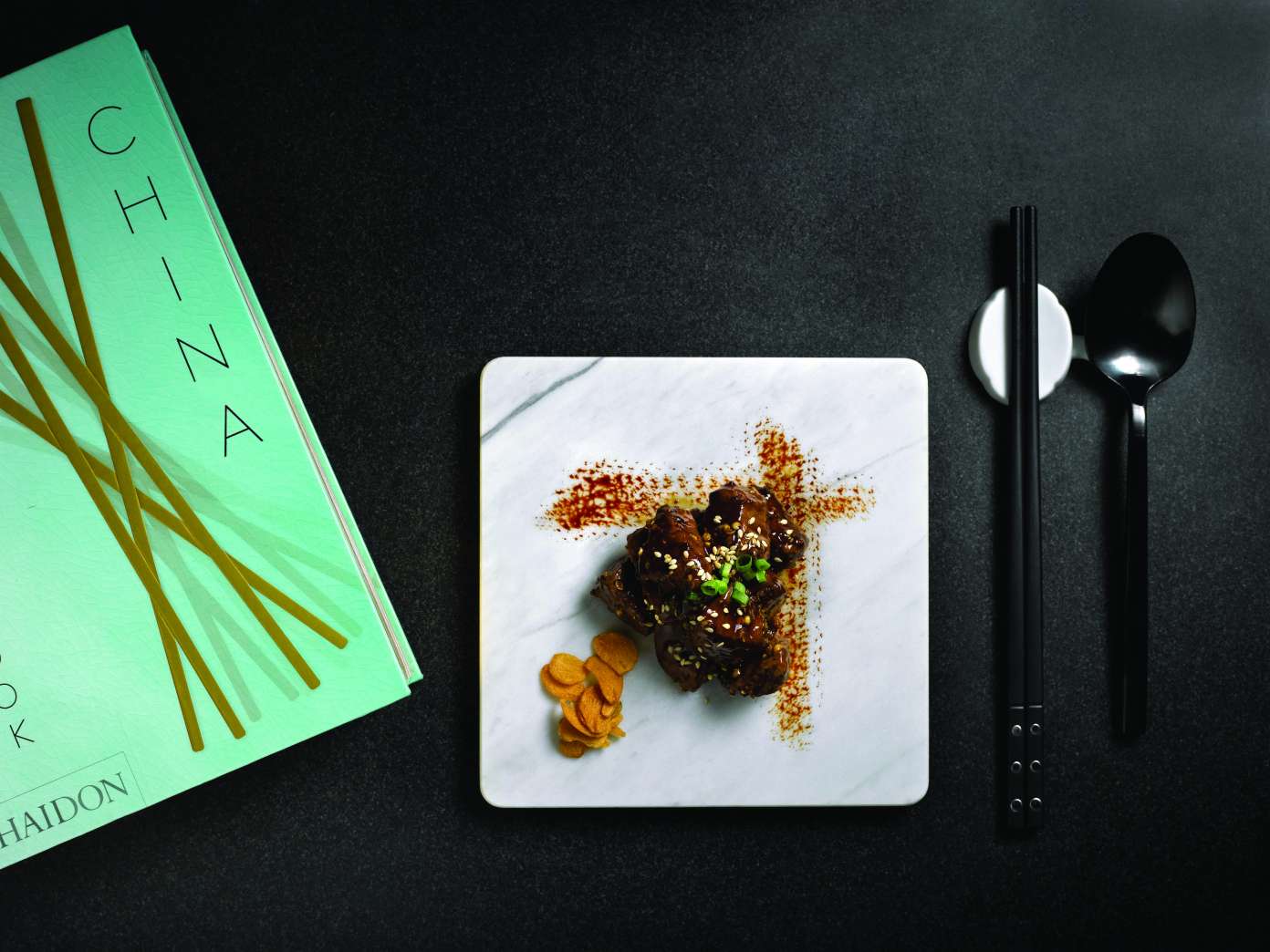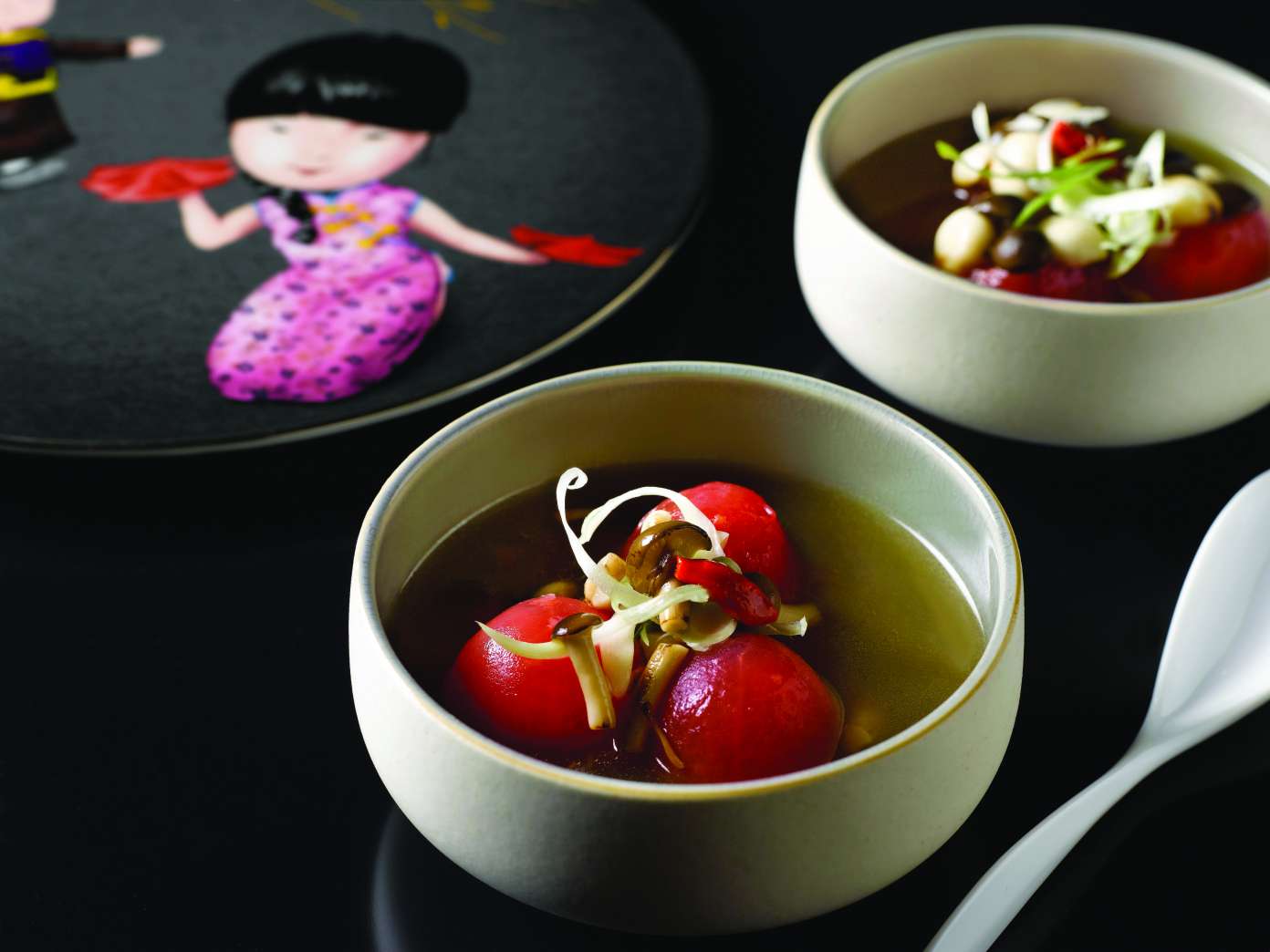 Yellow Pot
Six Senses Duxton, 88 Duxton Road, 089540
sixsenses.com/hotels/duxton/dining
Tucked away in the elegant Six Senses Duxton heritage hotel lies this chic Chinese restaurant. With shades of yellow, black and gold, the opulent interiors are designed by acclaimed British designer Anousaka Hempel. The menu features authentic and reimagined Chinese dishes, with an emphasis on sustainability and wellness. Head Chef Sebastian Goh uses ingredients from viable sources, and where possible the restaurant supports local fisheries and farms. The philosophy of the dishes at Yellow Pot is balanced, clean and healthy eating, in line with the ideology of Six Senses properties around the globe.
We begin our meal with the Chilled Organic Vine-ripened Tomatoes ($8) infused with "Li Hing" plum. The small skinned tomatoes are light and tangy and a nice palate cleanser. This is followed by the unusually meaty vegetarian dish, Lion's Mane Mushrooms ($16) which I would swear was chicken in a blind tasting, and prawns, served in a light mayonnaise with fluffy bonito flakes ($18) Our dished are paired with a beautiful black Chinese tea, created for the restaurant by Yixing Xuan Teahouse, just around the corner.
Roast Duck ($36) is Yellow Pot's most famous dish, and it doesn't disappoint; crispy skin and juicy meat, with a homemade tangy plum dipping sauce. My next favourite main is the Wok-seared Organic Grass-fed Beef Tenderloin ($38) tender cubes of braised beef, with flavours of peppercorn, honey and crisp garlic chips. Steamed Kühlbarra Barramundi ($32) hails from a local fish farm, a firm white fish with an Asian-style green pesto of scallion, ginger and coriander. To finish, we try the local festive dessert, Tang Yuan in Ginger Tea ($8) fragrant, warming ginger broth, with two floating rice balls – glutinous and filled with delicious nutty paste.
Verdict: Fresh, light and sustainable Chinese dishes that embrace clean and healthy cooking but lose none of their punchy flavours. What could be better?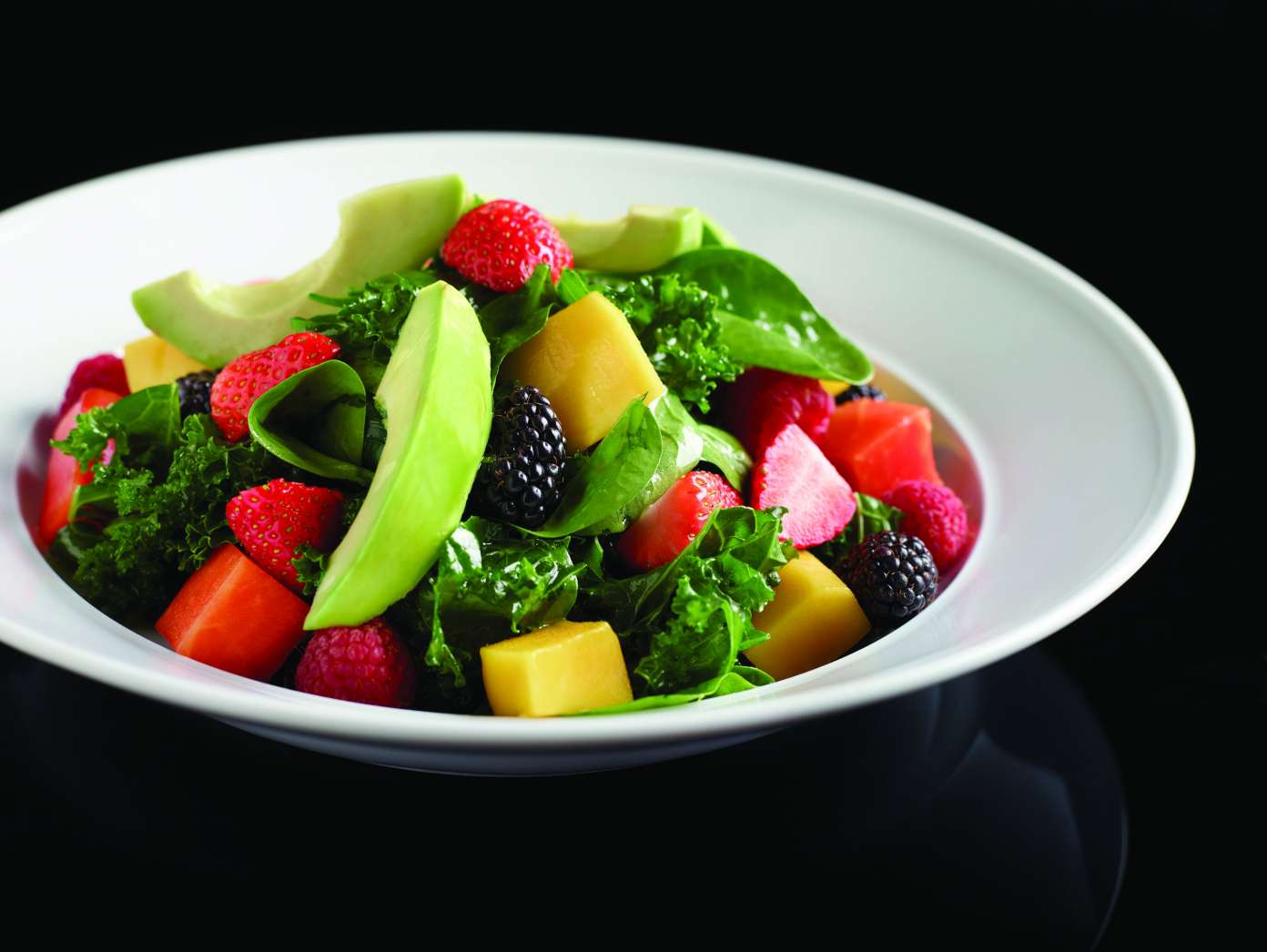 Cook & Tras
Social Library
2 Cook St, 078857
sixsenses.com/hotels/maxwell/dining
Located between Cook and Tras Streets – hence its moniker – the welcoming, cosy library at Six Senses Maxwell is home to some 3000 books. It also houses an elegant restaurant. Spearheaded by experienced chef, Ian Mancais, the menu has expanded from bar bites to a full lunch and dinner menu, inspired by Southern European cuisine. During our relaxed lunch we start with Alive & Inspired ($22), a colourful tossed salad with berries, avocado, mango and kale. It's virtuous and delicious. The Vine Tomatoes & Mixed Melon ($22) follows; watermelon, tomatoes and burrata cheese, topped with shaved ice. The standout dish of the meal is the Baked Barramundi ($28) with fresh herbs, light Indian flavours and a tangy yogurt sauce. Steak Chimichurri ($55) is also great, served with asparagus, vine-ripened tomatoes and garlic. Local dishes are also on offer, at a very friendly price point. Iberico Pork Sate ($9) Nonya Style Chicken Meatballs ($9) are both excellent. The Camp Fire S'mores ($20) are served in a cloud of smoke, and this baked Alaska style dessert is seriously good – with layers of chocolate ganache, ice cream and meringue.
Because even the healthiest eater deserves a sweet treat from time to time.
Verdict: With a leaning towards light, seasonal and organic plates, Chef Mancais is a huge talent, and his food is superbly done.