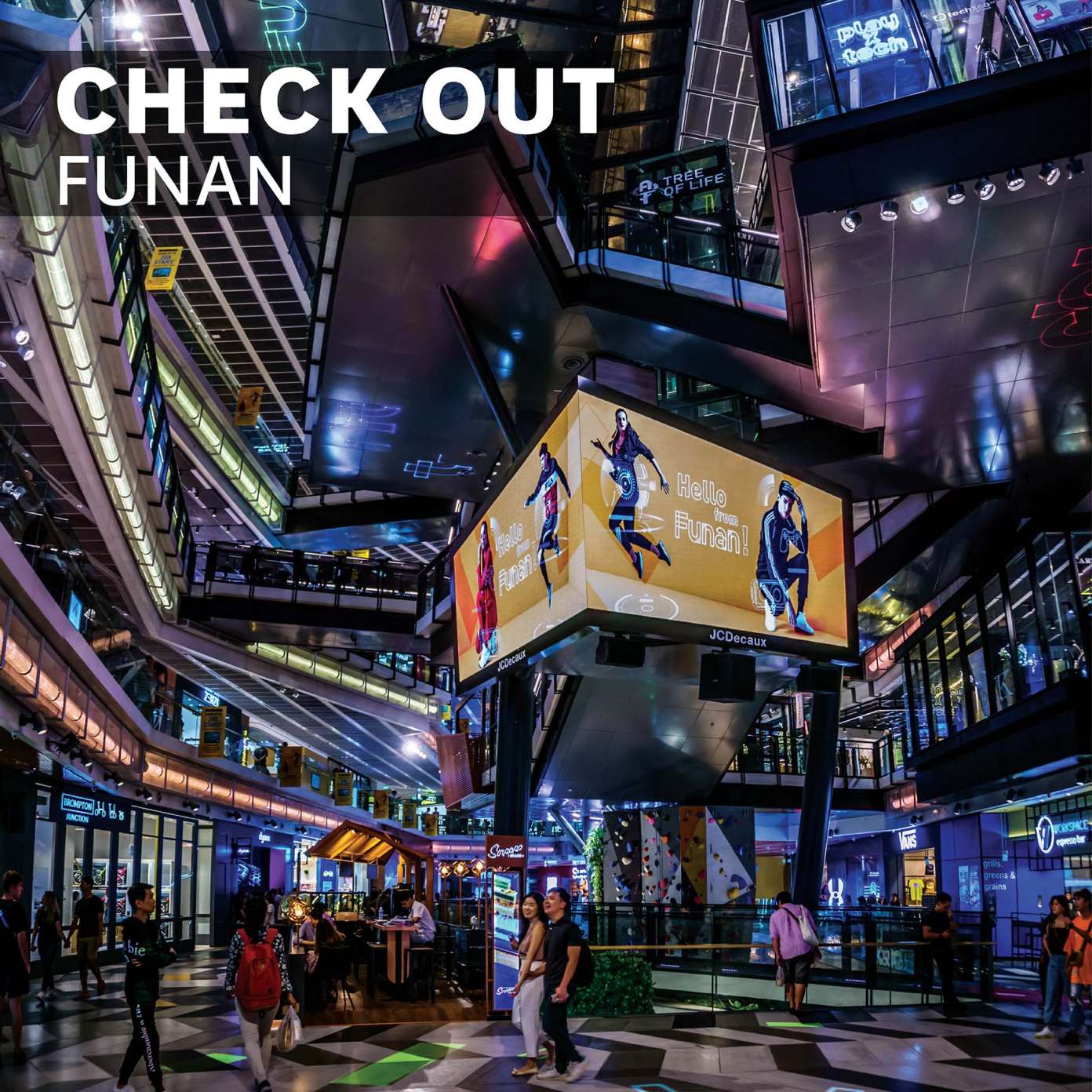 The Urban Farm
#07
Don't miss visiting this 500ft green space, overlooking the space age city below. Wander through 30 varieties of vegetables, herbs and edible flowers, two types of mushroom, and fish aquaculture tanks! As well as producing fresh, tasty and nutritious food, the farm teaches and supports local farmers and is a model for managing food waste and achieving greater food resilience in Singapore. The leafy garden is also a lovely respite – take time to kick your feet up on a swing or hang out at one of the tables or nooks.
NOKA by Open Farm Community
#07-38
Noka (farmhouse in Japanese) is the sister restaurant to Dempsey's Open Farm Community, and connected to Funan's Urban Farm in partnership with Edible Garden City. Head Chef Seki Takuma has organic produce at his fingertips, including oyster mushrooms, microgreens, basil, Mexican tarragon, butterfly pea flowers, and more. Tuck into salads, sushi, and treats like black sesame crème brulee or green tea gelato. "Little Farmers" are catered for with kids' sushi or fish and chips.
The Green Collective SG
#02-18
More than 35 homegrown eco brands have teamed up to launch this multi-brand collective of sustainable, eco and socially conscious products. Pick up planet-friendly beeswax wraps, natural cleaning products, stainless steel or bamboo straws, woven baskets, swimwear, fashion, jewellery, and more. Or participate in regular workshops ranging from making soaps, DIY lip balm, composting, plant swap and upcycling.
Climb Central
#B2-19/21
Experience the highest climbing gym in the civic district, which juts through several floors of the mall. More than 200 outdoor-inspired climbs are on offer, with all levels catered for. Choose to scale the high walls, tackle high intensity short climbs in a dedicated boulder unit, or take it easy on the beginner area. No prior experience is needed, and kids are welcome over the age of five.
PPP Coffee
#02-19
The coffee masters behind Chye Seng Huat Hardware have set up this buzzy, New York style coffee bar, which offers unique coffee offerings, an artisanal toast bar, and an experiential brew bar for customers to have a go at brewing and interacting with coffee apparatus. The café is also an employee's-only initiative, which means long term staff will share in the profits.
Bike Path
From 7am-10am, you can ride a bike through Funan's 200-metre indoor cycling track, whizzing past stores and eateries. A motion detector camera lights up LED light strips on the path whenever there's movement. There are some rules in place – a 10km speed limit applies and after 10am you'll have to dismount and walk your bike through the mall. Funan is designed with cyclists in mind – there are bike bays, electric bike charging stations, a bike friendly lift, a pump and repair zone, and showers for cyclists. A nod to a car-lite future.
WeWork
Looking for a space to co-work and create? WeWork has set up camp over two floors at Funan. Get your next bright idea lounging in art-filled lounges, unique conference rooms, and sleek private offices. There's a brainstorming room with writeable walls and stand-up-friendly furniture, plus showers, fruit water, and freshly roasted coffee.
Ark Futsal
#07
Fancy a kick in the clouds? The ARK is a fully automated rooftop football pitch, nestled among Funan's leafy Urban Farm zone. Invite some mates for a kickabout session, organise teambuilding with workmates, or throw a birthday party with a difference. Book ahead online at theark.sg.
Wild Rice Theatres
#04-08
Singaporean theatre group WILD RICE finally has its very own theatre at Funan.
The Ngee Ann Kongsi Theatre is a 358-seat venue featuring Singapore's first thrust stage, inspired by the Royal Shakespeare Company's Swan Theatre in Stratford-Upon-Avon. For their Grand Opening Season, WR will circle back to the first play they ever staged; Stella Kon's classic Emily of Emerald Hill, opening on 4 September.
Rooftop
Head to level 'R' for stunning rooftop views of the Marina Bay area on one side, and leafy Fort Canning on the other. There are barbecue pits, a large table, lots of seating and fairy lights at night. A hidden gem!
capitaland.com/sg/malls/funan