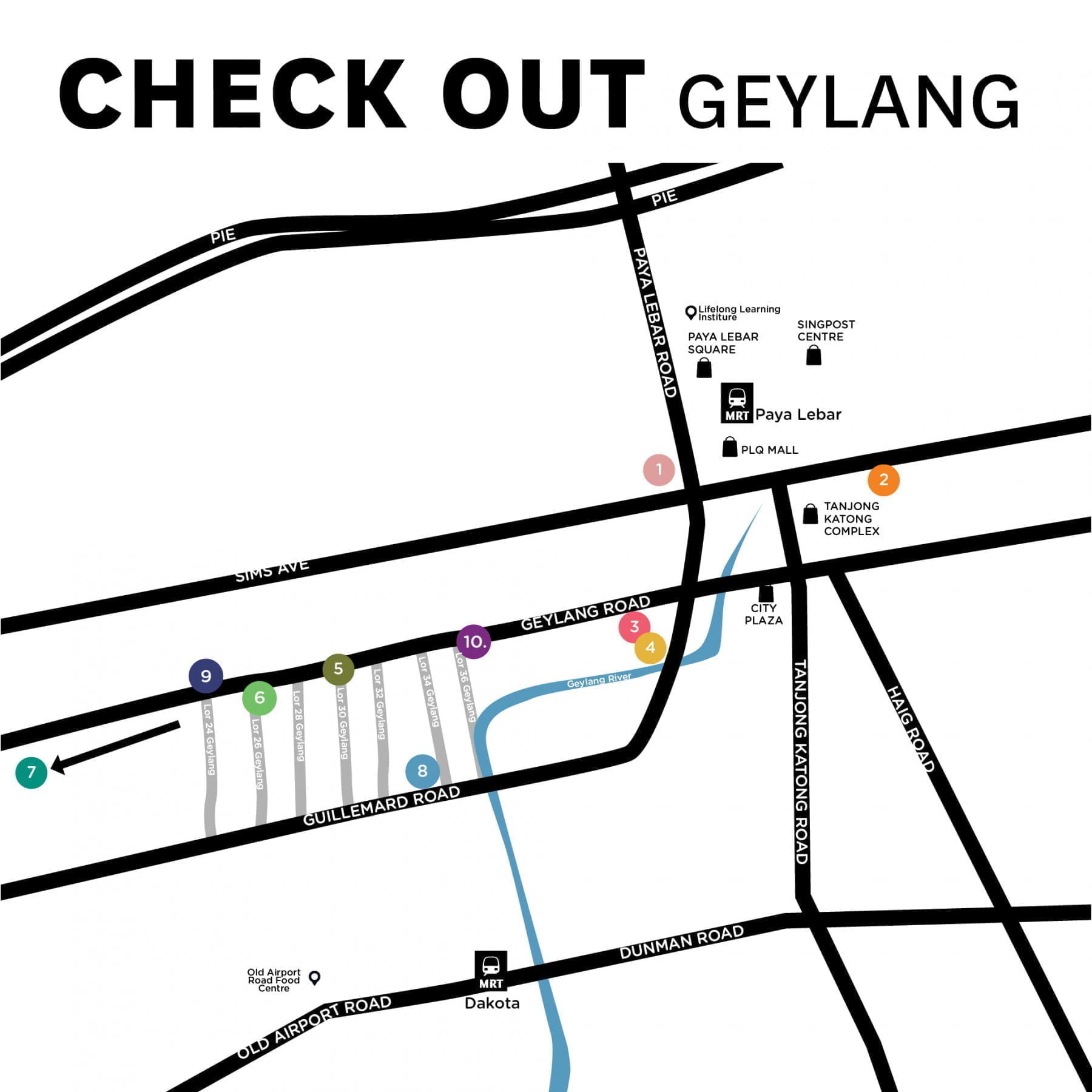 1. Geylang Fire Station
29 Paya Lebar Road 409005
Marked for conservation in 2007 this Art-Deco gem proudly stands sentry at the street corner it served for 73 years. Eventually renamed the Paya Lebar Fire Station it's the second oldest fire station in Singapore after its multicoloured big brother on Hill Street. Last occupied by a fitness centre it's currently available for commercial lease.
2. Geylang Serai Heritage Gallery
1 Engku Aman Turn 408528
pa.gov.sg/our-network/wisma-geylang-serai/facilities
One of the National Heritage Board's newest cultural galleries opened in January 2019, providing a wealth of information about the origins of Singapore's oldest Malay enclave. It occupies part of the sprawling Wisma Geylang Serai community centre, which also houses a handful of Asian restaurants and shops. Its neighbour, the Geylang Serai Wet Market is one of Singapore's largest and most vibrant markets.
3. Former Queen's Theatre
Back in the 1930s when a dollar could buy you a cinema ticket, moviegoers flocked here to watch their first Charlie Chaplin film. Originally called Wembley Cinema and then Ritz Cinema, it also featured Malay, Indonesian, European and sometimes Egyptian movies. Its last screening was in 1982.
4. Don Lechon
Grandlink Square, 511 Guillemard Road 399849
facebook.com/donlechonsingapore
A quaint little corner restaurant with alfresco dining by the Kallang river, this dining destination has grown to expand its market beyond its Filipino clientele. Come here for a serving of their house specialty, "lechon", which means roast suckling pig in Tagalog, something most Filipinos can't prepare themselves at home because, well, not everyone has a roasting pit and five hours to kill.
5. JB Ah Meng
534 Geylang Road 389490,
6741 2418
facebook.com/pages/JB-Ah-Meng
Ever since this zi char (home-style Chinese) restaurant earned a Michelin Bib Gourmand stamp in 2016 it's attracted a queue of waitlisters outside. Its rooms are wallpapered with photos of the owner and his celebrity guests – from Spanish Michelin chef Ferran Adria to American comedienne Melissa McCarthy. Service is not the friendliest but don't take it personally. Their goals are to be fast, efficient and fresh from 5.30pm-2am! Don't miss the house specialties – White Pepper Crab and San Lou Bee Hoon, a seafood dish with crispy rice vermicelli. Call ahead to book a table.
6. Eng Tiang Huat cultural shop
10 Lorong 24A 398524
facebook.com/chineseculturalshop
Prepare to meet one of the nicest, most interesting locals around, plus his friendly giant dog, Hugo. Jeffrey is a 33rd generation Teochew whose charming pre-war shophouse is a literal treasure trove of stories from Old Singapore. Learn how his grandfather, a humble tailor, secretly supported the less fortunate, and how a prediction that the old man would die twice came true! Touch an ancient tapestry. Leaf through handwritten artefacts. Take part in an impromptu Peking opera ensemble. Entrance fee is $10 for ANZA members with a minimum of 10 guests per visit.
7. The Panic Room
311A Geylang Road 389350
thepanicroom.com.sg
Ironically, this curious little barbershop is run by a laid-back bunch of blokes whose passion is to keep customers pampered and refreshed as well as well-coiffed. Don't mind the tattoos. They are Jedis with scissors. And their shelves hold a plethora of grooming products for the ultimate Dude's Day, including Uppercut Deluxe from Down Under. Vinyl records sold separately. Book ahead.
8. Munch Munch
371 Guillemard Road 399779
facebook.com/sgmunchmunch
Shuffle back to 1980s Singapore with a colourful sampling of sweets, treats and traditional toys. This corner store aims to recreate the old school feel of Mama shops ("Mama" meaning uncle in Tamil), where Indian men sold sundries in kiosks underneath HDB buildings. Items on the shelf may not all be familiar. (Care for a butter cigarette stick?) Leave with a mouth full of Magic Rocks and a game of five-stones in your pocket.
9. SSVP Shop
501 Geylang Road 389459
ssvpshop.sg
The neighborhood's newest thrift store carries a well-curated collection of unique finds. Before you hit the racks, say hello to the sunny gaggle of volunteers that restock them. They are parishioners of the Society of St Vincent de Paul, a lay Catholic organisation that began in 19th century France and came to Singapore in 1951. Proceeds of their sales support some 3,000 FINS or "friends in need"- underprivileged children, migrants, and elderly folk. Retail therapy that's good for the soul and the pocket.
10. Desmond's Creation
(Sik Bao Sin)
592 Geylang Road 389531
facebook.com/pages/Desmonds-Creation
Another Michelin favourite, this Bib Gourmand eatery was on the 2019 list. With only one chef in the kitchen (himself!) owner Desmond Chia is unapologetic about the waiting time (as long as an hour and a half) and the menu (only 13 items), which includes Sweet and Sour Pork, Steamed Pork with Salted Fish, Ginger Chicken and Tofu Prawns. Quality trumps quantity on his turf. That said, reservations are allowed only for groups of 10 or more.