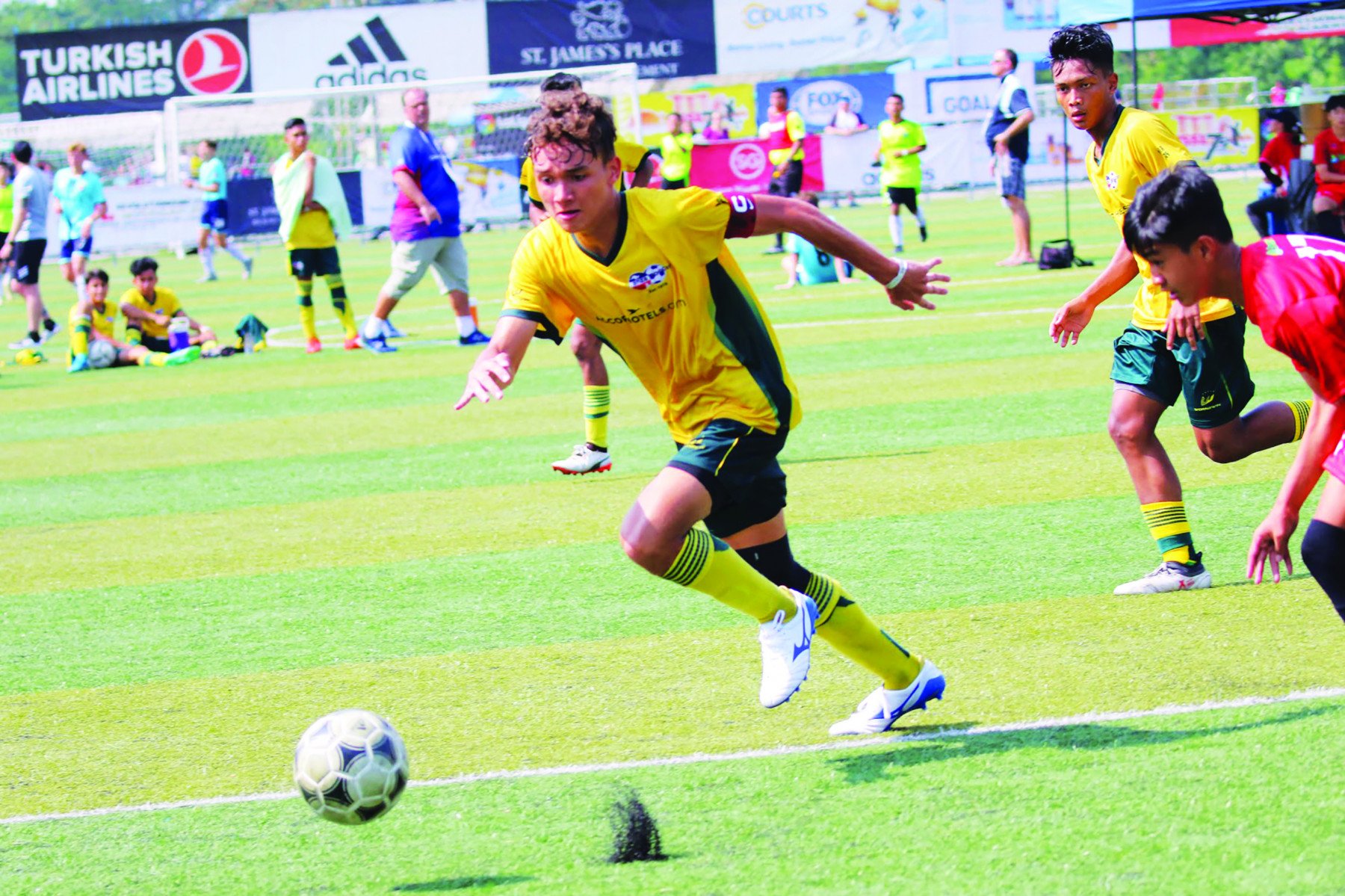 ANZA Soccer congratulates player Danial Crichton, who has signed a contract with professional club team Young Lions! We are very excited for Danial, who has been an ANZA Soccer player since the 2017–18 season. The Young Lions club plays in the Singapore Premier League and serves as a feeder team for the U23 national team. As a Singaporean, 16-year-old Danial is eligible to represent his country in international competitions. We look forward to following his future soccer career!
Rising star
Danial joined ANZA soccer on the recommendation of Head Coach Yakob. "It was obvious from the start that a very strong player had joined us, and that he had high ambitions to play for the Singapore national youth teams and break into a Singapore Premier League club team academy, says his coach and competition teams coordinator Marcel de Bruijckere. "Later that season, Danial was indeed selected to play for the Singapore U15s." While his national team commitments obviously came first, Danial still played for ANZA whenever he could.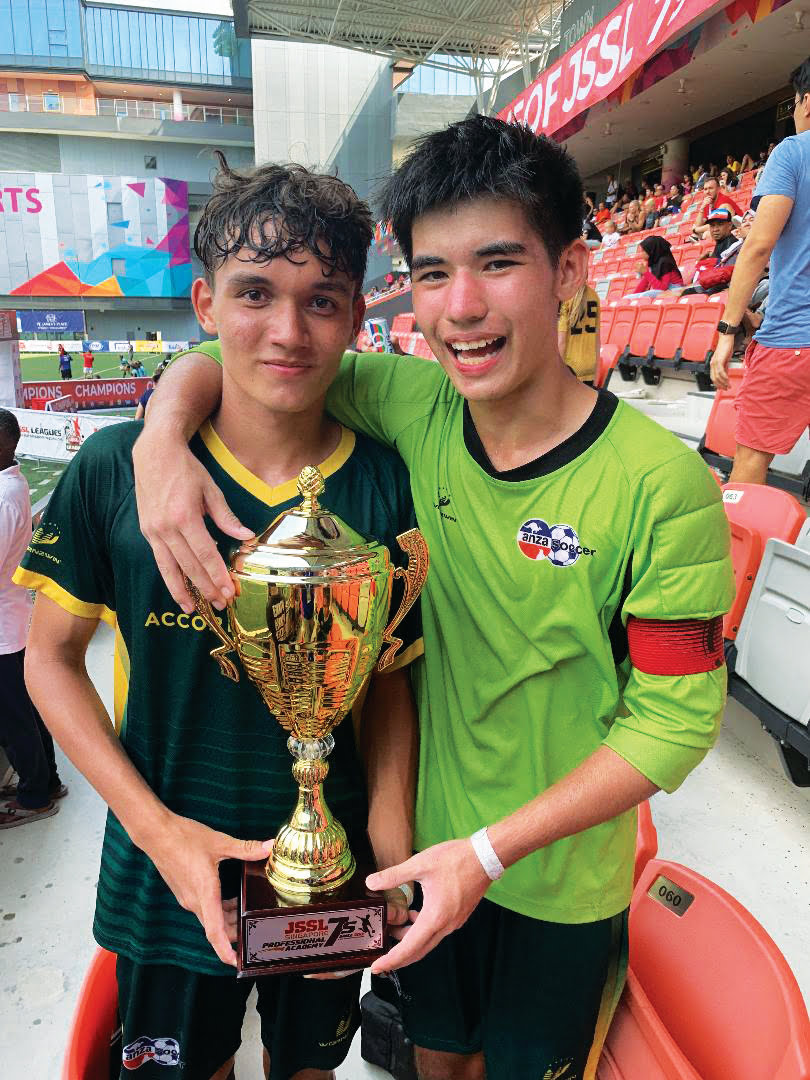 A key ANZA player
Danial has been a key player for his ANZA Soccer teams. His most significant contribution came during last season's JSSL Professional Academies 7s, the largest youth soccer tournament in Asia. He made many crucial plays and scored the winning goal in the Cup Semi-final 3v3 tiebreaker. He also contributed as team captain.
Danial showed selfless leadership in the 3v3 that decided the Cup Final, which ended in a draw at full time. " The JSSL 7s tiebreaker works in an unusual, sudden-death format: if, after one minute of 3v3 play, the score is still tied, a player is taken off each team for a 2v2 contest, and after another minute, it becomes 1v1. Along with the vice-captain and goalie, Danial started in the 3v3. "The original plan was that our goalie would leave the pitch first," recounts de Bruijckere, "but after that first scoreless minute, Danial made the call to come off himself. He was slowing down after playing every minute of the day's four knock-out matches, and he knew that goalie Philippe had more energy left. Danial trusted his teammates and prioritising the outcome. His father Scott, who coached the team with me, could not have been prouder. Danial's judgement proved sound when Philippe scored in the 2v2. That victory contributed to ANZA Soccer taking home the Paul Parker Trophy as the best club in the tournament!" Early this season, Danial was selected to play for the U18 Singapore national team in an international tournament. His performances impressed the Young Lions' management, and they invited him to join them. This commitment means he can no longer play for our B16 competition team. He will be greatly missed in the second half of the season, but we are very happy for him and wish him all the best. "I'm confident he will do well for the Young Lions and may well be the first ANZA player to make it to the Singapore National Men's Team," says de Bruijckere. "If he does, he will be following in the footsteps of Head Coach Yakob, who played goalie for the national team and has been supporting Danial behind the scenes as he sought to break into the Singapore Premier League." Good luck Danial!
Danial's Journey: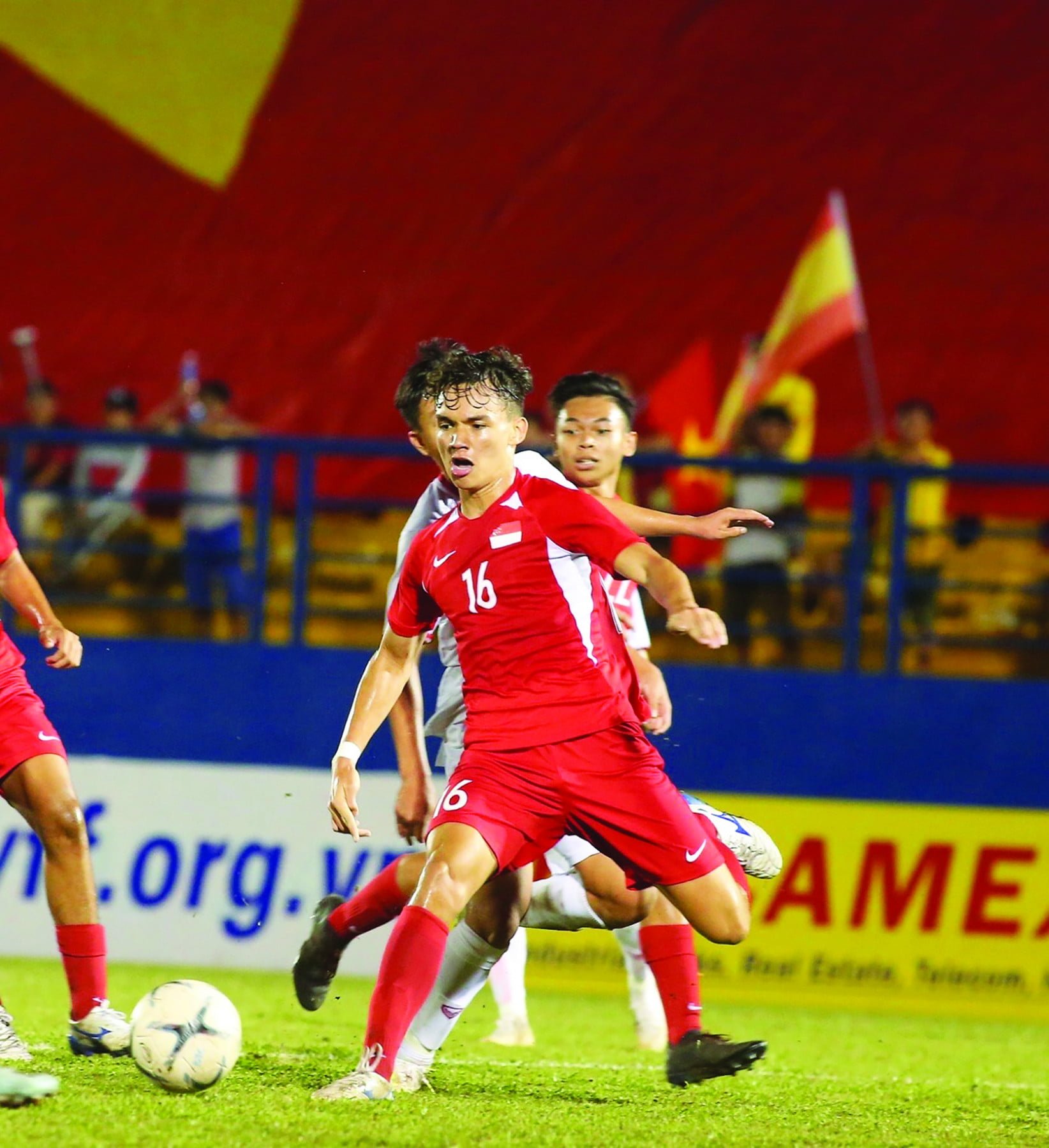 "My father always says I started kicking a ball as soon as I could walk! From a very young age, my favourite memories were playing with him almost every night. Living in Korea for my father's work was a wonderful experience, but it also had its down points. Playing football was difficult due to our location and my school schedule. In my early teens, I played for my school team. I have a great memory of a two-day competition in Jeju, where I scored 20 out of my team's 26 goals. A lovely weekend! Football season was my time to shine, but that would only last for three months. I wanted more football, structured the way it was in Singapore, and to continue my dream of making it. I wanted to move back to Singapore to pursue my dream, and I'm blessed my parents supported me. When I returned from South Korea, I wasn't sure which club to join. But from the first day at ANZA, everyone was very welcoming. They treated me like family. When Coach Marcel and Coach Yakob greeted me with a green jersey, I was honoured to be part of the club. One of the great things about ANZA was that the coaches had good links to both local and international football clubs, and Coach Yakob helped open doors for me to take the next steps to represent Singapore on the U15 and U18 national teams. The national team coaches were also fantastic, as they helped and continue to help develop me as a player. Playing for ANZA, for local club Warriors, and for Singapore, it was busy and I was having a great time, with one of the highlights definitely being the JSSL 7s 2019. In January 2020, I signed my first professional contract at the age of 16 to represent the Singapore Young Lions in this year's S league, starting in February. I can't wait to continue my journey! Special mention to my mum and dad for always supporting me, along with Coaches Marcel and Yakob." As Danial looks forward to exciting new challenges, he wants his ANZA Soccer mates to know that "anyone can also do it!" Follow Danial on Instagram at @Danialcrichton.