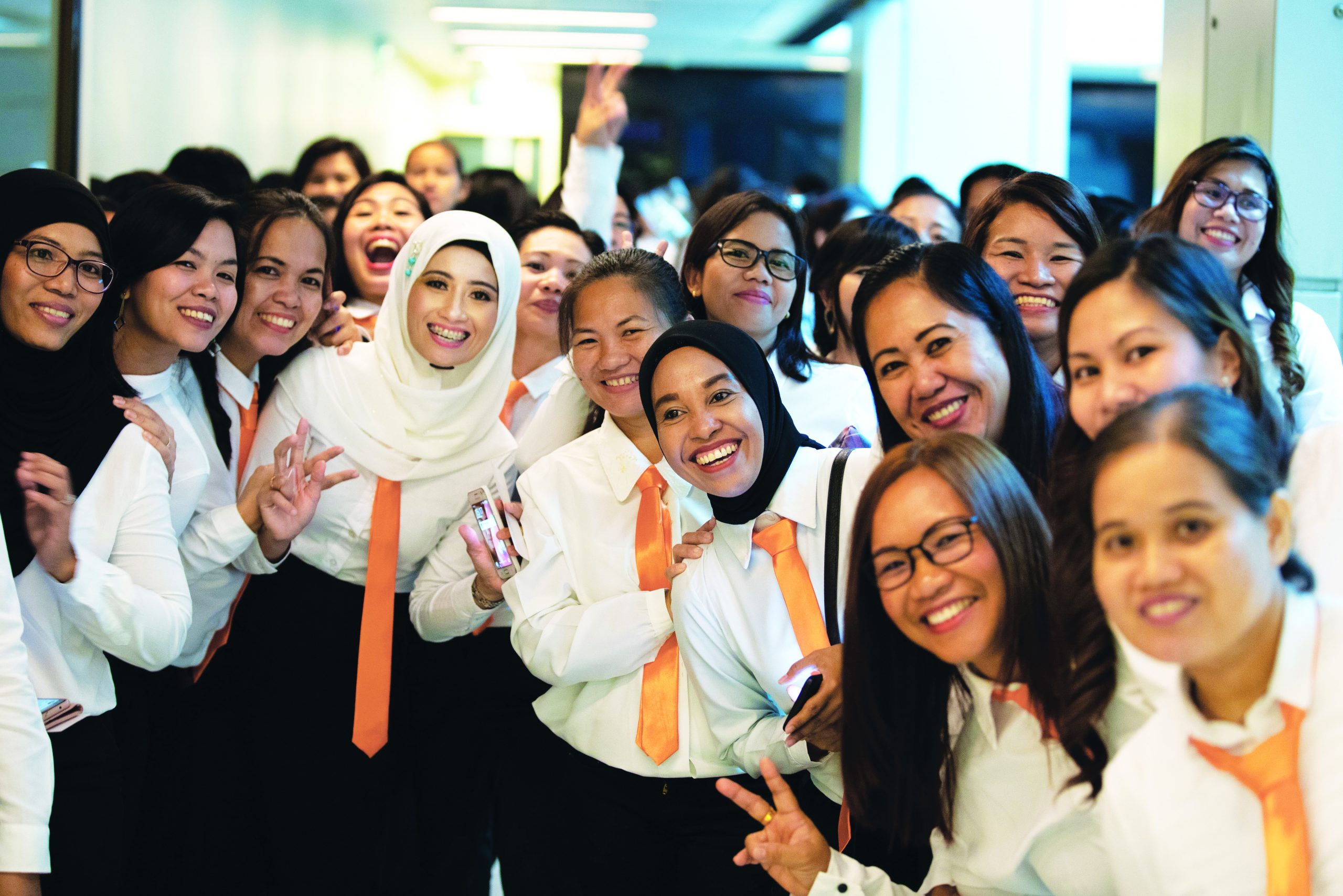 Can you tell us about Aidha?
Aidha is a Singapore registered charity, dedicated to enriching the lives of foreign domestic workers and lower-income women through financial education. Starting with a class of 25 students in a condo function room, fourteen years on, Aidha has become an award-winning charity with 400-500 active students enrolled at any given time. We also have a wonderful Sunday campus of 18 classrooms at United World College, Dover.
Foreign domestic workers (FDWs) make a big sacrifice leaving their homes to work in Singapore and support their families. But they often return home with little in savings, even after years of working here. Research shows that only 6% of FDWs have saved enough by the time they return home after working abroad an average of six years. 60% return with no savings at all. Aidha seeks to change this by supporting FDWs with financial education. We have strong evidence that our programmes work – with many graduates achieving increased monthly savings, productive assets, and business ownership.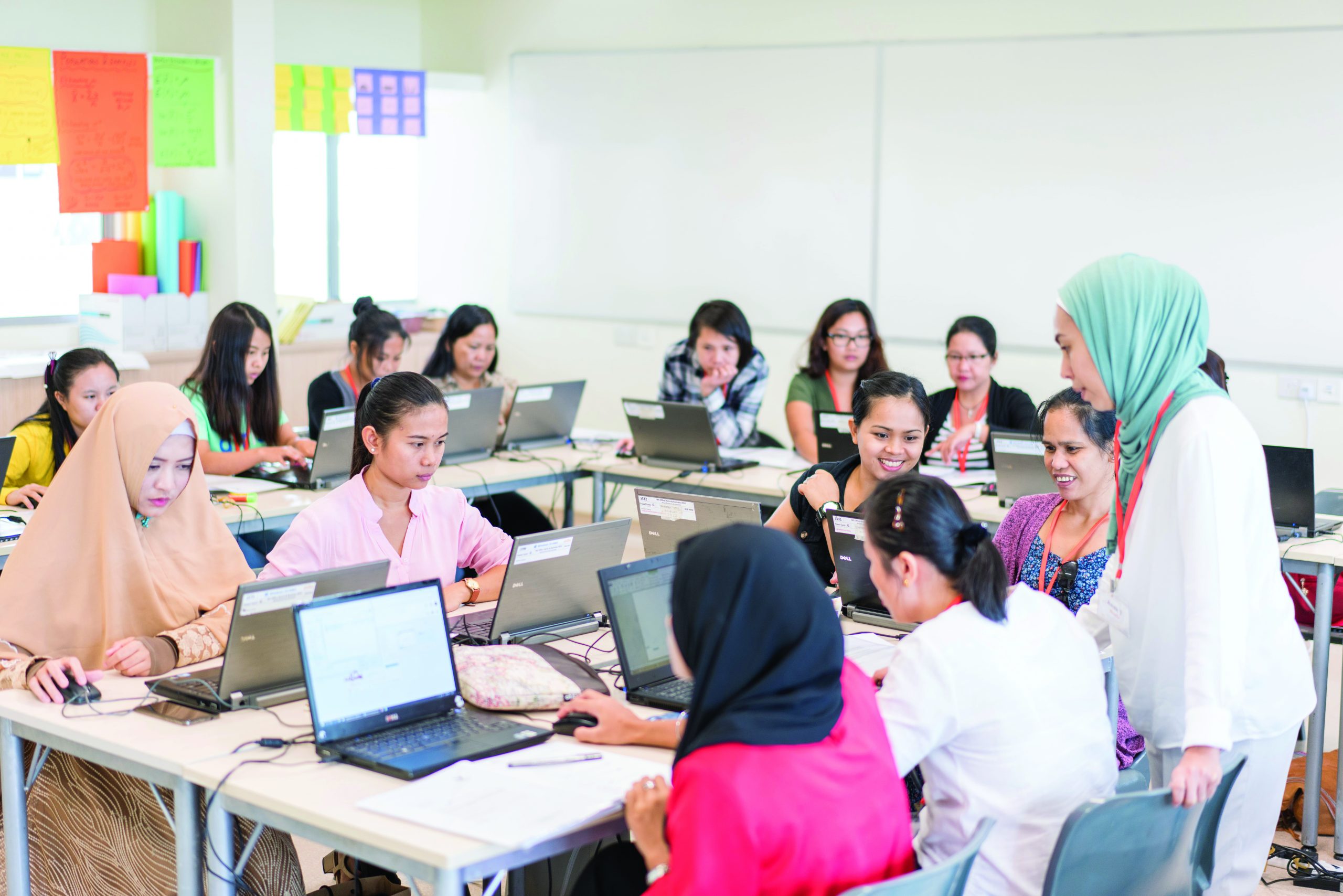 What type of courses do you provide?
Our classes are focused on how to improve your economic future, with a sequence of three modules. These take students from an introduction to managing your money, through financial planning and informed financial decision-making, to starting a business. While money management is the core of our curriculum, our approach is holistic. To effectively put financial learning into practice, students also need confidence, communication, and leadership skills. We also offer optional classes in English. Each module lasts six months and classes run fortnightly on campus on Sundays, as this is the only day off for most FDWs.
With the help of corporate partners, we are also now offering weekday classes at their premises. Our partners don't just act as a venue host for the classes, they are also providing mentors for the classes from their workforce – a rewarding volunteering opportunity for employees and a win-win all round! The course fees for one module are $150 for a self-supporting student or $200 if employer-sponsored, with discounts available for multiple modules. These fees are heavily subsidised.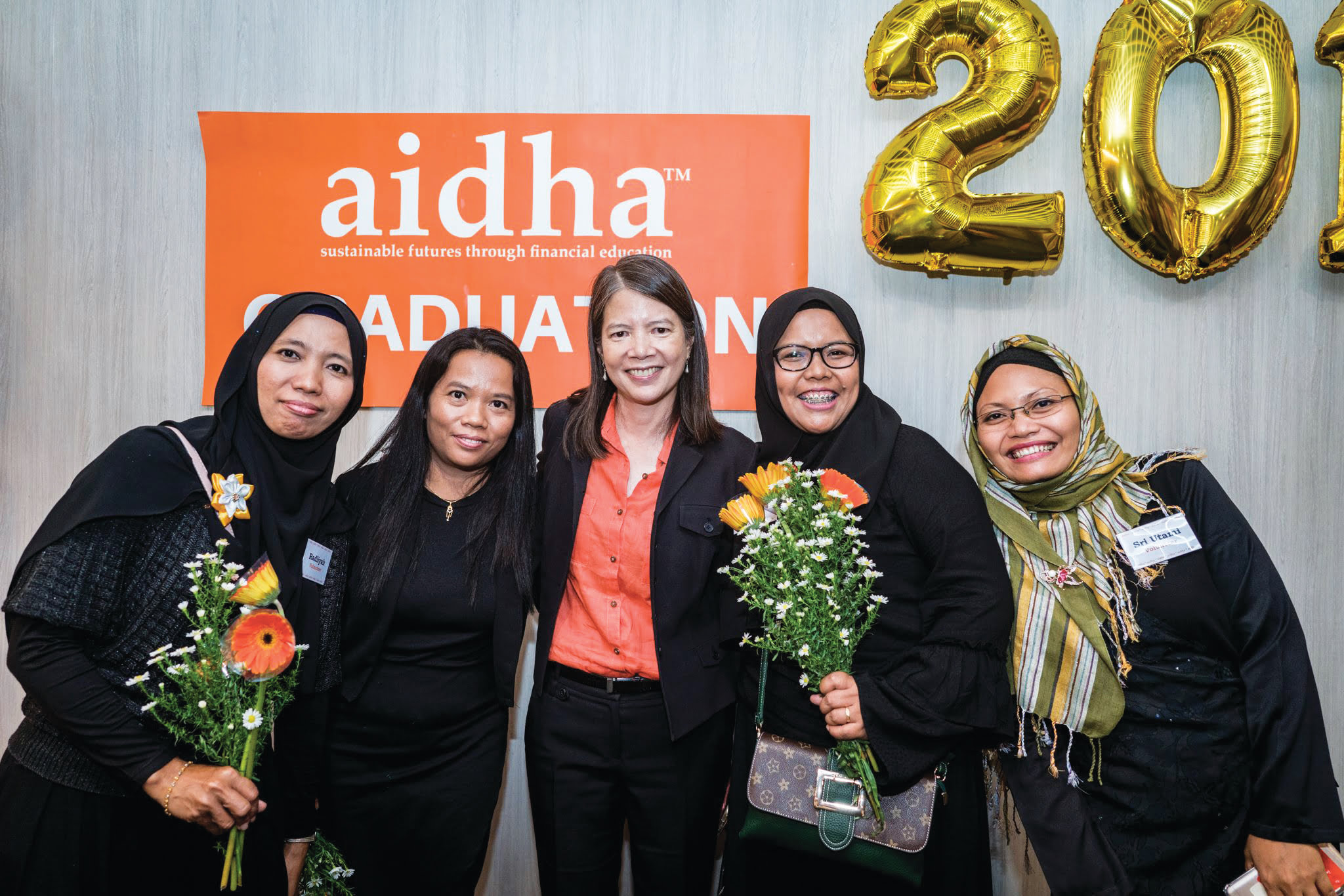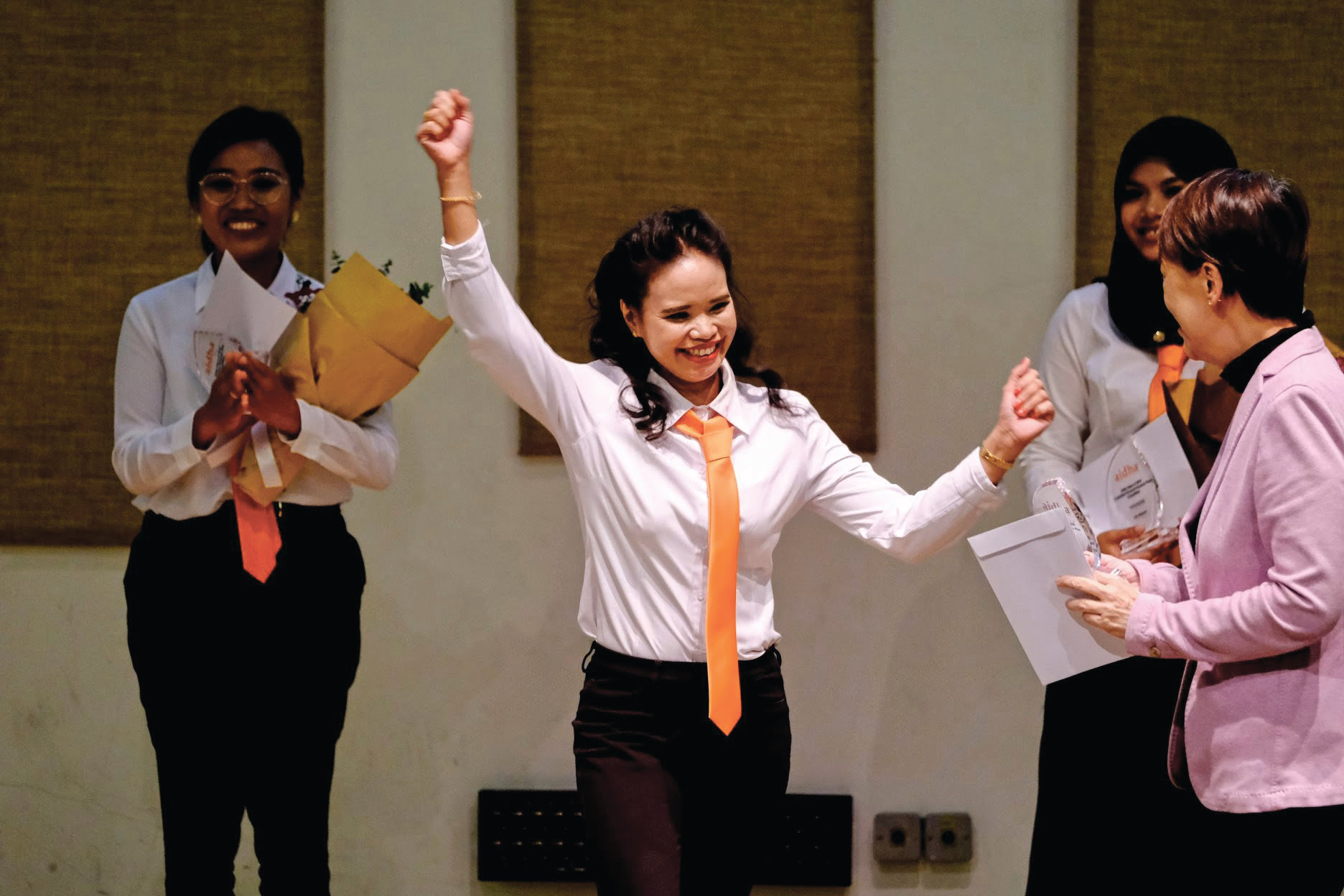 Can you share some highlights?
In the last year we had over 800 students enrolled and every year Aidha has a wonderful ceremony to celebrate the graduation of students who have completed Module 2 'Plan Your Financial Future' and Module 3 'Start Your Business'. These graduates have studied with us for 12-18 months and have been on a transformational learning journey.
A highlight of the ceremony is the speeches from the winners of our annual competition for best Personal Financial Plan and Business Plan. As they describe how far they have come and their plans for the future, it is always an emotional moment for Aidha students, volunteers and staff alike. Many graduates go on to join Aidha's Alumni Leadership Programme to support new students. This peer support creates an ongoing sense of community.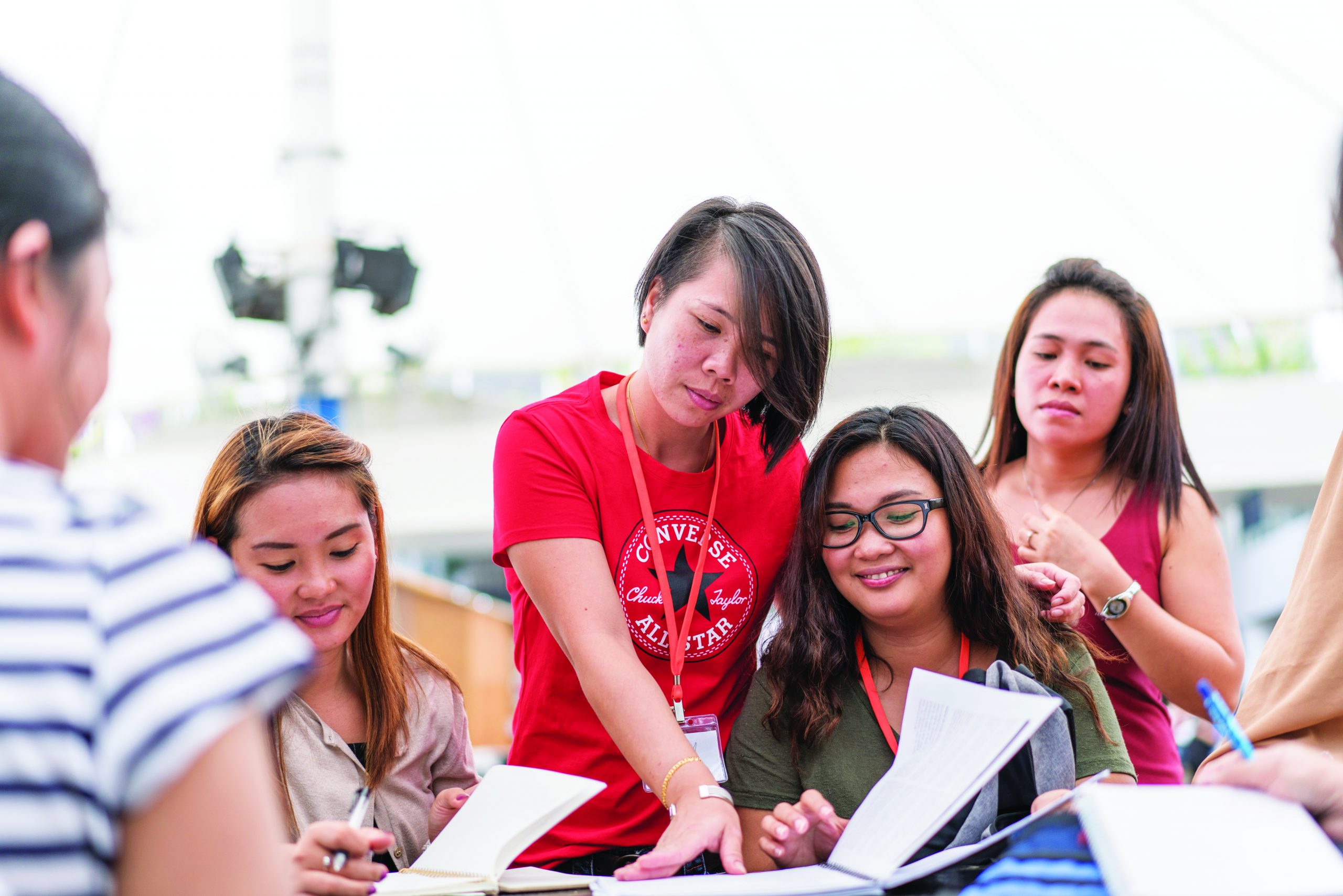 What advice do you provide to employers?
Supportive employers can make a huge difference for our students and really help them make the most of the opportunities we offer at Aidha. We estimate that half of our students start their learning journey because of their employer's encouragement.
Tell your FDW about Aidha's classes and if they are keen, sponsor the class fees. Provide ongoing support as students take their classes and do their homework. At our graduation ceremony we love seeing the pride of students who attend with their employers. There is often a sense of a shared learning journey! We recently talked to Nayantara Bali who sponsored her helper Belen Culiot Garing to take Module 1 with Aidha. Nayantara said: "Belen did learn a lot about financial planning. What I didn't realise is the impact on her confidence. She blossomed and she was so excited."
Tell us about the sporting groups that Aidha offers?
Sporting activities are fun and promote wellbeing and confidence. We run Zumba and yoga classes on campus on Sundays. We also ran them online during the circuit breaker period.
In 2018, Aidha hosted a Sports Day with the Humanitarian Organisation for Migration Economics (HOME) in celebration of International Domestic Workers' Day. It was part of our collective efforts to strengthen the migrant worker community through teamwork. The event was a hit, with almost 300 FDWs attending and participating in various sporting events!
Every year we also hold a bike ride which brings together our students, mentors and supporters. Together they 'Ride for Aidha' by completing a challenging route at OCBC Cycle, raising awareness and funds in the process. Usually this is a big event in May and we always have a team from ANZA join us. We're very grateful for your support!
Volunteer with Aidha!
Our classes are led by volunteers who we refer to as mentors. We provide the full curriculum and class materials, and our pool of dedicated and highly talented volunteers work hard to create a structured, positive and fun learning environment. Mentoring a class gives volunteers the opportunity to develop their own cross-cultural facilitation and presentation skills, leading a group of women from various nationalities. We ask our mentors to commit to adopting a class for six months. The time commitment for mentors varies from leading a 90-minute class one Sunday a month to three hours on two Sundays a month, along with about two hours of preparation time per class.
Aside from mentoring, there are other fulfilling weekend or weekday volunteering opportunities. These include supporting Aidha operations, projects, events, fundraising, research, and even helping us create new course content.
Visit aidha.org or email info@aidha.org for any enquiries on Aidha classes or volunteer@aidha.org for volunteering opportunities.
Interested in ANZA's charity arm – ANZA Action? Head here for more volunteering opportunities.