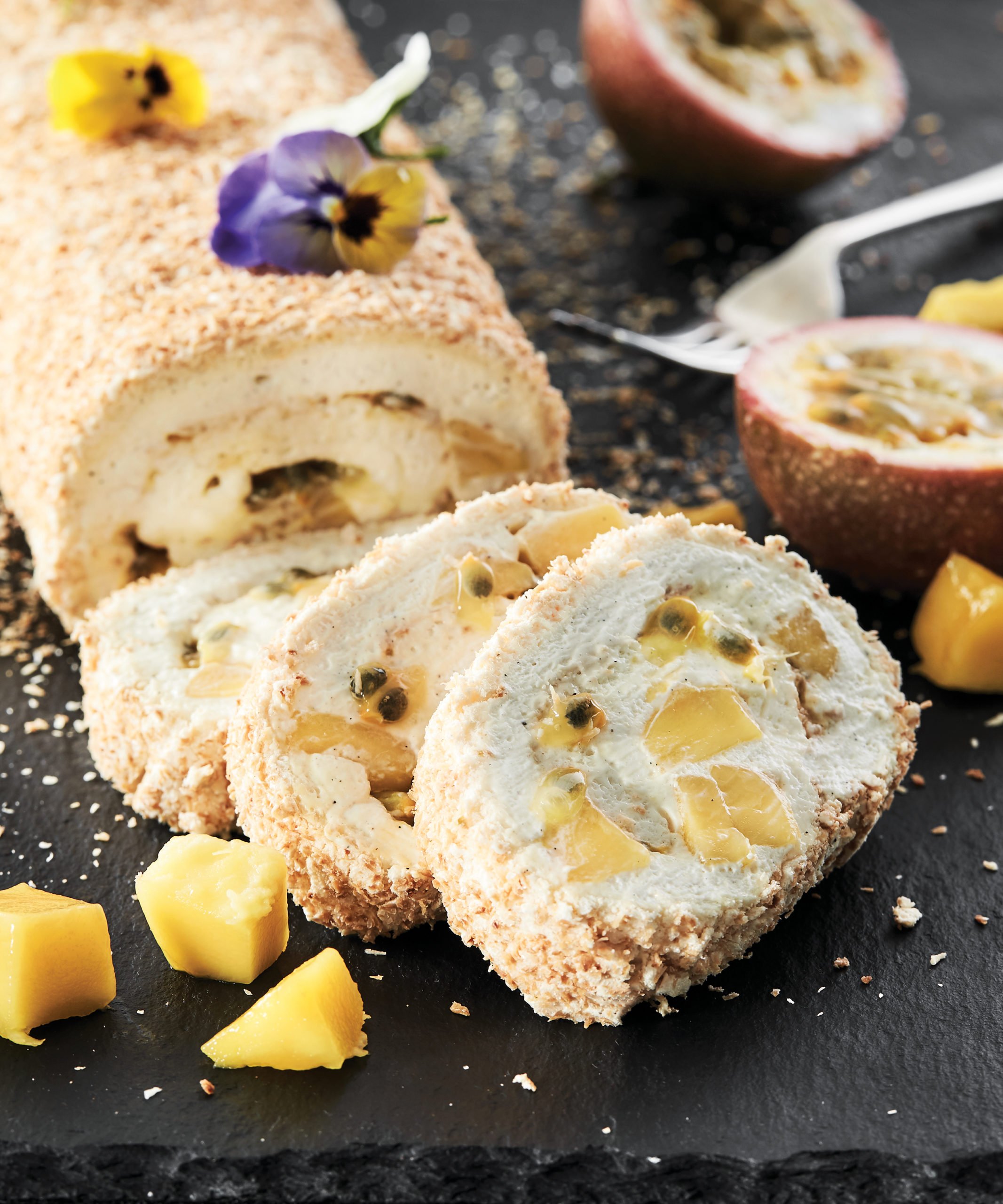 If ever there was a dessert that tasted like an Antipodean summer, this would be it. While pavlovas are usually served topped with berries, this recipe from Baker & Cook has tropical tones, with mango and passion fruit. Crisp and coconutty on the outside, soft and marshmallow-like on the inside, this dessert won't disappoint.
(Serves 10)
INGREDIENTS
ROULADE
4 egg whites
210 g (71/3 oz) castor sugar
+ 2 Tbsp for sprinkling
1 tsp vanilla extract
1 tsp white vinegar
1 Tbsp cornflour
2 Tbsp desiccated coconut, lightly toasted
500 ml (16 fl oz) whipping cream
TROPICAL SALSA
1 mango
3 passion fruit
METHOD
Preheat the oven to 170°C (325°F). Line a 36 x 35-cm baking tray with baking paper.
Prepare the roulade. Place the egg whites in the bowl of an electric mixer and beat until soft peaks form. Add the sugar gradually, followed by the vanilla, vinegar and cornflour. Mix well. Using an offset spatula, spread the meringue onto the prepared baking tray. Bake for 15 minutes or until lightly golden brown. Place a large sheet of baking paper on a work surface and sprinkle with 2 Tbsp sugar and toasted desiccated coconut. Remove the meringue from the oven and turn it out onto the prepared baking paper. Allow to cool.
In the meantime, prepare the tropical salsa. Peel the mango and cut the flesh into small cubes. Place in a bowl. Cut the passion fruit in half and scoop out the seeds. Place in the bowl with the mango cubes and mix well. Whip the cream using a handheld mixer until medium peaks form. Spread the whipped cream on the cooled meringue, then top with the tropical fruit salsa. Roll the meringue up. Cut into thick slices to serve.
Recipe reprinted from Baker & Cook's recipe book COOK: Food to Share