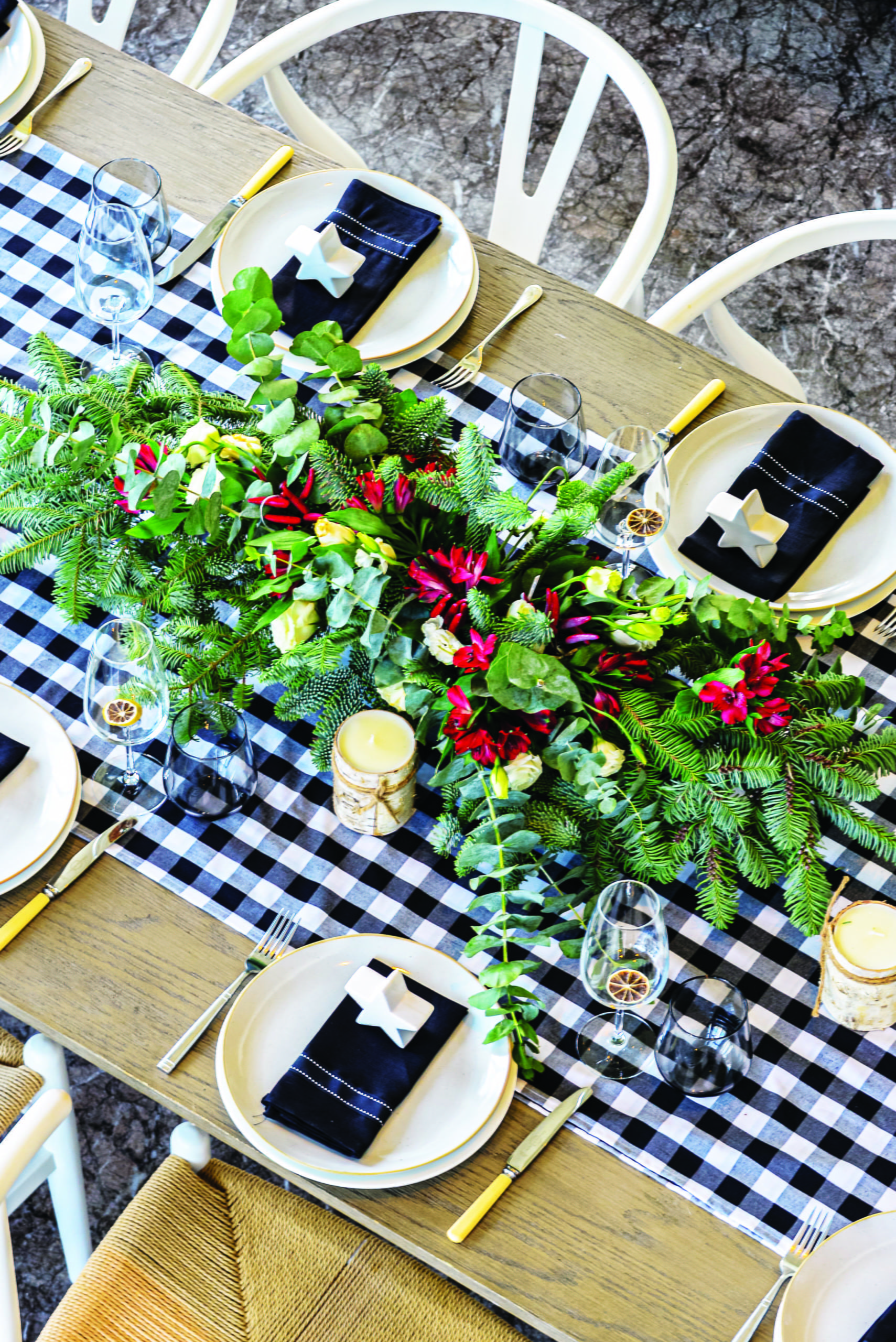 Stylist Juliet Harper has some simple, beautiful ideas for finding your holiday cheer in this unusual year. "In so many ways we need to embrace Christmas 2020 with more vigour and enthusiasm than ever before and reward ourselves for getting through one of the toughest years we have known," says Juliet. "This year, I took inspiration from the Nordic regions of Sweden, Finland, Norway, and Denmark – where celebrations traditionally start earlier, in mid-December – and the celebrations lift spirits in preparation for the long winter ahead. Without some of our children and special family members here and not being able to travel home, Christmas won't feel the same, but like those in the Nordic countries it's possible to celebrate in small groups over a much longer period of time! Get the children to help along the way, from baking, to making gifts and planning the Christmas décor."
Monochrome table setting with a pop of green
A Nordic Christmas look can be achieved with a simple monochrome colour palette and greenery. A great table setting always starts with a good tablecloth and napkins. Pop into Spotlight or any fabric store and make your own. You'll only need 2-3 metres of cloth and if you don't have a sewing machine, cut the edges with shearing scissors. I used a simple black and white gingham fabric for the tablecloth. The napkins are made from charcoal linen and finished with a stitched ribbon.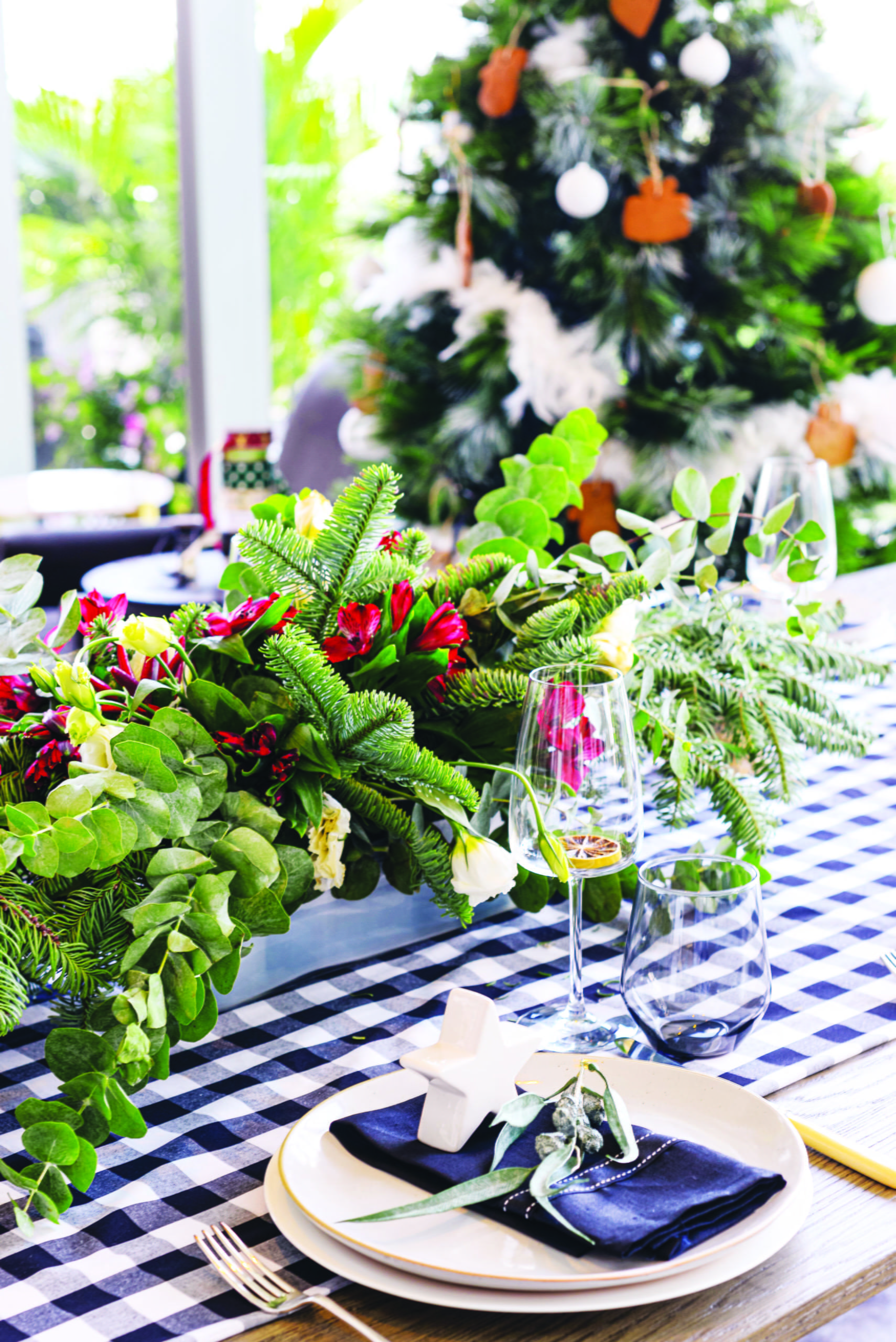 Pine centrepiece
Like the native pine and birch trees of Norway, this large, low profile centrepiece is in pine (purchased from Far East Flora, fareastflora.com) and the candles are wrapped in birch, (purchased from Hooga, findinghooga.com)
Little pops of white and red flowers make it look naturally festive. With a longer period of celebration, an artificial Christmas tree is a sustainable idea. But having some pine on the table gives you the smell of a conifer forest. Otherwise buy a diffuser and get some pine pure essential oil! For the best artificial Christmas trees go to Masons Home Décor, mason.com.sg.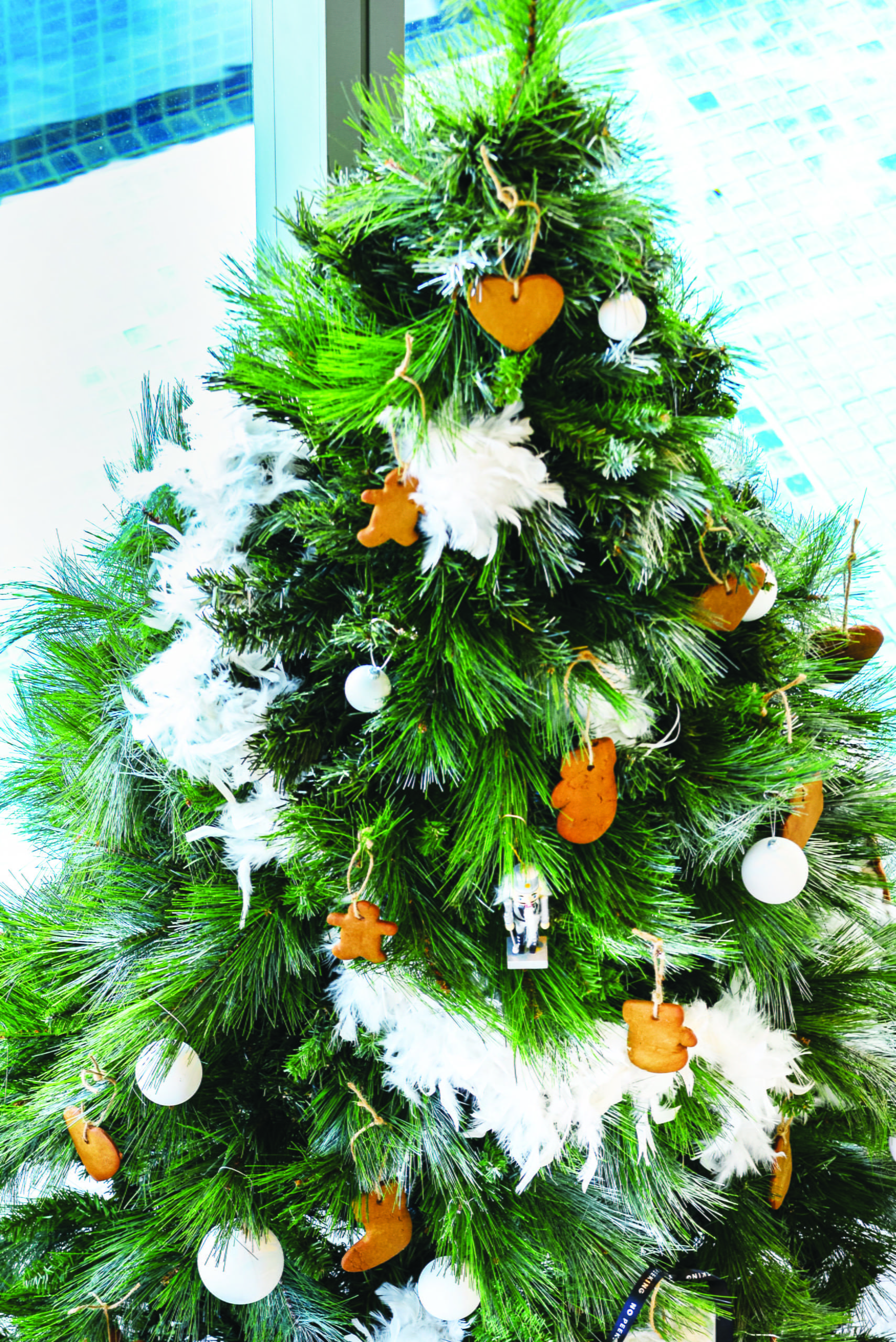 A minimal tree
On the Christmas tree we went for a minimalistic look and my children made edible gingerbread decorations, threaded with natural rope twine. With a few white balls and some feathers, this simple decoration complemented the colours used on the table.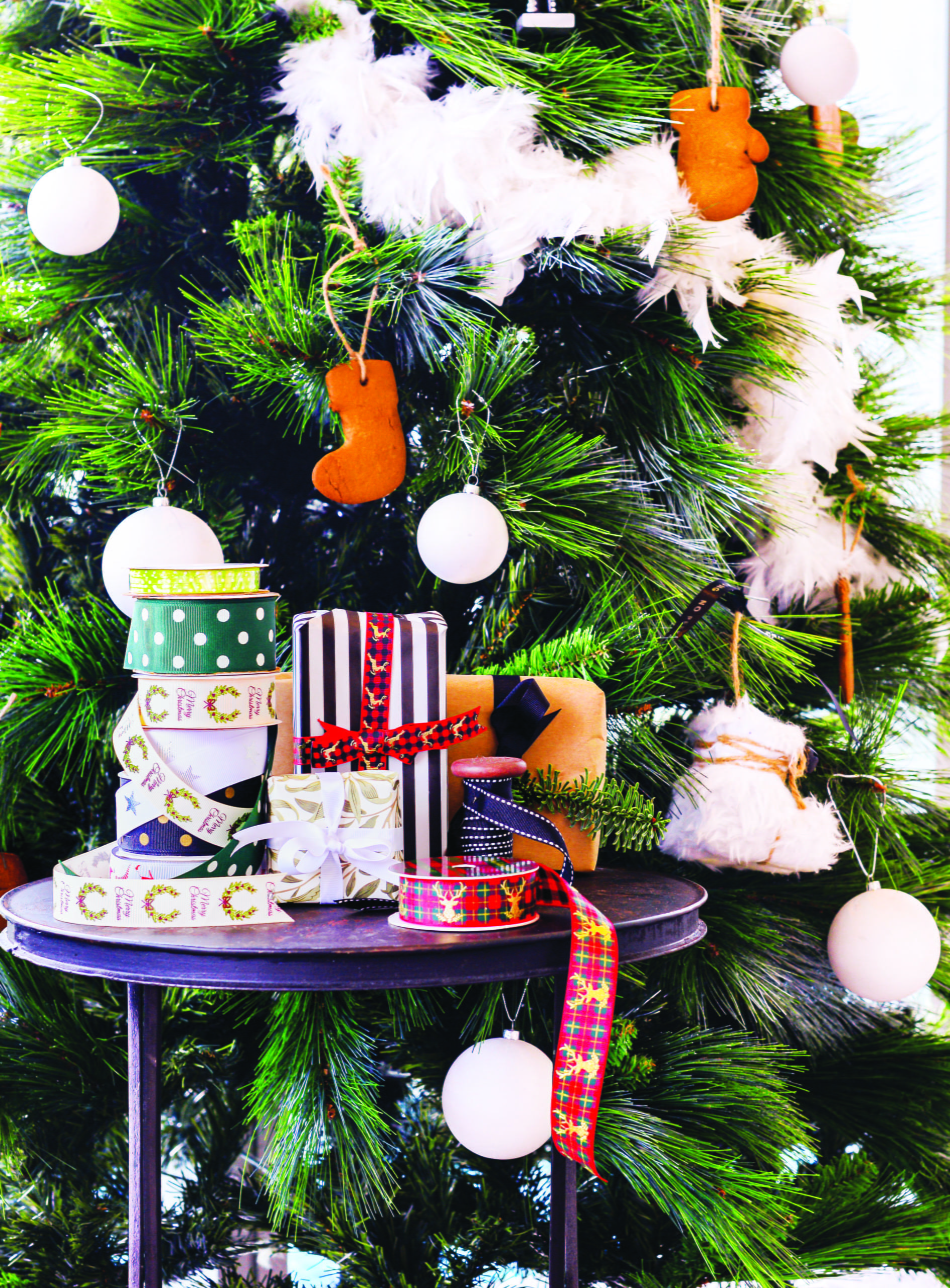 Stockings & crackers
Instead of the traditional red colour, I made Christmas stockings in grey felt with a fur trim. Pre-cut the felt in a sock shape and get them embroidered with names at one of the printing stores at Queensway. If you are feeling truly inspired, make your own Christmas crackers or a little gift for each guest by wrapping in special paper and adding a touch of rosemary, a sprig of thyme or eucalyptus leaf.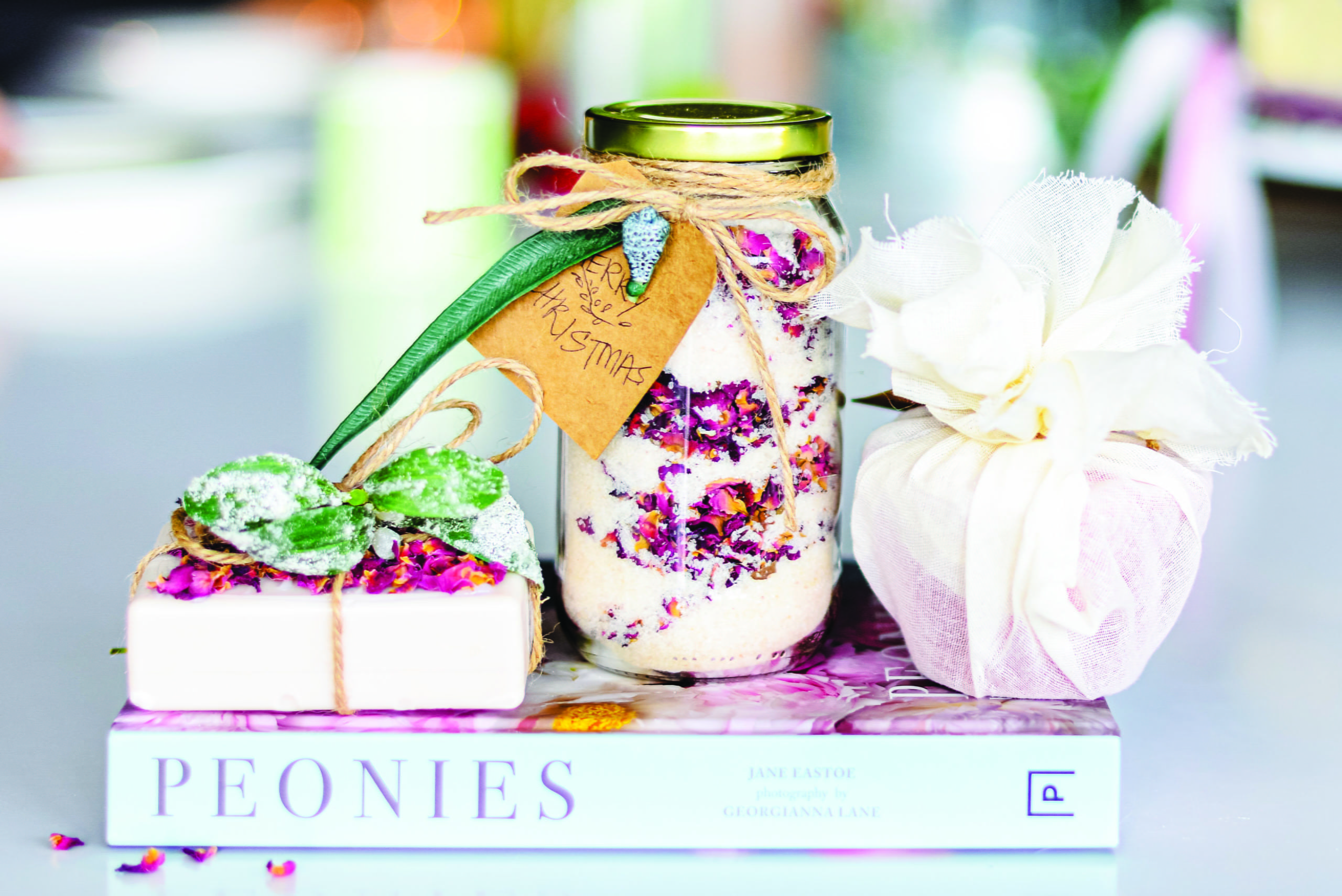 Personalised gifts
Homemade gifts are a wonderful way to personalise Christmas and are great to have on hand when you're invited to friends or they come to you. Get in early to order soap making kits from Amazon (they take some time to arrive) and decorate with dried rose petals, dried fruit slices (make them yourself by drying slices in the oven on a very low heat) or lavender. Likewise, homemade bath salts make a great gift and an activity for the children to do. Make sure you always have a big stash of ribbon, twine, gift cards and wrap to add the final touch to any gift, the Christmas tree, table, or decoration.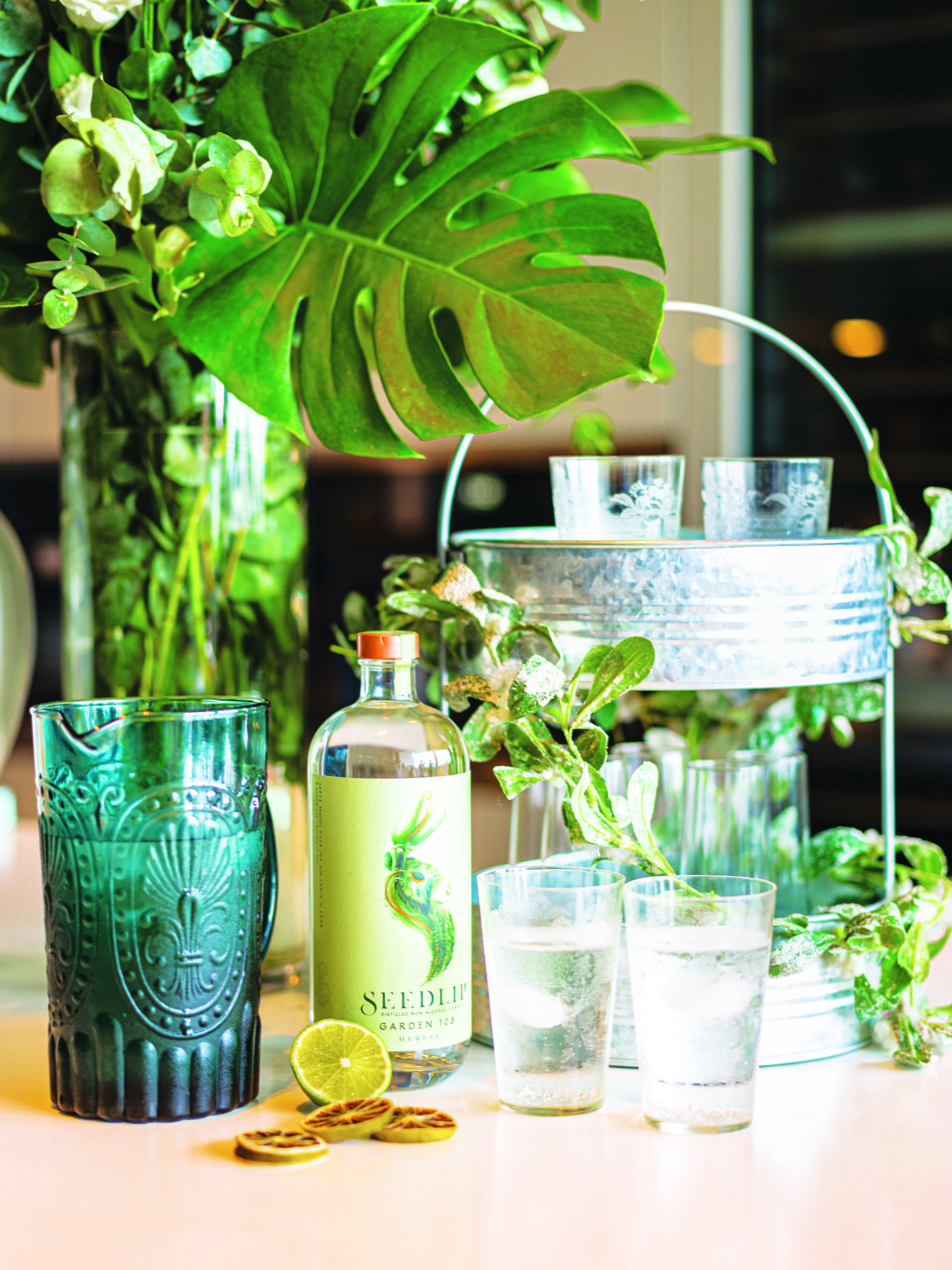 Drink up!
For a non-alcoholic cocktail try Seedlip with a dash of ginger ale and a slice of orange peel. For other great recipes go to their website seedlipdrinks.com