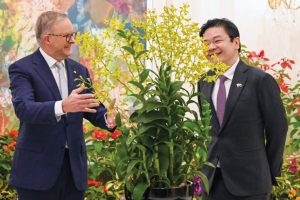 In June, Australian High Commission were delighted to welcome Australia's Prime Minister Anthony Albanese for his first visit to Singapore since taking office. He joined Singapore's Acting Prime Minister Lawrence Wong for the Annual Leaders' Meeting to celebrate the strong Australia-Singapore bilateral friendship and was honoured to make the keynote speech at the Shangri-La Dialogue.
In a joint statement, Prime Minister Albanese and Deputy Prime Minister Wong highlighted the 'robust and multifaceted' relationship, which has been going strong for 58 years. As our Comprehensive Strategic Partnership approaches the ten year mark, the meeting was an opportunity to talk about both countries' shared ambition for the future of the relationship.
Climate transition
Innovative cooperation in the green economy was high on the agenda. Both ministers spoke of the progress made under the Singapore-Australia Green Economy Agreement launched in 2022, and announced three new initiatives under it: a joint $20 million Go-Green Co-Innovation Programme to drive co-innovation between Singaporean and Australian SMEs to develop green products and services; a Green and Digital Shipping Corridor to help decarbonise and digitalise the port and shipping industry; and a $5 million Convergence Asia Climate Solutions Design Grant to support innovative blended finance solutions for climate transition and resilience in Asia. 
The finalisation of the guiding principles and work plan for a bilateral 'Food Pact', aimed at boosting cooperation on food security and increasing trade in food products, was also announced. This includes progress on long-term commercial partnerships for importing chilled chicken from Australia to Singapore (all the better for chicken rice!). Looking forward, they agreed that Singapore and Australia should explore ways to expand collaboration on energy security and clean energy development.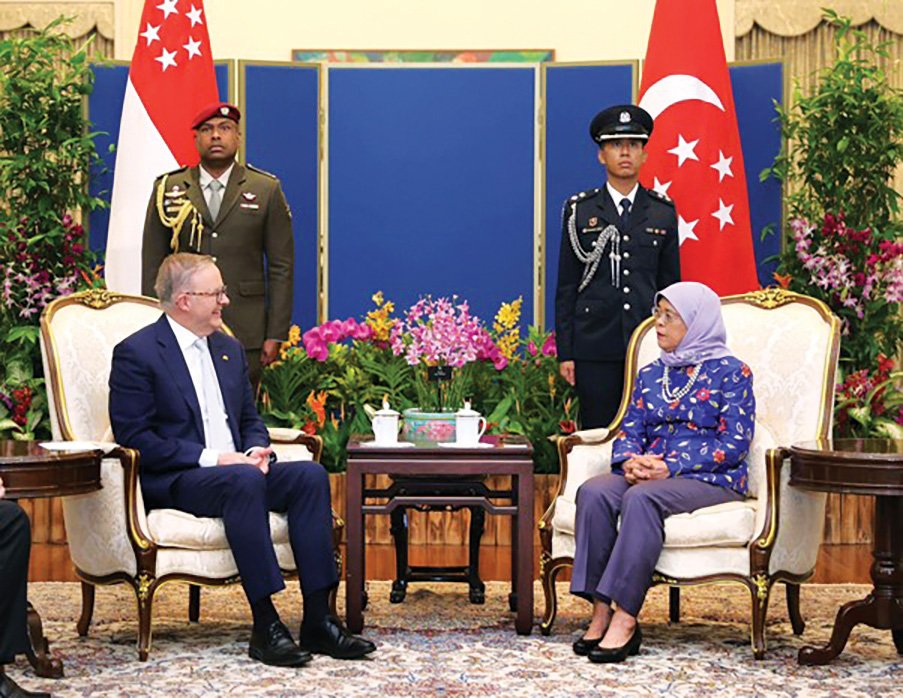 Peace & security
Prime Minister Albanese and Deputy Prime Minister Wong also reaffirmed Australia and Singapore's commitment to working together to promote peace in the Indo-Pacific region. This cuts across many aspects, from strong support for international law and unimpeded trade, to the longstanding defence and security cooperation between the two countries. Both ministers underscored their commitment to the Five Power Defence Arrangements (FPDA) which has served as a constructive platform for defence cooperation in the region for more than 50 years.
They also exchanged views on regional and global strategic issues. In his keynote address at the Shangri-La Dialogue following the Leaders' Meeting, Prime Minister Albanese emphasised that "preserving peace and security is not a task any one of us can shoulder alone … peace is not a gift, and it's never a given."  
Both ministers welcomed the strong people-to-people ties that sit at the heart of the bilateral relationship. In particular, they acknowledged growing cooperation on arts and culture.
So, a lot to celebrate from the last twelve months and high ambition for the year ahead!  
Pictures by: Ministry of Communications and Information